Reserve Bank of India (RBI) deputy governor Rajeshwar Rao has said the boards of banks must hold the management accountable for their actions and should even replace it if it does not meet expectations.
Rao was speaking at a conference of bank directors — the same event where RBI governor Shaktikanta Das had said the regulator had found evidence of some lenders concealing the true nature of their bad loans by resorting to artful methods of ever-greening. The conference was held last week, though Rao's speech was uploaded by the RBI only on Monday.
"Boards should appraise the performance of management objectively and ensure they are held accountable for their actions.
If management is not meeting expectations, boards should take suitable action, including replacing the management, to improve the bank's governance and risk management,'' Rao said.
The bank boards should ensure the management is transparent about the entity's financial performance and risk management practices so that trust with the stakeholders is built and investors are able to assess the risks.
The board should also set clear expectations for management in terms of risk management and corporate governance and should require management to report on risk management on a regular basis, Rao said.
The reporting should include information on the bank's risk appetite, risk exposures, and risk mitigation strategies. On remuneration, the RBI deputy governor said, the boards through the nomination and remuneration committees must ensure that compensation is not only tied to short-term profits but also takes into account long-term materialisation of risks.
Appropriate checks for assessment must be built into the salary systems. Financial institutions will need extraordinary amounts of resources to support growth.
"Raising these resources would not be a constraint for financial intermediaries with robust governance frameworks as they can command a governance premium," he said.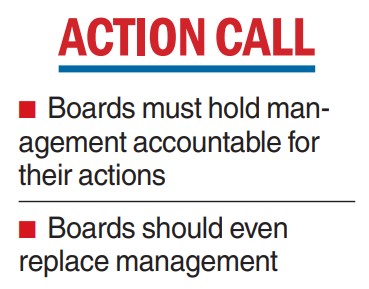 Reverse repo sale off target
Mumbai: Banks on Monday parked over Rs 66,600 crore with the Reserve Bank of India (RBI) under a four-day variable rate reverse repo (VRRR) auction as against the notified amount of Rs l lakh crore.
RBI conducts VRRR to mobilise surplus liquidity from the banking system. This surplus now stands at around Rs 2.38 lakh crore. It stood at Rs 56,001 crore in early May. This upward movement in surplus liquidity has arisen on account of the RBI withdrawing the Rs 2000 banknote. Last Friday, the central bank conducted 14-day VRRR for a notified amount of Rs 2 lakh crore.
However, banks had only parked Rs 50,868 crore. The poor response was attributed to advance tax outflows which could cause temporary tightness in the system.
In Monday's auction, against the notified amount of Rs 1 trillion, banks parked Rs 66,640 crore with the RBI.
Observers feel that RBI's move to suck surplus liquidity and advance tax outflows could have an impact on inter-bank call money rates. These are short-term borrowings which banks do with each other.Due to the rise in the banking system's liquidity, the call money rate was below the repo rate of 6.50 per cent recently at 6.32 per cent. However, it has now inched up to 6.59 per cent.
OUR BUREAU