Reliance Industries signs deal with Abu Dhabi National Oil Co to build chemical project in Ruwais
The planned project at TA'ZIZ Industrial complex will have a capacity to produce 940,000 tonnes of chlor-alkali, 1.1 million tonnes of ethylene dichloride and 360,000 tonnes of PVC annually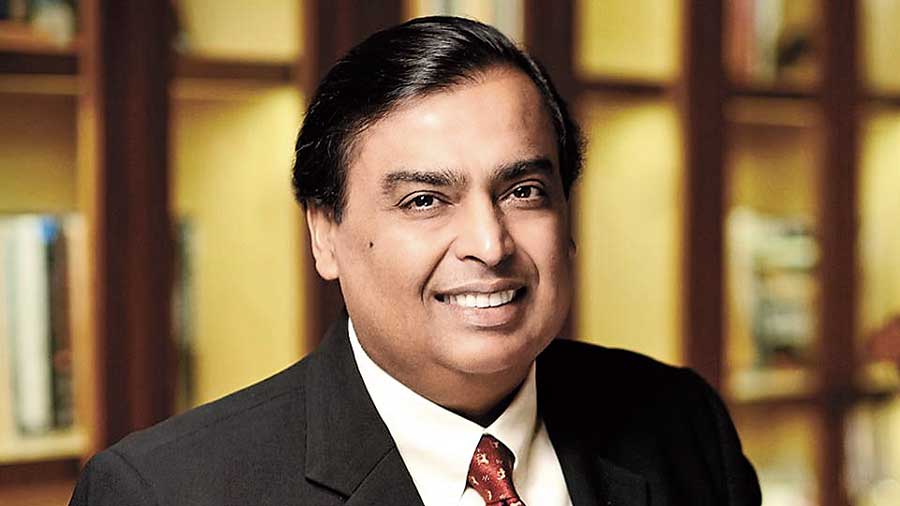 ---
Mumbai
|
Published 30.06.21, 01:20 AM
|
---
Reliance Industries has signed an agreement with Abu Dhabi National Oil Co (Adnoc) to build a multi-billion-dollar chemical project in Ruwais, Abu Dhabi, marking the group's first investment in a greenfield overseas project.
Reliance, which operates the world's biggest refining complex at Jamnagar, Gujarat, is becoming more international in its focus. Previously, it has bought stakes in some overseas explorations and manufacturing assets.
"This is a significant step in globalising Reliance's operations, and we are proud to partner with Adnoc in this important project for the region," Mukesh Ambani, the chairman of Indian oil-to-telecom conglomerate, said in the statement.
Last week, Ambani announced the appointment of Saudi Aramco chairman Yasir al-Rumayyan as a director on Reliance's board and said this is the "beginning of the internationalisation of Reliance". The group hopes to formalise a deal to sell a 20 per cent stake to Aramco in its oil-to-chemical business.
In a joint statement, Reliance and Adnoc said they expected final investment decisions for the projects and awards of related engineering contracts to be taken in 2022.
The planned project at TA'ZIZ Industrial complex will have a capacity to produce 940,000 tonnes of chlor-alkali, 1.1 million tonnes of ethylene dichloride and 360,000 tonnes of PVC annually, the joint statement said.
Reliance and Adnoc had signed a memorandum of understanding in 2019 to build an ethylene dichloride facility in Ruwais.
Sources said one of the major drivers behind the joint venture is to capitalise on the huge demand of commodities such as PVC in India. They said the project would leverage the cheap raw material costs in the region.
The project will be constructed in the TA'ZIZ Industrial Chemicals Zone. It is expected to continue the momentum of Adnoc's downstream and industry growth plans as part of which it is implementing petrochemical, refining and gas projects, with a number of projects recently completed across the downstream portfolio.
In these projects, Adnoc is investing over AED (Dirham) 18 billion. Since 2018, it has also attracted significant foreign direct investment from international partners in the downstream business, including refining, fertilisers and gas pipelines.
The TA'ZIZ Industrial Chemicals Zone is a joint venture between ADNOC and ADQ — the state owned holding company. It was launched in November 2020.
"We at Reliance are excited to enter into a strategic partnership with Adnoc for establishing a world-class and world-scale chemical project at TA'ZIZ in Ruwais," Ambani said.
"This important milestone further bolsters our long-standing relationship with Adnoc. It is also yet another testimony to the enormous potential in advancing India-UAE co-operation in value enhancement in the energy and petrochemicals sectors,'' the Reliance MD said.
With inputs from Reuters