RBI hikes interest rate by 40 basis points to tame inflation
Bank signals that days of 'easy money' are ending; move comes ahead of exprected increase by US Federal Reserve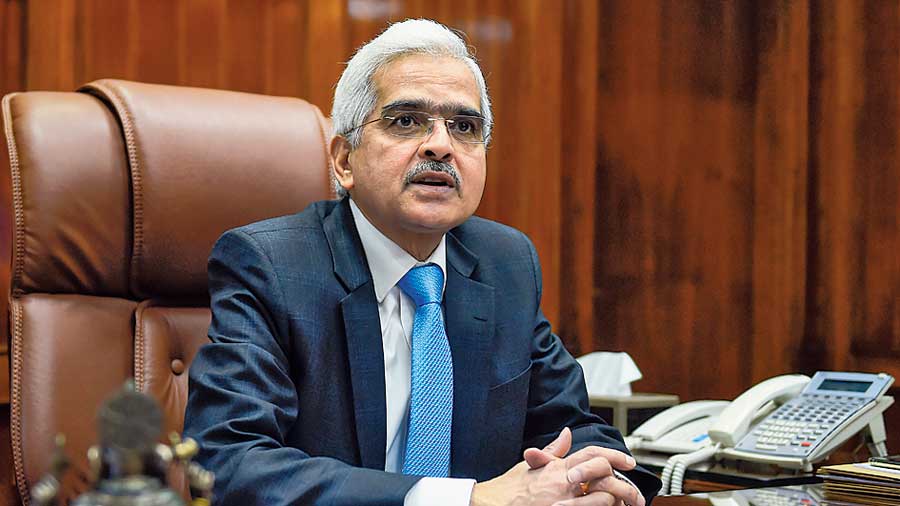 RBI Governor Shaktikanta Das
File picture
---
New Delhi
|
Published 04.05.22, 03:40 PM
|
---
In a surprise move, India's central bank has hiked its key lending interest rate by a hefty 40 basis points as it steps up its fight to battle inflation. The Reserve Bank of India also increased the cash reserve ratio for commercial banks to 50 basis points to 4.5 per cent.
The Reserve Bank (RBI) raised its repurchase rate, known as the repo, to 4.40 per cent from the record low of 4.0 per cent where it's been for the past two years as monetary policy authorities sought to shore up the pandemic-hit economy.
The central bank's decision took financial markets by surprise as monetary policy makers weren't due to meet until next month. The BSE Sensex slid 1.67 per cent or just over 1,000 points just after the central bank's announcement to 56,022 points.
RBI Governor Shaktikanta Das said inflation was "spreading alarmingly" around the world. For the time being, Das said, that the bank's policy remains "accommodative" but that the bank would focus now on "careful and calibrated withdrawal of accommodation." 
In other words, the days of ultra-low interest rates are coming to an end in India. Monetary policy makers in India and globally have switched their polies to subduing inflation rather than supporting growth.
In India in March, headline inflation hit 6.95 per cent, nearly a percentage point above the central bank's tolerance level. Inflation is being stoked around the world by Russia's attack on Ukraine that has driven up prices of key commodities and pandemic-related supply-chain disruptions.
"There is a collateral risk that inflation remains elevated at this level for too long and can de-anchor expectations," Das said. The aim of the rate hike is to "preserve macro-financial stability amidst increasing volatility in financial markets," he said, pronouncing himself an "optimist" that the actions taken by the bank would lead to a "better tomorrow."
Economists said that the Indian central bank didn't want to fall behind the global rate tightening curve. The Reserve Bank of India's move comes ahead of an expected aggressive hike of at least 50 basis points in the US Federal Reserve Rate later on Wednesday. US monetary authorities are seeking to combat inflation that is at its highest level in four decades.