Petronet LNG agreement to invest in Tellurian's LNG project lapses
The non-binding deal was signed during Modi's September 2019 'Howdy Modi' Houston visit and was billed as one of the largest foreign investments in the US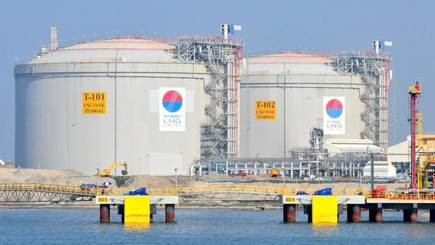 ---
New Delhi
|
Published 10.06.21, 02:41 AM
|
---
Petronet LNG on Wednesday said its non-binding agreement to invest $2.5 billion in US energy upstart Tellurian's LNG project in Louisiana in return for gas supplies for 40 years has lapsed. The country's largest gas importer is in talks with Qatar for gas.
The non-binding deal was signed during Prime Minister Narendra Modi's September 2019 "Howdy Modi" Houston visit and was billed as one of the largest foreign investments in the US to ship LNG abroad.
"The MoU was not extended. As of today, there is no MoU with us," Petronet managing director and CEO A.K. Singh told reporters on a call. The initial pact, he said, has expired.
The parties had set March 31, 2020 as the deadline to sign the deal, which was first extended to May 31 then to December 31, 2020.
Singh said the agreement lapsed because Petronet "did not get a request from Tellurian's side for an extension" and the PSU had no role in this matter.
On the reasons for the non-conclusion of the deal or the MoU not being extended, Singh said this was not because of Petronet.
"We did not get a request from their (Tellurian's) side for an extension," he said but refused to elaborate.
Petronet promoters had earlier questioned the need to make an equity investment and lock in such large volumes from one supplier for a 40-year period. In November last year, the PSU's director-finance V.K. Mishra had said LNG was available at throwaway prices and "there appears to be no need to invest in liquefication terminals (which convert gas into LNG)".
Petronet, meanwhile, has opened talks with suppliers such as Rasgas of Qatar for LNG to meet the growing energy needs of the country.
Its long-term deal to import 7.5 million tonnes per annum (mtpa) of liquefied natural gas (LNG) from Qatar ends in March 2028 and the company has time till December 2023 to decide on extending the deal.
"We are in discussions with suppliers like Qatar for additional LNG volumes," he said adding Petronet is expanding the capacity of the Dahej LNG terminal by five mtpa, planning a new east coast terminal and there was unused capacity available at its Kochi terminal too.
GAIL split scrapped
A proposal to bifurcate state-owned gas utility GAIL (India) Ltd has been scrapped for now, and instead the company will monetise some of its pipelines by selling a minority stake through InvIT.
GAIL chairman and managing director Manoj Jain said the company has sent a plan for monetising two of its pipelines to the oil ministry and an Infrastructure Investment Trust (InvIT) is possible within the current fiscal.