State-owned Oil and Natural Gas Corp (ONGC) has raised $300 million in overseas borrowing at a coupon rate of 3.375 per cent, the lowest by any Indian issuer, to meet its capital expenditure.
The 10-year bond will mature in 2029, the company said in a statement.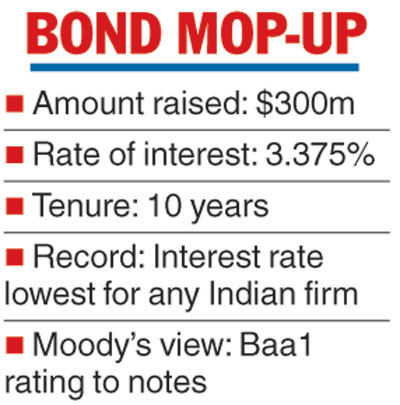 The Telegraph
"ONGC has priced its maiden offering of dollar bonds in the aggregate principal amount of $300 million for meeting capital expenditure in accordance with the external commercial borrowing guidelines issued by the Reserve Bank of India and successfully achieved its objective to set a fresh benchmark,' it said.
At 3.375 per cent interest rate, this is the lowest rate for 10-year or longer tenor offering from India.
ONGC said it raised the money from investors across Singapore, Hong Kong, London, Taiwan, Japan and West Asia. Asian investors accounted for 77 per cent of the sum, while investors from Europe, West Asia and Africa accounted for the rest. Citi, DBS Bank, Mitsubishi UFG Financial, SBI Caps and Standard Chartered were bankers to the deal.
Moody's rating
Moody's Investors Service had assigned a "Baa1" rating to the senior unsecured notes under ONGC's $2 billion medium-term note programme. The outlook on the rating is negative, Moody's said in a statement.
"The notes' rating is in line with ONGC's Baa1 issuer rating, which is in turn driven by its standalone credit profile as captured by the baa1 baseline credit assessment," it said.