Non-bank microfinance companies expect level playing field with banks and small finance banks
The institutions seek this if proposed changes under the 'consultative document on regulation of microfinance' released by the RBI take shape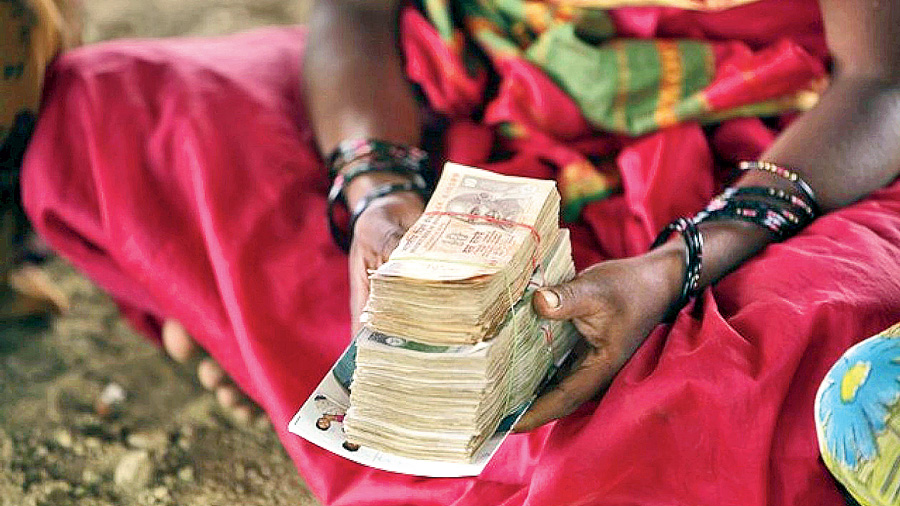 Representational image.
File picture
---
Calcutta
|
Published 16.06.21, 01:35 AM
|
---
Non-bank microfinance companies (NBFC-MFI), which constitute 30.8 per cent of the overall microfinance credit portfolio, expect a level playing field with banks and small finance banks if the proposed changes under the 'consultative document on regulation of microfinance' released by the RBI take shape.
With no caps on interest rate spreads, no restriction on number of lenders approaching a borrower, no end use restriction of credit and a simplified cost structure, NBFC-MFIs could explore differential rates for borrowers based on risk assessment and take the competition to banks and small finance banks which together constitute around 60 per cent of the micro credit outstanding.
A CEO of an NBFC-MFI said under the existing guidelines there is a cap of 12 per cent on spreads that can be charged specifically by small NBFC-MFIs and  10 per cent on large NBFC-MFIs. 
There are no such thresholds under the proposed norms.  
Further, there are ceilings on the loan amount — Rs 75,000 for the first cycle and Rs 1,25,000 in subsequent cycles. As such limits were not applicable on banks and small finance banks, they could take on a greater exposure per borrower thus outcompeting NBFC-MFIs.
The consultative document has shifted the threshold definitions around income and indebtedness of the household with the Reserve Bank paper recommending a 50 per cent limit on household indebtedness. 
"It was always a request from the industry that regulations should not be entity based. It will now be a fair game and both borrowers and lenders will have options," said Kuldip Maity, MD and CEO, Village Financial Services.
"The revised norms could swing the balance of competitive equilibrium in favour of NBFC-MFIs," said HDFC Securities in a sector update.
Small finance banks, which can now classify loans to small micro-finance institutions as priority sector loans, see the long-term benefits from the proposed regulations.
"These recommendations are beneficial for the borrowers and the industry as a whole – so everyone will benefit in the long run," said Nitin Chugh, MD and CEO of Ujjivan Small Finance Bank. 
"In having a common definition of microfinance for all regulated entities, it will ensure a level playing field," said Alok Misra, CEO and director, MFIN "RBI's consultative paper is forward looking and it will have an enormous positive impact on the sector," said P. Satish, executive director, Sa-Dhan.