No plan to monetise debt, says Tarun Bajaj
According to him, advance tax collection figures indicate the contraction in the economy forecast by many financial institutions might not be as bad as anticipated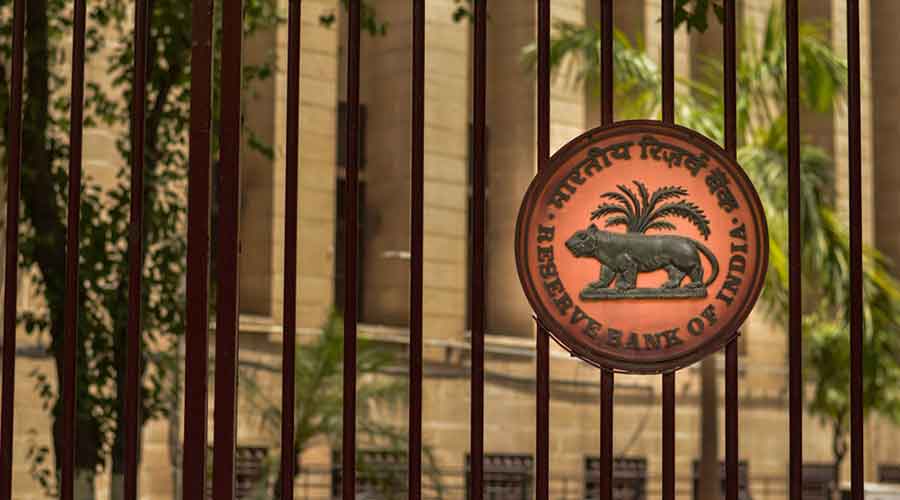 Reserve Bank of India
Shutterstock
---
New Delhi
|
Published 24.07.20, 01:18 AM
|
---
Economic affairs secretary Tarun Bajaj on Thursday  said the  monetisation of debt —  where the RBI buys bonds to finance the government's spending — was not on the agenda.
"At this point of time, I have some calculations. I have some plans in mind. The RBI has assisted us a great deal this time. Right now, monetisation is not on the table at all. It has not been discussed with the central bank also," Bajaj said at a virtual conference organised by Ficci.
Bajaj said advance tax collection figures indicate the contraction in the economy forecast by many financial institutions might not be as bad as anticipated.
Raghuram Rajan alert
Former RBI governor Raghuram Rajan on Thursday said the central bank has been expanding its balance sheet and buying government debt on the back of excess liquidity amid the economic slowdown but cautioned that this comes at a cost and cannot be a lasting solution.
He said central banks in many emerging markets are resorting to such strategies and disagreed with votaries of the "modern monetary theory" who support this, making it clear that there are no free lunches. He was speaking at another conference organised by DBS Bank.
"The RBI has been expanding its balance sheet and it has been buying government debt. But effectively, in that process, what it is doing is borrowing from the banks at the reverse repo rate and lending on to the government," Rajan said speaking at a conference organised by Singaporean lender DBS Bank unless there is an unexpected development.
"I am hopeful of a V-shaped recovery. This year may be lost to us but expect recovery next year," he said, adding that the revenue collections so far are also "okay. We may not meet the budgeted numbers for tax collection but it may not be as bad as anticipated," he said.
He said that revenues are going up and the government has also realised some extra revenue from excise on petrol and diesel. "That is something that is going to help us. Let's see, I will be in a better position to answer this after 3-4 months when I have data in my hand," he said.
Pinning hopes on the agriculture sector, he said, it is one bright spot even in this difficult period.
Production of Rabi crop was good, and Kharif is also expected to be good, he said.
Although agriculture is not contributing to the GDP significantly, it still looks after about 40 percent of the population, who are directly dependent on this sector. "If we have some prosperity in the rural areas thanks to agriculture growing up, it will have some effect on manufacturing, services and growth of certain companies like FMCG," he said.
Emphasising the government's commitment to infrastructure spending in the roads, railways, power and shipping sectors, Bajaj said he was open to increased borrowing to ensure these departments achieved their targets for this fiscal.
"I have personally spoken to the large infrastructure spending departments of the country and I have assured them that even if I have to borrow a little more I'll do that but you should actually achieve your targets for infrastructure spends in the current year.
Hard pressed for funds, the government has already increased its borrowing target by over 50 per cent from Rs 7.8 lakh crore to Rs 12 lakh crore in May.
State Bank of India's research note 'Ecowrap' said the economic turmoil caused by COVID-19 pandemic may push India's gross debt to 87.6 per cent of the Gross Domestic Product (GDP) in FY21 from 72.2 per cent in FY20.
The report stated that the higher level of borrowings by the government and a collapsing GDP this fiscal may lead to an increase in the country's debt-to-GDP ratio to around Rs 170 lakh crore (in FY21) from Rs 146.9 lakh crore (in FY20).
Meanwhile, Finance Secretary A B Pandey said the GST rates can be reduced further as tax base increases and that the economy is coming back on track sooner than what was being anticipated.
"Once the tax base increases, if we are able to enforce our tax laws, and everyone pays taxes properly there will be definitely scope for further reduction of taxes," he said.
On the revenue trend and the potential of the Indian economy, Pandey said, "All figures are giving an encouraging signal that the economy is coming back on track sooner than what was being anticipated when the lockdown started."
Japanese brokerage Nomura said economic activity continues to remain weak and will lead to a 6.1% contraction in India's GDP in the current fiscal. Rating agency ICRA has sharply revised to (-) 9.5%, its forecast for India's growth in the ongoing fiscal on account of the localised lockdowns announced by various state governments and rising cases of Covid-19.