Nitin Gadkari invites Tesla to manufacture e-vehicles in India
'The vendors are available. We have all types of technology, we have all the spare parts'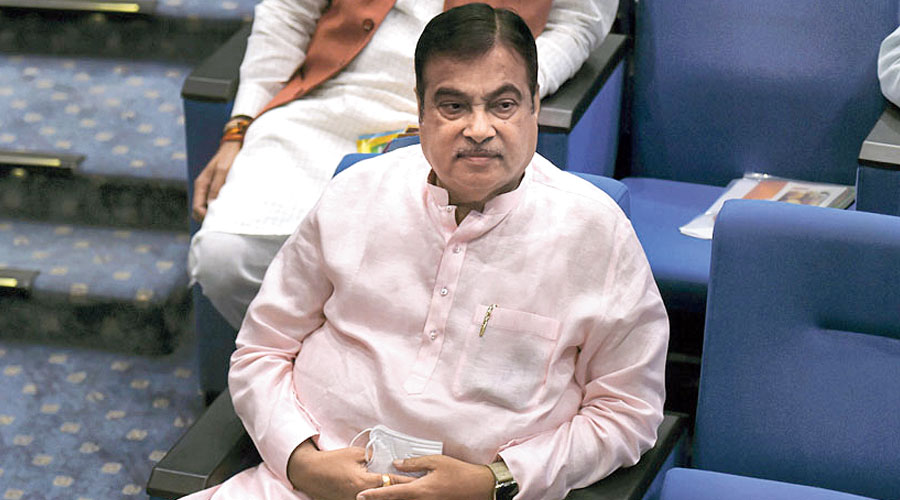 ---
New Delhi
|
Published 27.04.22, 04:09 AM
|
---
Union minister Nitin Gadkari on Tuesday spelt out the Modi government's stand on Tesla's plans for India. He said the US-based Tesla may manufacture its electric vehicles in India but the company must not import cars from China.
"If Elon Musk (Tesla CEO) is ready to manufacture in India then there is no problem ... Come to India, start manufacturing, India is a large market they can export from India," he said in an interactive session at the Raisina Dialogue.
Tesla founder and CEO Elon Musk had said in January that the firm was facing a lot of challenges with the government while launching its products in India. He, however, did not elaborate on the kind of problems that the firm was facing.
Tesla had last year sought a reduction in import duties on electric vehicles (EVs) in India.
The road transport and highways minister said his request to Musk was to come and manufacture in India. "But if he wants to manufacture in China and sell in India, then it cannot be a good proposition for India," Gadkari said.
According to him, India has got all the competence. "The vendors are available. We have all types of technology, we have all the spare parts," he said, adding that it will be a win-win situation for both India and Tesla.
Last year, the heavy industries ministry had also asked Tesla to first start manufacturing its iconic electric vehicles in India before any tax concessions can be considered.
At present, cars imported as completely built units (CBUs) attract customs duty ranging from 60-100 per cent, depending on engine size and cost, insurance and freight (CIF) value less or above $40,000.
Last year, in a letter to the road ministry, the US firm had stated that the effective import tariff of 110 per cent on vehicles with customs value above $40,000 is "prohibitive" to zero-emission vehicles.
It had requested the government to standardise the tariff on electric cars to 40 per cent irrespective of the customs value, and withdraw the social welfare surcharge of 10 per cent on electric cars.
It had stated that these changes would boost the development of the Indian EV ecosystem and the company will make significant direct investments in sales, service, and charging infrastructure; and significantly increase procurement from India for its global operations.
The company had argued that these proposals would not have any negative impact on the Indian automotive market as no Indian OEM currently produces a car (EV or ICE) with ex-factory price above $40,000 (around Rs 30.6 lakh) and only 1-2 percent of cars sold in India (EV or ICE) have ex-factory/customs value above $40,000.
EV Fire
Gadkari urged the makers of electric two-wheelers to take advance action to recall all defective vehicles. He also said there is some problem with EV batteries when the temperature rises in the months of March, April and May.
The Road Transport and Highways Minister also acknowledged that the country's EV industry has "just started" and emphasised that the government does not want to put up a hurdle. "But safety is the highest priority for the government and there can be no compromise with human lives," Gadkari said.
His comments assume significance against the backdrop of multiple incidents of Electric Vehicles (EVs) catching fire and resulting in deaths and severe injuries to people. The road transport and highways minister noted that the government wants to make EVs popular. "We understand that the EV industry has just started. We don't want to put up a hurdle. But safety is the highest priority for the government and there can be no compromise with human lives," Gadkari asserted.
The government had ordered a probe last month after an e-scooter launched by ride-hailing operator Ola's electric mobility arm caught fire in Pune. The Centre for Fire Explosive and Environment Safety (CFEES) had been asked to probe the circumstances that led to the incident and also suggest remedial measures, according to the road transport ministry.
The ministry had also asked CFEES to share the findings along with its suggestions on measures to prevent such incidents.
Last week, Ola Electric in a statement had said the company is recalling 1,441 units of its electric two-wheelers in the wake of incidents of vehicles catching fire. Okinawa Autotech had recalled over 3,000 units, while PureEV did a similar exercise for around 2,000 units.