Nimo fallout on imports
The repurcussions of the alleged Rs 11,400-crore scam at Punjab National Bank (PNB) are being felt far and wide.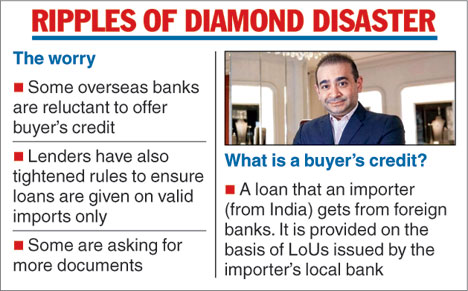 ---
|
Mumbai
|
Published 26.02.18, 12:00 AM
---
Mumbai: The repurcussions of the alleged Rs 11,400-crore scam at Punjab National Bank (PNB) are being felt far and wide.
The development has cast a shadow on buyer's credit with a few banks - in a knee jerk reaction - temporarily stopping funding or desisting from issuing fresh offer letters.
Both buyer's credit and letters of undertaking (LoUs) have been at the centre of the fraudulent transactions at the country's second-largest state-owned lender. The main fraud accused diamantaire Nirav Modi and Mehul Choksi of Gitanjali Gems are out of the country, with the government revoking their passports.
Buyer's credit is a loan an importer (from India) gets from foreign banks which may be subsidiaries of Indian banks. It is used (by the importer) to pay for the imports into the country. This buyer's credit is provided on the basis of an LoU, which is issued by the importer's local bank. Banks usually issue an offer letter (stating the quote and other details) before starting the funding process.
An LoU is provided against a margin or a collateral which could be in the form of a fixed deposit. Banks charge a fee from the importer for the LoU.
The buyer's credit usually goes to an overseas nostro account from where the payment to the importer's bank is made. A nostro account is an account held by an Indian lender in a foreign bank in their currency. The CBI in its two FIRs filed on the PNB scam had said fake LoUs were issued and the buyer's credit raised were not used for specific purposes in many cases.
It is now learnt that overseas banks or at least some of them are now shying away from buyer's credit with a few even stopping giving fresh quotes. Lenders, too, have tightened the requirements to ensure loans are given on valid imports only.
According to Sanjay Mandavia, an expert on trade finance and who arranges buyer's credit for SMEs, while some banks have cancelled offer letters that have already been issued, obtaining fresh quotes have become difficult. He further pointed out that a few are asking for more documentation that includes copy of the bill of landing or invoice prior to a quote being issued.
For the importer, the double whammy comes as the rupee has come under pressure after the unearthing of the scam. "My fear is that the genuine requirement for importers may be hit if banks have temporarily stopped quoting for buyer's credit transactions," Mandavia told The Telegraph.
He said if an importer (where the import process has already begun) fails to arrange buyer's credit, may be forced to opt for cash credit (a short-term loan) or a term loan which could raise costs.
He said certain banks even want to conduct the entire transaction on their own, from issuing LoUs to funding or taking a quote from the overseas arms.