Mittal starts Essar innings
Aditya Mittal will be the chairman of the board of the newly-formed ArcelorMittal Nippon Steel India Ltd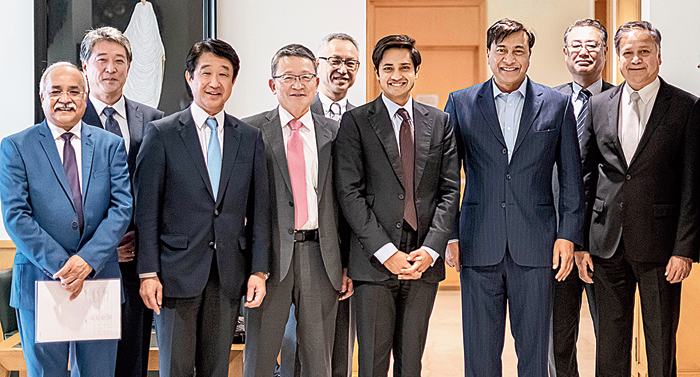 Lakshmi Mittal and Aditya Mittal with members of ArcelorMittal and Nippon Steel after completing the acquisition of Essar Steel
The Telegraph picture
---
Calcutta
|
Published 16.12.19, 07:03 PM
|
---
ArcelorMittal and Nippon Steel has formed a 60:40 joint venture to own Essar Steel India even as the partners will have equal say in the management of the company.
Aditya Mittal, president and CFO of ArcelorMittal, the world's largest steel maker, will be the chairman of the board of the newly-formed ArcelorMittal Nippon Steel India Ltd (AM/NS). Both AM and NS will have equal number of members on the board.
Dilip Oommen, who was the chief executive of Essar Steel under the erstwhile management of the Ruia family, has been designated as the CEO of the new board.
The management and equity structure were unfurled following the formal completion of the transaction to take over Essar Steel. The two companies paid off Rs 42,000 crore to the financial and operational creditors of ESIL, making it the most successful resolution of a distressed company under the three-year-old Insolvency & Bankruptcy Code, 2016.
Nippon Steel said another Rs 8,000 crore would be injected in the venture for capital expenditure and working capital.
Aditya Mittal and his father Lakshmi Niwas Mittal, who is the chairman of ArcelorMittal and the largest shareholder, are likely to visit the Essar Steel plant at Hazira in Surat district, Gujarat, on Tuesday. Lakshmi Mittal met Vijay Rupani, chief minister of Gujarat, and senior officials of the state administration in Gandhinagar on Monday.
On Monday, L.N. Mittal, who grew up in Calcutta, underscored how the transaction capped his long awaited dream to enter the Indian steel market.
The Mittal family had a steel business in India before it was carved out among brothers following a separation of business in the 1990s. While younger brothers Pramod and Vinod took control of Indian operations, Lakshmi Niwas went abroad and built the world's largest steel company.
"The acquisition of Essar Steel is an important strategic step for ArcelorMittal. India has long been identified as an attractive market and we have been looking at suitable opportunities to build a production presence in the country for over a decade. Both Essar and India's appeal are enduring," L.N. Mittal said in a statement.
Eiji Hashimoto, representative director and president of Nippon Steel, offered the Japanese perspective: "We will strive to establish a prominent presence in India, conforming with its policy to increase domestically-produced steel products."
Aditya Mittal said further expansion of capacity is on the cards. "We are delighted to be here. Our aim is to create long-term value by becoming a leading steel manufacturer in the country."
Essar's capacity will be increased to 8.6 million tonnes (mt) from 7.5mt now and then to 12-15 mt in the later stage.