Meghalaya start-up policy focuses on job creation
In an interview The Telegraph, Meghalaya chief minister Conrad K. Sangma highlights the rise of entrepreneurs in the state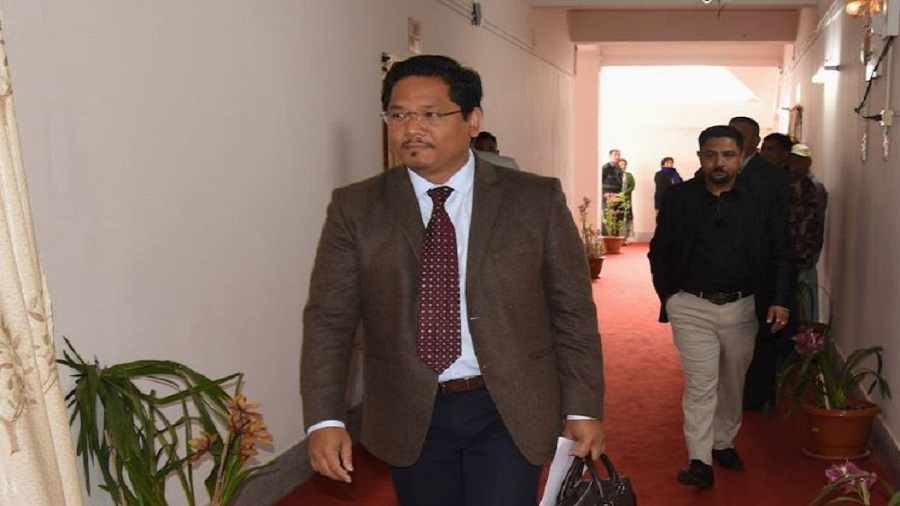 Conrad K Sangma
Facebook/ConradKSangma
---
Published 18.07.22, 01:30 AM
|
---
With a 120 per cent year-onyear growth in the number of start-ups, Meghalaya is on track to re ach its goal to incubate 500 start-ups by 2023. In an interview with The Telegraph, Meghalaya chief minister Conrad K. Sangma highlights the rise of entrepreneurs in Meghalaya and the policy support for the next phase of growth of startups in the state.
Give a current overview of the start-up sector in Meghalaya in terms of number of registered startups, year-on-year growth and employment. What is the expectation in terms of new registrations?
In 2018, when the MDA government came to power, we observed that the youth who are about 31 per cent in the state, have lots of untapped potential and weren't provided with the right platform to unleash their talent. Many of the youth have entrepreneurial ambitions but have been clueless, due to a lack of guidance and mentoring support. Taking cognizance of all these, we came up with Startup Policy in 2018, which provides support from ideation to implementation. We aimed to create an enabling environment and ecosystem to incubate at least 500 start-ups in the first five years.  So, far 422 start-ups have been registered and we are observing a 120 per cent year-on-year growth. We also hope that this number increases exponentially, with all the effort and support from the Government of Meghalaya. Now we are expecting 250 start-ups each year. One of the prime objectives of the Start-up Policy is to 'Create Job Creators' and we are already accomplishing this dream. So far, our entrepreneurs have employed 3,000 plus people, through their start-ups and we are hoping that the start-up ecosystem would eventually create thousands of more such jobs by 2023. What are the driving factors behind the growth of start-ups in Meghalaya?
While we were formulating the policy, I have always emphasised developing a conducive environment for start-ups, a nurturing ecosystem with all kinds of support starting from ideation to funding support. We have successfully done that under the banner of the PRIME (Promotion and Incubation of Market Driven Enterprises) programme. We have a start-up known as EriWeave looking to preserve the legacy of Eri silk. Laishah Rymbai knew all about silk but had very limited knowledge about starting and operating a business. We identified her in PRIME Cohort 2.0. Currently, she is working with 100 women and with the help of PRIME mentoring has established a model to reach out to many more women. The brand was also selected to participate at the Dubai Expo 2022 where it gained a lot of visibility and exposure. We are facilitating smooth and time-bound decisions on statutory compliance, seamless access to incentives, a network of support for access to appropriate technology and an assistive state apparatus have been the reason the youth is inclining more towards entrepreneurship.
What has been the outcome of the PRIME program? How much financial assistance has been disbursed under the program? Is the state looking to further expand the funds allocated under the program?
PRIME has been the key driver of our Start-up Policy. With the support and initiatives of PRIME, Meghalaya has been ranked as the ''Best Performer'' in Start-up India State Ranking by the Government of India. We had supported 422 start-ups and are very much on track to reach our goal of 500. We have been able to benefit about 1,300 entrepreneurs. 60 per cent of the start-ups are led by women entrepreneurs. To create a synergy among the start-ups, we have established 4 PRIME-Hubs where new start-ups are incubated. The PRIME hub in Shillong is one of the best incubation centres in the country. We plan to have 8 such hubs. Coretta Sangma is an entrepreneur who got incubated in PRIME Tura. Her start-up Nostalgia Label is developing a fashion brand leveraging local craftsmanship and resources. So, you see through start-ups like her, employment is being generated at multiple levels and also utilizing local produces. We are providing funding support and credit linkage initiatives. So far, we have provided about Rs 6 crore of funding support to 210 plus start-ups. Similarly, 17 entrepreneurs are supported with a Kickstart of up to Rs 5 lakhs each. We have also provided up to Rs 25 lakhs to 12 entrepreneurs through Scaleup innovation loans and 0 per cent interest loans to 74 entrepreneurs up to Rs 25 lakhs. 22 Ateliers (workshops) have been provided financial support. Our efforts have led Meghalaya to be the best in the country in the start-up ecosystem, competing with Karnataka and Gujarat.
A key ingredient for successful start-ups is to have strong higher educational institutions in the state to support these companies. What has been the state's role in this regard?
Historically Shillong has been the educational hub of the North-East region and we take pride in our educational system. Our efforts to have higher educational institutes in every district and Peoples Colleges to provide quality education to rural masses will soon be a reality. Also, Meghalaya has been a hub for institutes of national importance such as IIM, NIFT, NIT, NEHU and NEIGRIHMS. We will soon have a National Law University. We are introducing academic incubation by funding academic institutes to set up their own entrepreneurship promotion and development programs and incubators. Our larger goal is to change mindsets at a young age and drive technology-focus in academia.
Has work started on the subsequent start-up policy? What could be the focus areas of the next policy?
Yes. We are now officially initiating phase 2.0 of PRIME in a much grander way. Some of the focus areas include close collaboration with other departments to cross-share schemes and training, collaborations for events (e.g. FSSAI Facilitation Program), visiting blocks and villages and conducting thorough business diagnostics sessions with nano entrepreneurs. Based on the results we will develop new support interventions. Also, we have initiated PRIME-Sauramandala Rural Entrepreneurship Fellowship placing teams of young changemakers at the block level. There is a great thrust on setting up an Atal Community Innovation Centre to imbibe an innovation-based mindset down to rural communities.