Lured by deep discounts, India becomes biggest buyer of Russian Urals crude
Russian supplies seen making up 20 per cent of Indian oil imports, up from 2 per cent before the Ukraine war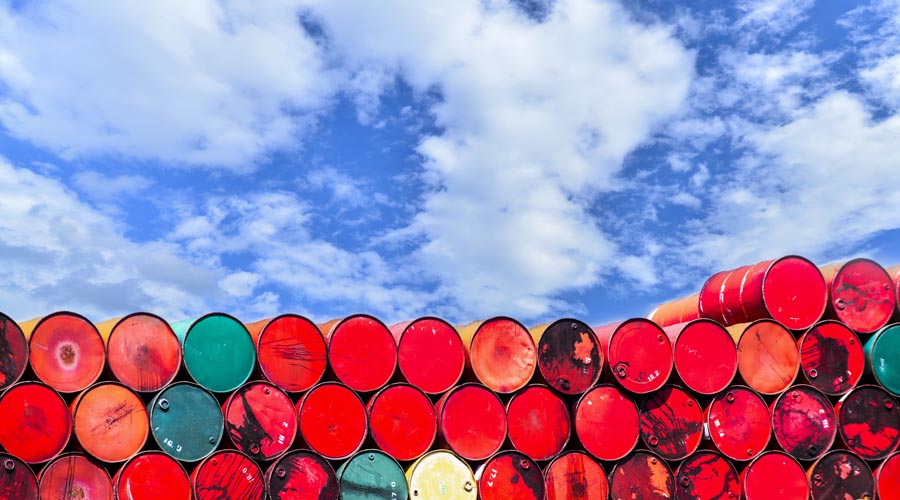 Representational image.
Shutterstock
---
New Delhi
|
Published 15.06.22, 11:10 AM
|
---
India has become the world's biggest market for Russian Urals crude oil and will likely be importing even greater quantities following the opening of a new, shorter route from St Petersburg to Nhava Sheva port on Tuesday. The route slashes the transportation time to just over three weeks from more than 10 weeks via the Suez Canal.
India imported 840,645 barrels per day (bpd) of Russian crude oil in May and that's seen climbing to 1 million bpd this month. 
Contrast that number to the 388,666 bpd India imported from Russia in April and the 136,774 bpd it bought from Russia in May 2021. Back in 2020, Russian Urals crude exports were just 16,000 bpd. 
"India has become the key market for Russian crude. They are saving Russia's crude exports," said Viktor Katona, Co-Head of Crude Analysis at data and analytics firm Kpler.
If the current trend continues, Russian oil in June will make 20 per cent of India's crude imports, up from 2 per cent before the outbreak of the Ukraine war. "It will amount to a ten-fold increase for India in buying from Russia," Katona said. India in total requires 5 million bpd.
India's getting its oil from Russia at 30 per cent below the Brent crude price, which is the main global benchmark of oil prices. Brent crude prices are currently at $120 so India could be getting its crude at below $90.
"Since February, refiners realized this was a business opportunity they could go on, that they could play this deep discount of $30," Katona said.
Russia's invasion of Ukraine has turned into a bonanza for Indian refiners. Indian refiners are getting a "double whammy of profits," getting their Russian crude oil at cheaper prices and reselling, mostly to other Asian markets, at the prevailing international prices.
The Russian shipments are bound for Indian refineries such as Reliance's two in Jamnagar which have a capacity of 1.36 million bpd, Nayara Energy's 400,000 bpd site in Vadinar, Indian Oil Corp's 300,000 bpd Panipat refinery and Bharat Petroleum Corp's 310,000 bpd Kochi refinery.
Importing Ural crude "is just too good a business not to go into. The profit India can make on buying Russian crude and then selling the product that it refines at market prices creates a situation in which Indian refiners are the most profitable refiners globally," he said.
Russia crude sales mount
Russia is also doing well on its oil sales, despite the discount its offering. Russia racked up around $97 billion in revenues from its exports of oil, gas and coal in the first 100 days of the conflict, said Finland's Center for Research on Energy and Clean Air. Some two-thirds of the revenues were derived from oil, and the balance mainly from natural gas. The revenue is believed to be unprecedented because of record prices for crude and high level of exports.
"Russia has started to refine less crude domestically and has been pushing all the crude it can onto the markets," Katona said. 
The Finnish research body reported that Russia's fossil fuel export prices were 60 per cent higher than last year, even though Russian oil is priced about 30 percent below international market prices.
Russian crude oil has still not been subjected to sanctions but several countries, especially in Europe have already cut back on purchases and an embargo that will apply to three-quarters of Russian oil shipped to the region will kick in at year end. they must stop buying by year end. "A lot of countries have already self-sanctioned," Katona said. 
India, China major buyers
India and China have become two of the bigger buyers, though India right now is by far the largest consumer. "China has so far failed to buy at the pace and with the dynamics that Indian refiners have been buying. This might be because of Covid-19 lockdowns and the demand losses that China has seen," Katona said. "But also this might be due to higher caution levels on the side of Chinese importers" who fear they could be caught in sanctions crossfire, he said.
Till February India only bought small amounts of Russian crude oil, largely because the commodity had to travel 16,000km from St Petersburg via the Suez Canal to an Indian port. 
The new route will have the crude moving from St Petersburg to different ports in Iran. Finally, it will be shipped from Bandar Abbas to Nhava Sheva on the west coast, a total distance of 7,000km. Also, the journey by what is called the International North South Transportation Corridor, can be made in just over three weeks compared to more than seven weeks for oil imports that come via Suez.
India has reduced the amount of oil it ships from countries like Saudi Arabia and the UAE in from the Middle East in the last few months as it has bought more from Russia.  
India, which has remained neutral in the Ukraine conflict, has resisted pressure from the US Biden administration to stop trading with Russia. India imports more than 85 percent of its crude oil needs.
Opec says demand will climb
The Organization of Petroleum says that demand for crude oil will be higher than last year but it has lowered its forecasts already twice this year in the wake of unsettled economic conditions globally. Opec now says demand will climb by 3.6 million barrels per day.  
Kpler, a leading data and analytics firm, says that India will continue to buy large quantities of Russian crude and that purchases are likely to touch 1 million barrels in June and continue at the same level in July.  
International analysts say Indian refineries could be buying even larger amounts than what is generally known. 
"India may be buying much more than it's already buying right now because there has been talk of Indian refiners going into term deals with Rosneft, Russia's largest crude oil producer, so there is scope for even more purchases," Katona said.
Indian oil companies most profitable
The analysts point out that Indian refineries like Reliance and the state-owned oil companies like Bharat Petroleum, Hindustan Petroleum and IndianOil Corporation are currently the most profitable oil companies in the world.
"India has gone from a small drinker of Russian crude to a big consumer of Russian crude and they're going to keep on buying," said Bob Mcnally, managing director of Rapidan Energy Group. India's already seeing much higher prices in dollar terms. "Their currency is weak and they can't say no to the great deal they are getting from Russian barrels, McNally said.
India's decision to buy Russian oil was not a political statement in favour of Moscow's invasion of Ukraine, foreign minister S. Jaishankar told an Indo-Pacific forum held in Slovakia this month. "We don't send people to buy Russian oil, we send people to buy oil in the market, buy the best oil. I will not attach a political message to that," he said.
Russian oil giant Rosneft also has a 49 per cent stake in India's Nayara refinery which formerly belonged to the Essar group. Some Indian banks had been reluctant to advance loans to Nayara earlier this year. 
Russia: who else to sell to?
Russia has been exporting more crude oil since the Ukraine war began because its refiners are processing less than before.
"The longer-term problem Russian producers are facing is who else can they sell to apart from India" especially once the EU sanctions kick in, Katona said. "Who will be buying and for that there is only one big country on the map and that is China.
"China could buy just as much as India is buying one million barrels a day of Russian crude beyond what it is already buying from Russia's Far East," he said. "But so far, this is not happening.