Limited appeal
Thematic funds may be gaining ground but they come with their own set of risks, warns Nilanjan Dey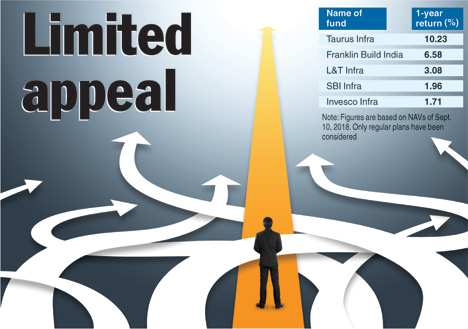 ---
Published 16.09.18, 06:30 PM
|
---
Many of you may remember infrastructure funds, a number of which were launched amid a lot of enthusiasm not very long ago, most of them in quick succession. Can you guess how they have fared in the recent past? It's been single-digit returns - a polite metaphor for gross under-performance - for the luckless investors who have had the courage to hold them for the past year or so.
Well, you may just ask that if infrastructure fund returns are so passé, why do we need to bring up the topic now. This is because thematic plays are being rejigged once again, courtesy a section of fund houses which seem to have shown fresh interest in similar themes. In fact, one of them has just wrapped up a new offering based on the services sector.
Let us, therefore, take a look at the general state of thematic options in view of the performance they have delivered, the prospects they seem to possess and the risks they are likely to face in the days ahead.
Before we proceed, let's remind investors that thematic funds (or, at least the kind that often gets bandied about in the Indian market) are not for all and sundry. These should appeal to the mature, discerning participant who can adopt a courageous strategy.
Absence of clear focus
A thematic universe often tends to be quite inclusive. In the past, such a domain was related to infrastructure, services, manufacturing, IT-enabled industries and so on.Well, each of these is quite broad-based in nature; a fund that cottons on to any one such theme automatically tends to have a diversified portfolio.
Infrastructure, for instance, covers a rather wide range of economic segments. In fact, in the practical world of fund management, it encompasses sectors as diverse as finance, metals, engineering, commodities, energy, hospitality and transportation.
While diversification (a way of spreading risks over a number of sectors) is assured in the case of such structures, their portfolios may well be marked by the absence of clear focus.
Here's an example of a thematic fund based on the "Build India" tag. In recent times, it had heavy allocations in industrial products, oil & gas, telecommunication, automobiles, cement, power and construction.
The fund, which benchmarks itself against the S&P BSE India Infrastructure Index, has spawned negative returns in recent months. As on June 29, 2018, its three-year performance stood at a mere 9.7 per cent. This, in other words, spells disappointment.
Is the absence of a narrower and clearer definition a cause for worry? Yes, and here I would like to underscore the idea that services, manufacturing and similar spins will potentially yield little by way of returns - except for short stretches of time. Investors, therefore, must be familiar with their risks. They must also exercise adequate caution and, no less importantly, remain patient.
Not sectoral funds
Compare thematic plays with mere sectoral products. In the past, we have had sectoral funds focus on IT, financial services, FMCG and pharmaceuticals. Each of these operates within a narrow, well-defined universe of equities.
Sectoral funds have precious little to offer by way of diversification, a concept that essentially caters to risk-taking investors.
Nevertheless, this is the real reason why they have at various times enjoyed very limited bouts of hyper-growth; indeed, this is where their appeal lies.
Discerning investors may earmark only a limited part of their overall resources to such funds, keeping in mind their risky nature. Such allocation may be stepped up if the trend is right, although this may seem to be a bit too speculative.
The latter, never a very healthy indulgence for ordinary investors, would have to be exercised with considerable circumspection, perhaps after concluding a round of consultation with a financial planner. In fact, the market's recent dalliance with pharmaceuticals (a sector that has not participated in the latest rally in the past five years or so) should be viewed similarly too.
Guarded exposure
Ordinary investors, especially the newbies, should assign low weightage to wide themes such as services. Yes, it will give you instant diversification across industries, but it will at the end of the day probably remain a medley of stocks that may not perfectly serve your interests for long.
Instead, if you do wish to live dangerously, simply root for narrow sector funds if the season seems fit and proper.
Go ahead and buy a pharma fund if the US market eases for Indian drug companies. Or, take a strategic call in favour of a banking fund if the financial services space looks poised to benefit from fresh reforms.
When the time comes to build your portfolio, first select diversified equity funds that invest across the market-capitalisation spectrum.
Perhaps you can start with an index fund or two.
Let these as well as actively-managed large- and mid-cap equity funds serve the very foundation. All exotic products, sectoral or thematic or similar high-conviction ideas, may come later.
The writer is director, Wishlist Capital Advisors