LIC shares close 8% below issue price, investors told to look long-term, not to panic
Insurance behemoth's is second worst trading debut this year of 11 global IPOs worth at least $1 billion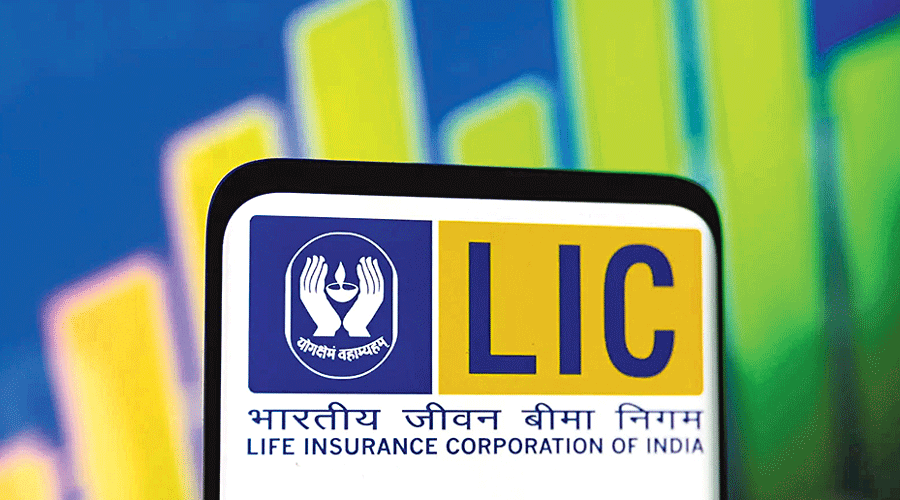 Representational Picture
File Picture
---
Published 17.05.22, 05:21 PM
|
---
There was no first-day "pop" for investors in Life Insurance Corp in India, India's biggest-ever IPO, when it made its trading debut Tuesday after staging its record $2.7 billion offering. In fact, the only sound for investors was a letting out of air as LIC shares listed at a discount of nearly 9 per cent to their allotment price. 
LIC's performance marked the second-worst debut among 11 global companies this year after raising at least $1 billion through first time share sales, according to Bloomberg.
Investors are being told by analysts not to "panic" and that LIC is still a solid share for the long term.
The shares launched at Rs 867 on the Bombay Stock Exchange, down 8.62 per cent from their issue price of Rs 949, dragged down by overall weak market sentiment driven by bad inflation numbers, interest rate hikes in India, globally, slowing growth and Russia's war on Ukraine. The shares closed out the day at Rs 876, down 8 per cent from the offer price even as stocks in India and across Asia rallied. The Sensex leapt 1,345 points or 2.54 per cent to settle at 54,318.
"Investors should stay put with LIC shares. LIC is a big organisation and it aims to do better going forward. One should not invest in IPOs for the sake of listing gains only," said government investment secretary Tuhin Kant Pandey.
Analysts said that the problem for LIC lay in the current state of global markets rather than the company and that they had no reason to worry longer term about its performance. "LIC has a solid business, trusted brand, and market leadership in an underpenetrated insurance market," said TIW Capital Group's managing partner Mohit Ralhan. 
LIC holds nearly two-thirds of the Indian market with about 282 million policies and over 1.3 million agents. As of the end of last year, LIC had a market share of 61.6 per cent in premiums and 88.8 per cent in group policies issued. LIC is seen delivering "steady returns" over a long period of time. Ralhan said.
With the general market volatility, analysts had been warning that the "pop" phenomenon – the jump in the stock price during the first day of trading – for LIC investors might not happen so it was less of a surprise. Just ahead of LIC's listing, demand for the shares in the grey market, the unofficial market for financial securities, had plummeted into negative territory.
"We advise allotted investors not to panic and hold it (LIC) for medium to long term," said Prashanth Tapse, VP (Research), Mehta Equities Ltd. Analysts said LIC's prospects were enhanced by the still massive under- penetration of the insurance industry in India and "demographic tailwinds" thanks to India's 1.4-billion population. LIC, as market leader, "is poised to benefit," Samco equity research head Yesha Shah said.
Macquarie Capital Securities gave LIC's stock a neutral rating and a 1,000-rupee price target, saying the insurer's challenge would be to diversify its product mix into higher margin products. LIC also has lost some market share to nimble private insurers.
LIC's market launch wasn't as bad as it was for digital giant Paytm whose stock sank 27 per cent on its debut (it's now trading more than 70 per cent below the offer price). But it could cast a shadow over IPOs planned by other companies in the near future. LIC was the biggest part of a $10.4 billion asset-sale program by the government.
Ernst and Young said in a report that India's IPO market has witnessed a significant slowdown this year in the first quarter.
The LIC offering was due to be held last year but was derailed by the pandemic. The government had planned to sell the stake in March but got cold feet when the share market reacted badly to Russia's invasion of Ukraine and was rattled by economic slowdown fears. 
But to make the IPO a success, the government cut the planned size of the offering by a massive 60 per cent and slashed its valuation by around 50 per cent, drawing opposition criticism that it was selling off public assets on the cheap. 
The government raised Rs 205 billion with the share issue. The oversubscription of 2.95 times for the insurer's shares was somewhat below what LIC might have hoped for. With India's weakening currency, foreign participation in the IPO was muted.
The cash-strapped government needed to go ahead with the IPO in an effort to help plug its yawning fiscal deficit. But economists said it wasn't the greatest time to stage the IPO with the overall bearish sentiment gripping the market.
"The subdued listing of LIC is in-line with expectations in context to the drop in market dynamics from the opening of the IPO to the listing date," said Vinod Nair, research head at Geojit Financial Services.