Kumar Mangalam Birla status quo at Kesoram
Five months on he continues to remain promoter of Kesoram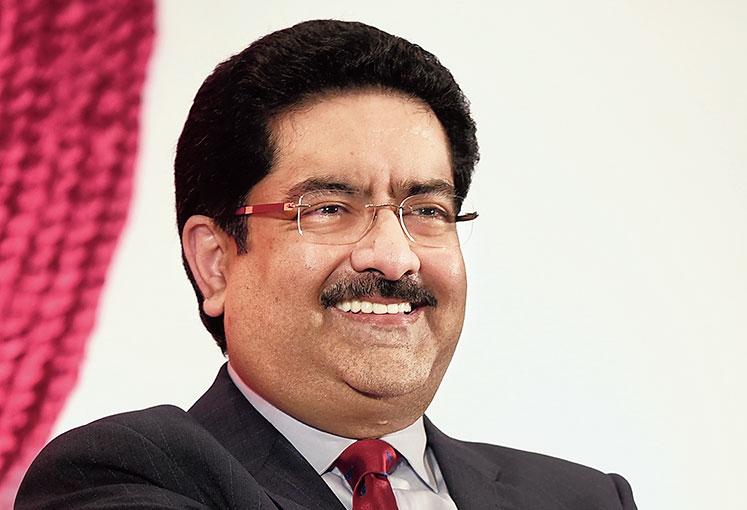 Kumar Mangalam Birla
Telegraph file picture
---
Calcutta
|
Published 11.08.19, 09:43 PM
|
---
Kumar Mangalam Birla continues to remain a "promoter" of Kesoram Industries Ltd, despite writing to market regulator Sebi to change his status to a public shareholder five months ago.
The chairman of $48.3-billion Aditya Birla Group holds only 300 shares in his personal capacity in Kesoram, the flagship company of the group headed by his grandfather Basant Kumar Birla, who died last month.
Manjushree Khaitan, BK's daughter and Kumar's aunt, is now at the helm of Kesoram, which is in the process of being split into two entities to focus on cement and tyre, separately.
An official from Kesoram Industries said the company had not heard either from Birla or the market regulator on the request. "It is a status quo," the official told The Telegraph.
The process
Section 31A of Listing Obligation and Disclosure Regulations lays down how a promoter of a listed entity can become a public shareholder. The promoter has to make a formal request of re-classification to the listed entity, including a rationale for the same.
The board of the company will have to meet and place before shareholders in a general body meeting for approval along with the views of the director. The promoter shareholder seeking such reclassification would not be able to vote on it. Once the ordinary resolution is passed, the company will apply to the stock exchange, which will take the final decision. If a company is listed on multiple exchanges, all the exchanges will take a decision jointly.
Curiously, the letter by Birla on March 13, 2019 was written to Sebi, with a copy marked to Kesoram "for their necessary action".
Sources said the matter might have been discussed informally in a board meet subsequent to the letter but no action was initiated. "The letter was addressed to Sebi, not to the company. Hence, there is nothing to be done by us," the official quoted above said.
Birla's letter had sought to explain why the letter was sent to Sebi and not to Kesoram. "The listing regulations do not provide for reclassification of promoters at the instance of the promoter. It provides for re-classification by stock exchanges, on the application of the listed company. The listed company is required to comply with the prescribed conditions and follow the procedure as laid down under the regulations. There is no provision for an existing promoter to make an application to the stock exchange for re-classification as a public shareholder in any situation. I am, therefore, filing this application, seeking my reclassification from a promoter to a public shareholder in Kesoram Industries Ltd with immediate effect, subject to your approval."
Despite several requests and reminders by mail, phone and text messages, no one from the Aditya Birla group commented on the questions sent by this newspaper, asking whether its chairman was pursuing the request to be reclassified as a public shareholder in Kesoram.
The rationale
The letter written by Birla on March 13, 2019, to the executive director of the listing department of Sebi mentioned that he has no role to play in the affairs of the company or special rights.
"Historically, I have been disclosed as a promoter of Kesoram Industries Ltd, even though along with my family and entities controlled by us, hold less than 0.0035 per cent in Kesoram… I do not exercise any management or other control, directly or indirectly, in Kesoram or enjoy special rights of any kind therein."
Birla cited increasing regulatory challenges in India on account of competition law, insolvency and bankruptcy code and Sebi regulations.
"With the increasing operational and regulatory complexities, I find my classification as a promoter of companies other than those of the Aditya Birla group, would have compliance challenges. Many a times, there is an impression created in the minds of regulators and other stakeholders that companies other than the Aditya Birla group, are also controlled by promoters of the Aditya Birla group. A recent example is that of the Competition Commission of India's (CCI) approval to the acquisition of JP Cement Plants by Ultratech, a company of the Aditya Birla group because of common directorship/promoters, wherein we were served with a show-cause notice by the CCI for not declaring Century/Kesoram as jointly managed by the Aditya Birla group for the same reason," he wrote.
He further cited compliance complications on account of Sebi (Issue of Capital and Disclosure Requirement) and IBC, 2016.
Crossholdings
Birla's letter noted that many companies were promoted by Ghanashyam Das Birla and his brothers. Over a period of time, several groups headed by the children of G.D. Birla and his brothers were formed, to independently manage various companies.
"Some of my family members, including myself, were also declared and continued to be a promoter in few companies which are not part of the Aditya Birla group and have been managed independently," Kumar wrote.
Two of the largest shareholders of Kesoram are Pilani Investment and Industries Corporation Ltd and Century Textiles and Industries Ltd, which hold 19.17 per cent and 3.59 per cent, respectively. After BK's death, Rajashree Birla, mother of Kumar, became the chairperson of Pilani, while Kumar became the chairman of Century. Rajashree Birla is also the promoter of Kesoram, holding 3,250 shares in her personal capacity.
A section of corporate observers believe the market regulator would have to take a view on Pilani and Century's shareholding before taking a call on Kumar Birla's reclassification request. Sebi did not respond to the story.
Though rare, there has been instances when a re-classification request was accepted by the bourses. ArcelorMittal sold its share in Uttam Galva Steel and struck itself off as the promoter of the defaulting steel maker. Recently, McNally Bharat is going through a process to reclassify EMC Limited and MKN Investment Pvt Ltd from promoter and promoter group to public category. The company is seeking the shareholders' nod by postal ballot.