Kumar Mangalam Birla predicts upsurge in capital expenditure
'I believe, we have upon us a forthcoming decade of capex mahotsav,' chairman of the Aditya Birla Group told members of the Indian Chamber of Commerce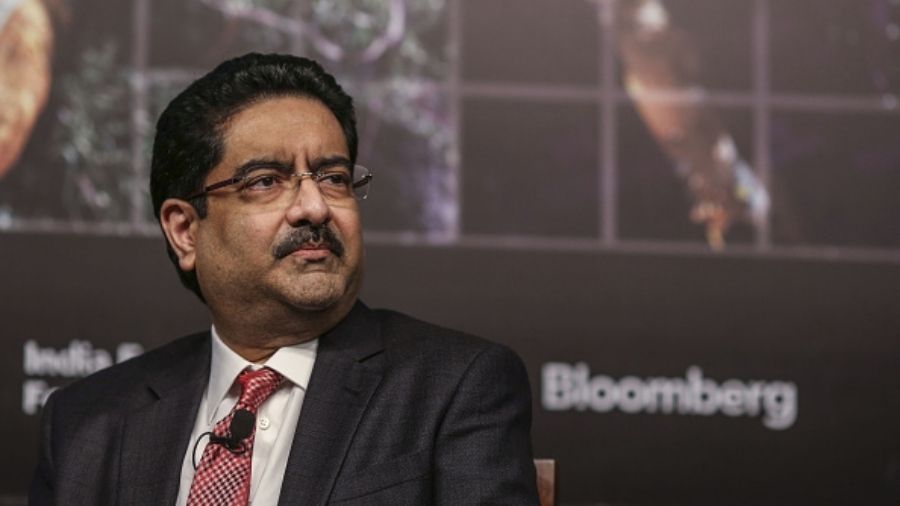 Kumar Mangalam Birla.
File photo
---
Calcutta
|
Published 27.11.21, 01:00 AM
|
---
Kumar Mangalam Birla, chairman of Aditya Birla Group, has predicted an upsurge in capital expenditure spanning across the public and private sectors over the next decade.
The country would benefit from the $1.5 trillion national infrastructure pipeline proposed by the Centre. The private sector would also play its part after shedding bad debts.
"I believe, we have upon us a forthcoming decade of capex mahotsav," Birla told the members of the Indian Chamber of Commerce.
While the infra push such as NIP would lead to government spending, rise in capacity utilisation and healthy balance sheets of banks and corporate India is going to spur a private sector capex revival which would last for decades, Birla felt. The chairman of ABG picked five broad markers that could shape the Indian economy  in the future.
In 2021, the government initiated several reforms such as  the consolidation of labour laws into a modern code or fixing legacy issues in power and telecom. Introduction of the GST or insolvency code have also started yielding results. "I believe 2021 is the new 1991."
He also predicted a deepening of the digital economy and a proliferation of the green economy based on renewable energy such as solar and hydrogen, which could be a tremendous growth driver.
Pointing out that Indians consume over 12GB of data per sim card per month, higher than Korea, China, Japan or the UK, he predicted 40 per cent of the economy could revolve around digital.
The boldest prediction the chairman of the $45 billion group by revenue made was imagining India, which imports 80 per cent of crude oil,as a net exporter of energy. This could be achieved by harnessing solar power from the 350 days of annual sunshine and the use of hydrogen as fuel.
Noting that the production cost of hydrogen would fall just as it happened for solar, Birla said, "A combination of solar and hydrogen has the promise of making India energy independent, or even an energy exporter."
He feels the flowering of entrepreneurial talent, manifesting itself in a proliferation of start-ups and the transition of the informal economy to a formal economy are two new dimensions in the economy.
However, he also wondered if the market was over-valuing the digital economy and warned there could be some bubbles. During an interaction with ICC members, Birla argued that basic metrics of business —  cashflow and unit economics — remained unchanged be it manufacturing, services or digital.