Jute Commissioner of India to enforce Jute and Jute Textiles Control Order, 2016
The order dated June 1 directs traders, dealers and stockists of raw jute to liquidate their holdings by June 10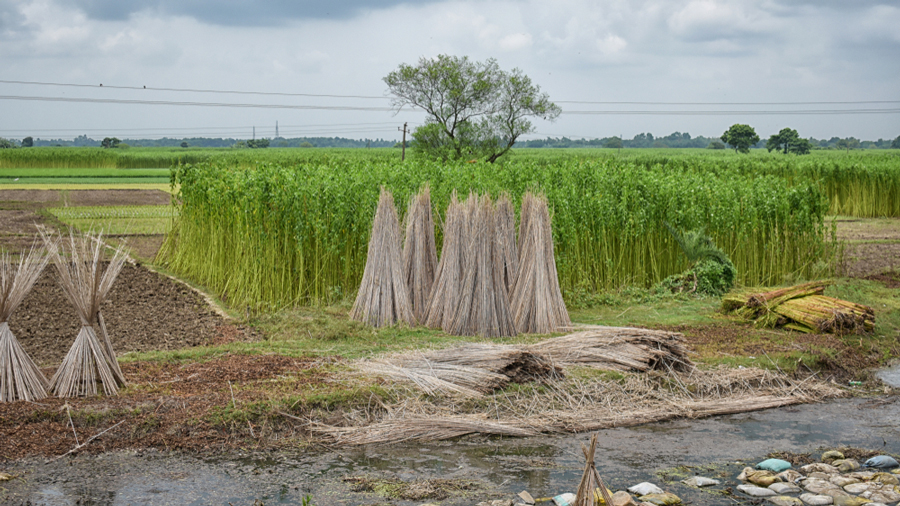 Representational image.
Shutterstock
---
Calcutta
|
Published 03.06.21, 02:22 AM
|
---
An unabated increase in raw jute prices has prompted the Jute Commissioner of India to enforce the  Jute and Jute Textiles Control Order, 2016, to liquidate stocks and prevent any unaccounted accumulation of the fibre.
The order dated June 1 directs traders, dealers and stockists of raw jute to liquidate their holdings by June 10. The mills have been asked to take physical delivery of raw jute by June 25. The order also directs that there will be no fresh contracts from any source between June 11 and July 20.
Those who fail to comply with the provisions of this order, will be punished under "clause 11 of the Jute and Jute Textiles Order, 2016 read with section 7 of the Essential Commodities Act, 1955 which provides for imprisonment and/or fine", Jute Commissioner Moloy Chandan Chakrabortty said in the order which comes a few days after a meeting between industry and state government officials.
The average price of monthly raw jute, which was around Rs 4,700 per quintal in July 2020, has shot up to Rs 8,047.06 per quintal as of May 22. Traders said Wednesday's quoted price is around Rs 8,800 per quintal and there is a likelihood that prices could breach Rs 10,000 per quintal.
The price rise has been consistent despite earlier orders from the commissioner limiting the maximum quantity of raw jute that mills and trade can hold.
According to jute traders, the increase in prices is because of the trailing effects of cyclone Amphan last year that had damaged 30-40 per cent of the crop. Crop yield also declined around 1 quintal per bigha of cultivated land.
A section of the industry is also engaging in speculation that is having an inflationary effect on the crop price.
According to members of the Indian Jute Mills Association, 16 mills have already closed down because of raw jute scarcity affecting the employment of around 50,000 workers. "Those mills who can afford are in a rat race to buy raw jute even at high prices," a jute mill owner said.
Raw jute prices, however,  are expected to ease once the new crop comes next month onwards. "If the weather conditions are favourable, we are expecting a good crop next year. Definitely the price situation will improve," said Jute Balers' Association secretary A. K. Palit.
Differing opinions
There are also differences over the quantum of stock that can be liquidated under the latest order. While traders estimate that a little over 1 lakh bales can be squeezed out through the order, government officials estimate the number to be at 3-5 lakh bales.
There are also differences over jute supply figures. Ijma has estimated a total jute supply for crop year 2020-21 at 74.5 lakh bales with no surplus stock. A committee chaired by the Jute Commissioner has forecast a supply of 80 lakh bales with a surplus stock of 5 lakh bales.