Introducing Copy Trading – A Tool for Hassle-Free Investments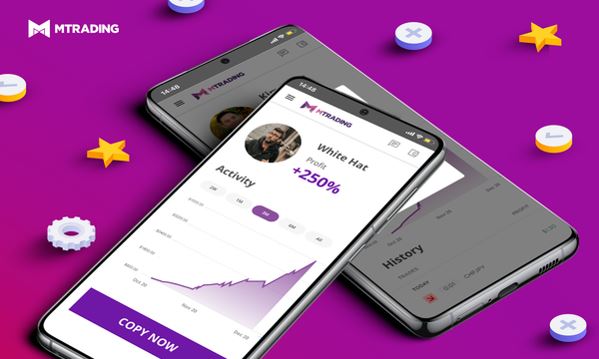 ---
Published 02.12.21, 12:19 PM
|
---
The modern world dictates modern ways of earning a living. The majority of people go online or look towards the financial market as the main or extra source of income. While trading is becoming extremely popular, more and more individuals enter the niche without having at least a baseline understanding of how financial markets work. As a result, over 90% of all newbies lose their money during the first weeks or even days.
Copy Trading is a new approach letting beginners generate profit without even knowing how to trade Forex or other instruments. The concept relies on the idea of autopilot copying trades of successful investors. As a user, you only need to create an account and choose the pro who will do all the job for you.
How Copy Trading Works
As an investor, you can use two different models provided by MTrading to utilize the copy trading technique:
Customizable copy trading. You choose an expert to follow but can still make changes in the trading strategy as well as set it in accordance with your preferences. This method will work out for those who want to be involved with the trading process and learn more about the financial market.
Automated copy trading. Don't feel like dealing with the learning curve? No problem. Copy Trading offers a fully-automated and hassle-free process where you follow and copy each position performed by an expert on autopilot. A perfect solution to those who seek passive income trading opportunities without the learning curve involved.
Elements of Copy Trading
Just as any other investment technique, copy trading consists of several baseline components. The good news is that you won't have to set up the strategy manually. As a rule, you just need to open a real account and select a top investor from the leadership board.
A chosen trader will be automatically assigned to your account. Nothing to worry about, as your balance is safe. None of the system participants will have access to your capital or specific features. To make the most of the methodology, you'd rather learn some of its main components:
The Broker – it is a platform where you are going to copy the trades performed by an expert. MTrading is a reputable and time-tested service provider offering instant depositing, superior IB programs, and copy trading opportunities, of course.
The Financial Market – defines the asset you want to trade. With MTrading, you can choose from over 100 instruments including Forex, commodities, stocks, futures, indices, etc.
The Signal Provider – the expert you choose is your signal provider. Every time he or she takes an action, you will be notified to know what is happening and to track results. You can change the strategy at any time to make it even more profitable.
The Follower – as a follower, you are also an investor who follows the mentor to make the trading process beneficiary for both of you.  
The Bottom Line
Copy Trading appears to be a simple and effective way to implement automated trading. It makes it possible for any person to invest in various markets and generate profits on autopilot despite the background or prior experience. At the same time, everyone should consider potential risks. What works great for one investor will make no sense for another. So, you need to evaluate a reward ratio potential and decide if it is worth trying. Following a more experienced trader is always a safer and more proven way to achieve good results in the long run.