Infrastructure demand keeps steel prices high
India will consume 110 million tonnes (mt) of steel compared with 94mt last fiscal, JSW Steel's joint MD and CFO predicts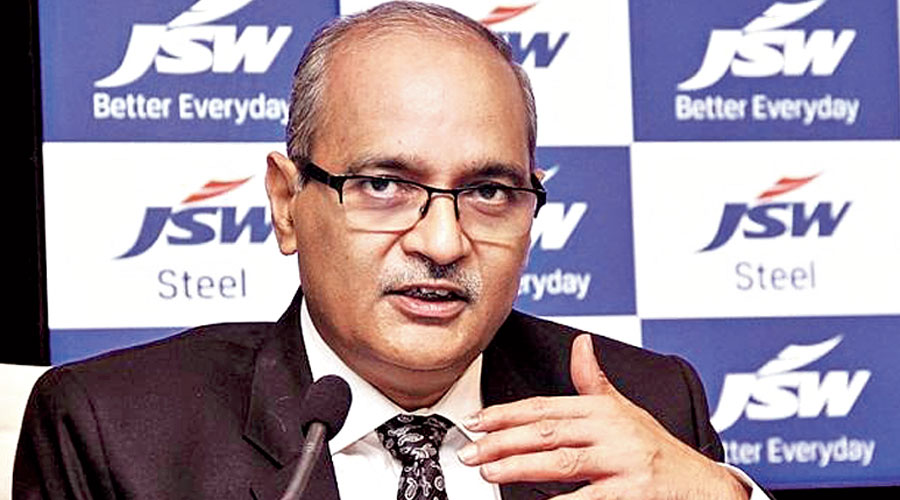 Seshagiri Rao
Telegraph Picture
---
Published 26.07.21, 01:19 AM
|
---
JSW Steel recorded its highest profit (Rs 5,900 crore) and revenue (Rs 28,902 crore) in a quarter marred by the brutal second wave of Covid-19. The company's joint MD and CFO Seshagiri Rao tells The Telegraph that spending on infrastructure and decarbonisation across the world is keeping the demand and prices of steel at an elevated level in the US, Europe and China despite the supply uptick. Unlike the last commodity boom, which was led by oil and gold, this time metals, including steel, are leading the charge. India will also consume 110 million tonnes (mt) of steel compared with 94mt last fiscal, Rao predicts. An excerpt:
Profits have gone up 40 per cent even though sales are down 11 per cent. Is this because the sales realisations are up?
Of course, sales realisations are up by 19 per cent on a blended basis. There are multiple factors. Cost push on account of iron ore and coking coal price jump was not fully reflected in the first quarter because we had inventory. The change in overseas operations also played a part. Compared with a Rs 325-crore loss, there is Rs 282-crore EBITDA profit this quarter, which reflects a Rs 600-crore swing.
Indian subsidiaries also played a part with profit up at Rs 1,125 crore compared with Rs 825 crore in the fourth quarter. Positive contribution from exports also came along, which contributed 35 per cent compared to 25 per cent in Q4. HR coil prices are Rs 5,000-6,000 a tonne more in the export market. BPSL also made a profit of Rs 745 crore.
Will the cost push be reflected in the second quarter?
There will be a cost push on account of raw materials. Coking coal prices for us will go up by $32 a tonne during this quarter which translates to $20 a tonne cost push per tonne of steel. In iron ore, there will be a cost push in this quarter because we have bought and built inventory at high prices. Coking coal cost will go up further in the third quarter but not in iron ore as prices are softening.
What is your outlook on prices and demand?
Prices will follow the cost. Internationally, 1004mt of steel was produced in January-June of 2021 compared with 878mt in the corresponding period of 2020 and 928mt in 2019 when there was no Covid. China produced 563mt in the first six months compared with 504mt in 2020 and 491mt in 2019. There is an 18 per cent growth over last year in the rest of the world. So, steel supply has gone up everywhere, not only in China but in all the geographies, most significantly in the US and the EU in the last six months and in the last quarter too. This indicates very strong demand because prices are up despite the increased supply.
Where is this demand coming from?
Governments across the world are pouring money into infrastructure. Moreover, there is a $2-trillion investment committed till 2050 to renewable energy and infrastructure for decarbonisation. This is translating into a 3 per cent incremental capital expenditure as a percentage of GDP. Last time, the commodity boom was led by oil and gold, this time it is metal. So, we are pretty confident of steel demand in the world and in India. So I don't see prices crashing, they may fluctuate.
Where do you see India demand playing out in the next few quarters?
We have given an estimate that India will consume 110mt steel this fiscal compared with 94mt last year. I have no doubt we will reach that number or even surpass it marginally. The second quarter, though sluggish, will be better than Q1, when we consumed 24.7mt compared with 30mt in Q4, (12mt in Q1 of last fiscal). We are seeing demand from yellow goods, appliances, solar, packaging and residential construction. Infrastructure will be back from Q3 too.
Let's turn to JSW Steel now. Mixed signals from Odisha. Some say JSW will give up two mines. Is that true? The state will also put up 10 mines for fresh bid.
This is completely wrong. We are investing in a beneficiation plant, digitisation and buying equipment to operate on our own. In fact, JSW will also participate for more mines in the latest round of auction. There are 10 mines put up for bid, three of them are large. We will definitely participate in them.
You are also bidding for NINL in Odisha?
The government has shortlisted the bidder and opened the data room. It looks to be an interesting opportunity. Roadshow for Nagrnar (NMDC steel plant) is on too. These two we are examining.
Your take on the Centre's PLI scheme for high grade steel. Will JSW look at it?
The Centre has offered 12 per cent incentive on grain oriented electrical steel, which is 100 per cent imported to India today. We have already announced JSW is exploring a JV with JFE of Japan in this segment. We are studying it. The maximum a company can get is Rs 200 crore a year. So, a company can maximum get Rs 1,000 crore in five years.