IndiGo, SpiceJet deep in the red
Aviation sector in crisis of survival owing to the restrictions due to coronavirus pandemic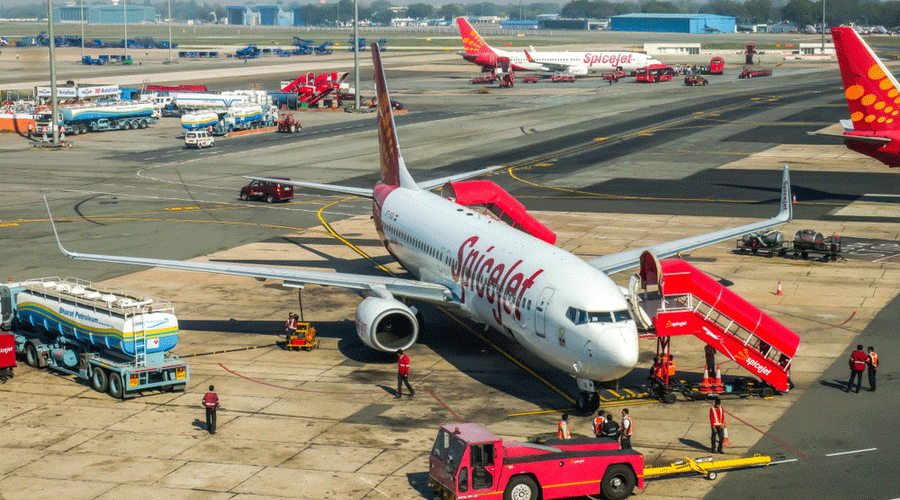 ---
---
InterGlobe Aviation on Wednesday reported a net loss of Rs 2,844.3 crore for the June quarter — its sharpest quarterly loss in at least five years — as coronavirus-related restrictions hit its operations hard.
The parent of the country's largest airline IndiGo had recorded a net profit of Rs 1,203.1 crore a year ago.
IndiGo CEO Ronojoy Dutta said, "The aviation industry is going through a crisis of survival and, therefore, our cash balance remains our number one priority."
The airline's total income declined 88 per cent to Rs 1,143.8 crore. In the year-ago period, income stood at Rs 9,786.9 crore.
Revenue from operations declined 91.9 per cent to Rs 766.7 crore in the quarter under review compared with the same period a year ago.
SpiceJet loss at Rs 807 crore
Budget carrier SpiceJet has suffered a net loss of Rs 807.1 crore in the March quarter of 2020 against a net profit of Rs 56.3 crore a year ago. The airline's auditor has cautioned that the carrier has "accumulated losses and its net worth has been fully eroded".
For the whole of 2019-20, net loss stood at Rs 934.8 crore against a net loss of Rs 316.1 crore in 2018-19.
SpiceJet chairman and managing director Ajay Singh said, "Two key factors that adversely impacted our performance and bottomline were: The Covid-19 pandemic and the grounding of the 737 MAX."
The airline's chief financial officer Kiran Koteshwar has resigned to "pursue an exciting opportunity overseas". He will remain with SpiceJet till August 31 and for a transition thereafter.
Jet Airways numbers
Jet Airways, which is undergoing an insolvency resolution process, saw its loss widening to Rs 5,535.75 crore in the year ended March 2019, mainly due to a surge in expenses. The full service carrier, which shuttered operations in April last year, had a loss of Rs 766.13 crore in 2017-18.