IndiGo dogfight over engine deal
The IndiGo deal was described by CFM as the 'largest-ever single engine order in history'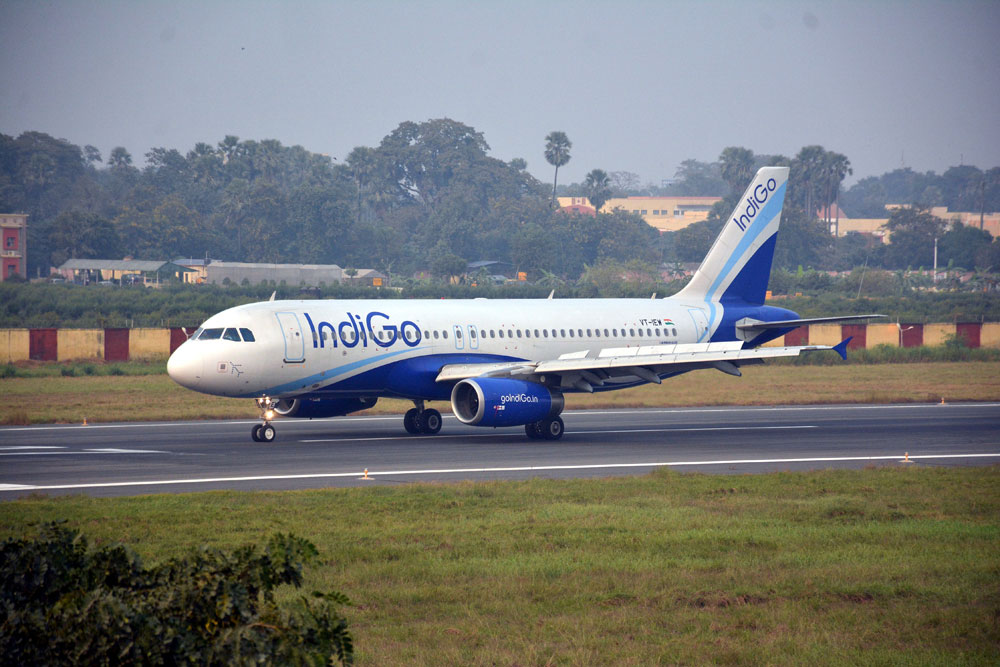 IndiGo has been a CFM customer since 2016. But only 17 A320neos in its fleet of 230 planes are powered by the CFM56-5B engines, an older version.
Telegraph file picture
---
Mumbai
|
Published 11.07.19, 07:23 PM
|
---
The battle between Rakesh Gangwal and Rahul Bhatia, the two founders of IndiGo, has erupted over accusations of falling corporate governance standards at the airline — stemming principally from related-party transactions between IndiGo and Bhatia's IGE group.
Gangwal, the Florida-based airline executive-turned-entrepreneur, has been livid over the manner in which the IndiGo board stymied his request for an extraordinary general meeting of shareholders to discuss a raft of issues, including Bhatia's "unusual controlling rights over IndiGo".
But there is a lurking suspicion that Gangwal's accusation of poor corporate governance standards may have more to do with a massive $20-billion, or Rs 140,000 crore, deal that IndiGo had signed at the Paris Air Show on June 17 with CFM International for 560 LEAP-1A engines that will be used to power 280 Airbus A320neos and A321neos that the airline has contracted to buy.
CFM International is owned by General Electric of the US and Saffran of France. It is one of the biggest engine makers for planes and competes with Pratt and Whitney of the US.The IndiGo deal was described by CFM as the "largest-ever single engine order in history". In fact, the IndiGo deal accounted for almost 40 per cent of the $50.2-billion deals that CFM had signed for 1,150 engines at the Paris Air Show. The delivery of the first LEAP-1A powered A320neo is scheduled in 2020.
The Airbus planes were ordered a couple of years ago. Pratt and Whitney had been picked as the supplier of engines for the first 150 planes. But last year, IndiGo ran into deep trouble when the DGCA grounded several of its Airbus planes fitted with P&W engines in March because of serious glitches. The problem with the P&W engines was not completely sorted out and some planes had suffered mid-air engine failures this year as well.
The A320neo has to make a straight choice between two new generation engines: the PW1100G-JM from Pratt and Whitney and the LEAP-1A from CFM International. Both engines promise efficient fuel burn that can help the airline to reduce costs.
Neither Gangwal nor Bhatia refer to the engine deal with CFM, or when and why the board decided to go for the CFM engines.
Gangwal — who was a former chief executive at US Airways and worked earlier with Air France — has been the one who oversaw the technical aspects and had a big role to play in purchase negotiations. IndiGo has been a CFM customer since 2016. But only 17 A320neos in its fleet of 230 are powered by the CFM56-5B engines, an older version.
In 2017, InterGlobe Aviation Limited, the parent of IndiGo. had come out with a public issue of 33.5 million shares. In the document outlining the share issue, InterGlobe had said: "We have yet to select the engines for 280 of the 430 aircraft in our A320neos order. There can be no assurance that we will be able to secure engines for these aircraft on terms comparable to our existing orders."
The purchase of planes and engines involve lot of negotiations and the plane makers and engine suppliers offer a lot of credits to swing the deal.
In that document, IndiGo had given a glimpse of how these credits worked and how big they could be.
"We receive non-refundable incentives from manufacturers in connection with our past aircraft and engine orders. The application of these credits to our operating leases results in a net reduction in our aircraft rental expenses which are amortised over the initial terms of the operating leases. As on March 31, 2017, we had unamortised deferred incentives of Rs 21,873.73 million as a result of these credits. Under our A320neos order, we would not receive such credits in the event that the market price of the A320neos was to decrease below the order price," the document said.
It is after this that Pratt and Whitney of the US was picked as its engine partner. But the latest deal with CFM marks one of the biggest switches of engine supplier in aviation history. And it is possible that this did not go down well with the RG group.