Indian Oil may not bid for BPCL
Since 2014, we have a clear vision that the government has no business to be in business: Oil minister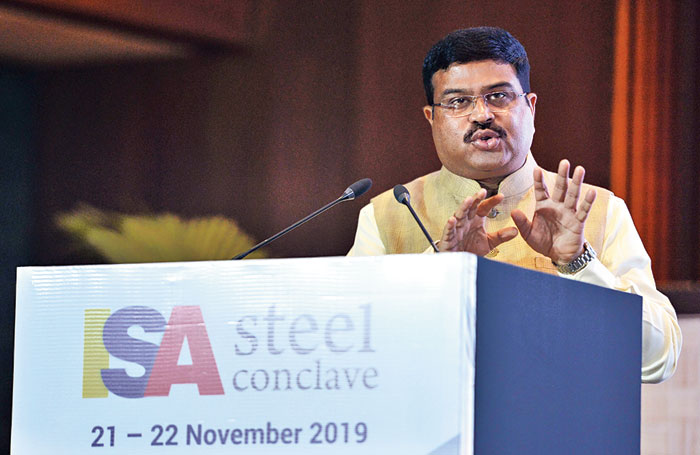 ---
New Delhi
|
Published 21.11.19, 07:44 PM
|
---
The government is considering multiple options for the sale of refiner BPCL but gave strong signals that PSU refinery behemoth Indian Oil Corporation Limited (IOC) will be kept out of the bidding process.
"Since 2014, we have a clear vision that the government has no business to be in business. We have examples of 2-3 sectors such as telecom and aviation where ushering in private participation has led to customers benefiting from price cuts, efficiency, and better service. And yesterday (on Wednesday), several reformist decisions were taken," oil minister Dharmendra Pradhan said at a steel industry event here on Thursday.
When asked if public sector units will be allowed to bid for the government's 53 per cent stake in BPCL, he said: "Nitty-gritty and details of the disinvestment process will have to be worked out but when I say the government has no business to be in business, it is indicative of possible future course of action."
"The finance minister (Nirmala Sitharaman) has stated that the privatisation of BPCL will happen this fiscal and we hope to adhere to the timeline."
Officials said the government was exploring the possibility of dividing BPCL into fuel retail and refinery divisions to get a maximum value from the sale
Besides, the government may sell half of its holding (26-27 per cent) to give the buyer management control and sells its rump stake later when valuation improved following fund infusion by the buyer.
At a recent industry event, Patrick Pouyanné, chairman and CEO, Total said "the company was interested in investing in downstream petrochemicals and retailing market in India but was not interested in Indian refineries".
Some interest was shown by BP in BPCL. "It's the most exciting biggest news from India but we will need to see what's on offer," said Bob Dudley, group chief executive, of BP.
Ajay Dixit CEO, Cairn Oil & Gas said, "We will evaluate pros & cons before taking any call on the BPCL strategic divestment."
At current prices, the government's 53.29 per cent stake is valued at a shade less than Rs 62,000 crore. On top of this, the acquirer will have to make an open offer to buy an additional 26 per cent stake from a minority shareholders for about Rs 30,000 crore.
Sources said the government may look at a sale in two phases, similar to the strategic selloffs in Hindustan Zinc and Balco adopted by the NDA between 1999 and 2004 when minority shareholdings were retained after the sale and change of management control.
Analysts said a subdued oil market and a shift to renewable energy and electric mobility could force the global energy giants to adopt a cautious approach rather than committing huge sums.
BPCL has four refineries with a capacity of 37 million tonnes per annum and around 15,000 retail outlets. It posted a net profit of Rs 7,132 crore on a turnover of Rs 3.37 lakh crore in 2018-19. The company will give buyers ready access to 14 per cent of India's refining capacity and about one-fourth of its fuel marketing infrastructure.
BPCL, however, will be sold after carving out Numaligarh Refinery in Assam.
Privatisation push
The cabinet had on Wednesday also approved the sale of the entire 63.75 per cent government holding in SCI and 30.8 per cent out of the government's 54.80 per cent stake in Container Corp of India .
Besides, the government will sell its entire holding in THDC India Ltd and North Eastern Electric Power Corp Ltd to state-owned power generator NTPC Ltd. in the deal.
It needs to be seen, what strategy the government adopts and how soon the it wraps the sales, which can fill the coffers and meet the government's disinvestment target of Rs 1.05 trillion for the current fiscal year, against Rs 80,000 crore for 2018-19.