India fights G7 bid to halt cheap Russian oil
If it violates the price cap and pays more for the crude oil, it runs the risk of inviting economic sanctions from the West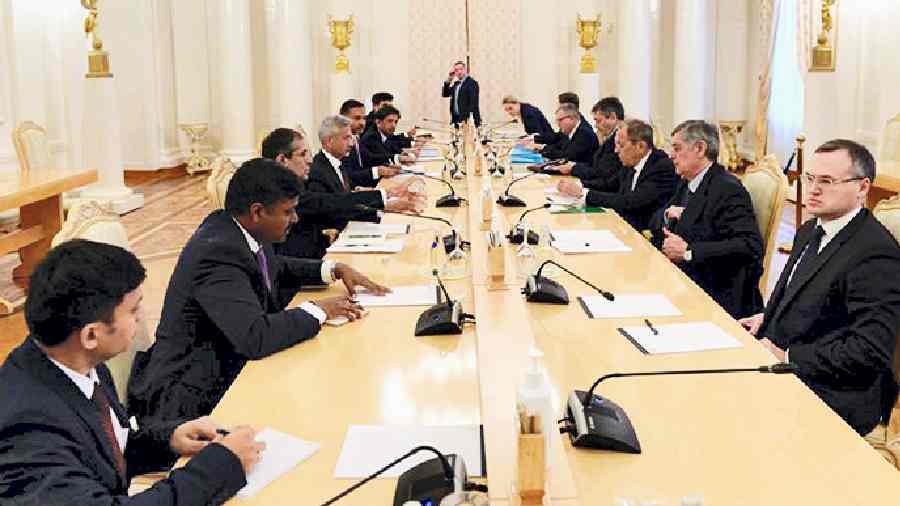 External affairs minister S. Jaishankar and Russia's foreign minister Sergei Lavrov hold talks in Moscow on Tuesday.
PTI
---
New Delhi
|
Published 09.11.22, 02:41 AM
|
---
India and Russia held talks in Moscow on Tuesday on the continued supply of cheap Russian crude oil amid mounting concerns that the G7 advanced countries in the West could attempt to choke off the flow by setting an arbitrary price cap on Russian oil from December 5.
A price cap set by the G7 will put India in a quandary. If it violates the price cap and pays more for Russian oil, it runs the risk of inviting economic sanctions from the West.
Foreign minister S. Jaishankar met his Russian counterpart Sergei Lavrov where he reaffirmed New Delhi's right to buy Russian oil at discounted prices as it seeks to beef up its energy security and slam the lid on inflation which is cresting above 7.4 per cent.
Jaishankar's assertion appeared to set the stage for a tense round of talks with US treasury secretary Janet Yellen, who arrives in Delhi on Friday.
Ahead of her meeting with Indian officials, Yellen said India must abide by the price cap on Russian oil if it wanted untrammelled access to western financial services.
India has adopted a muscular stand on energy security and is determined not to buckle under the threat of western sanctions.
The G7 nations plan to cap prices of sea-borne oil shipments from December 5, with a second cap on oil products from February 5. India imports 85 per cent of its crude needs, with Russia emerging as the single-largest supplier of crude in October.
It is the "fundamental obligation" of New Delhi to ensure that Indian consumers have the best possible access to the "most advantageous" terms in international crude markets, Jaishankar told a joint media briefing after holding a wide range of talks with Lavrov in Moscow.
"As regards the oil supply issue, first of all, there is stress on the energy markets. This is a stress which has been created by a combination of factors. But as today the world's third-largest consumer of oil and gas, a consumer where the levels of income are not very high, it is our fundamental obligation to ensure that the Indian consumer has the best possible access on the most advantageous terms to international markets," he said.
The external affairs minister was replying to a question on Western pressure on India over its import of crude oil from Russia.
"In that respect, quite honestly, we have seen that the India-Russia relationship has worked to our advantage. So if it works to my advantage I would like to keep that going," he said.
Yellen has told PTI that the US does not want Russia to "profit unduly" from the war by enjoying prices that are essentially very high due to its Ukrainian invasion.
India stands to gain from a price cap on Russian oil and the US hopes that it will take advantage of it, she said.
"If they (India) wants to use Western financial services like insurance, the price cap would apply to their purchases. But even if they use other financial services, we believe the price cap will give them leverage to negotiate good discounts from world markets. We would hope to see India benefiting from this programme," Yellen said.
India gets Russian oil at an average discount of around$15-20 per barrel on a delivered-at-place (DAP) basis, wherein the seller bears the transportation risk to deliver at the designated port.
The price cap comes at a time the Organisation of the Petroleum Exporting Countries (Opec) has reduced its output by two million barrels per day. India is already dealing with record-high fuel prices domestically and a high rate of inflation.
India had earlier said it will examine a proposal by Western nations to impose a price cap on Russian oil purchases, even as some refiner shave lined up Russian cargoes for delivery post-December 5, when the price cap is set to take effect.