India explores ways for a rupee payment mechanism with Russia
Officials said the plan was to get banks and companies of that country to open accounts with a few state-run banks in India for trade settlement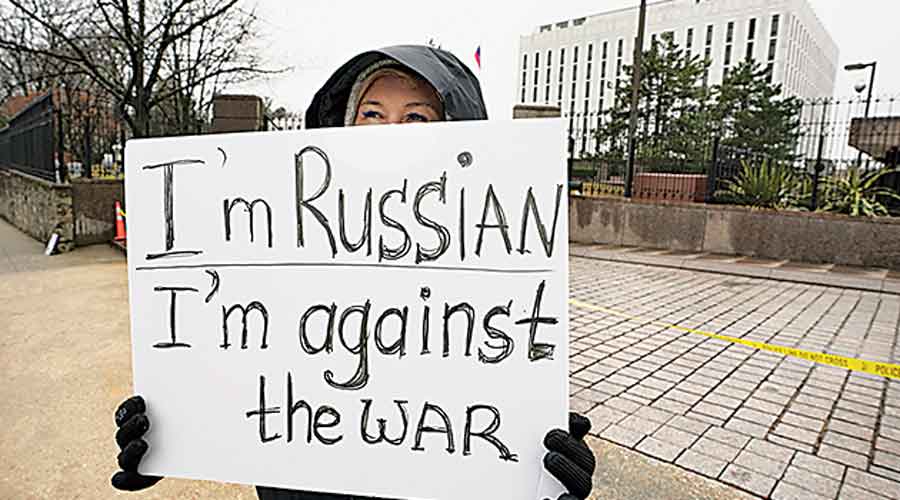 Anna, a Russian national, holds a sign in protest against Russia's invasion of Ukraine in Washington on Friday.
Reuters
---
New Delhi/Mumbai
|
Published 26.02.22, 03:11 AM
|
---
India is exploring ways to set up a rupee payment mechanism for trade with Russia to soften the blow on New Delhi of Western sanctions imposed on Russia after its invasion of Ukraine, government and banking sources said.
Indian officials are concerned that vital supplies of fertiliser from Russia could be disrupted as sanctions intensify, threatening India's farm sector.
Officials said the plan was to get Russian banks and companies to open accounts with a few state-run banks in India for trade settlement, a banking source involved in the discussions said.
"This is a proactive move assuming that the conflict escalates and there could be a slew of sanctions in place," the source said.
"In this case we would not be able to settle the transaction in dollars and so an arrangement has been proposed to set up a rupee account, which is being considered."
Funds in such accounts act as a guarantee of payment for trade between the two countries, while the parties barter commodities to offset the sum, the source said.
A similar arrangement, in which part of the settlement with Russia is in foreign currency and rest is through local rupee accounts, was also being explored, said the banking and the government source.
Such mechanisms are often used by countries to shield themselves from the blow of sanctions and India also used it with Iran after it came under Western sanctions for its nuclear weapons programme, the source said.
The programme was introduced in 2012 and worked well for several years.
The discussions on Russia were still at an early stage and formal talks had not yet begun between the two sides, an Indian government official said.
New Delhi is also holding a meeting with fertiliser industry officials on Friday to explore ways to secure supplies from Russia and Belarus, said a senior fertiliser industry official, who declined to be identified.
Exporter worry
The Federation of Indian Export Organisations said it was expecting a wind-down period — when existing obligations can be fulfiled — under the US treasury department's Office of Foreign Assets Control sanctions. It wants shipments at ports or in voyage to be cleared quickly and any loss incurred by the exporters, in transit and payment, be compensated by the Centre.
SWIFT reprieve
US and European officials are holding one key financial sanction against Russia in reserve, choosing not to boot Russia off SWIFT, the dominant system for global financial transactions. 
US President Joe Biden played down the need to block Russia from SWIFT, saying that while it's "always" still an option, "right now that's not the position that the rest of Europe wishes to take."
"The sanctions we've imposed exceed SWIFT," he said.