India, EU to join hands to build global infrastructure projects
'Connectivity partnership' aims to counter China Belt Road Initiative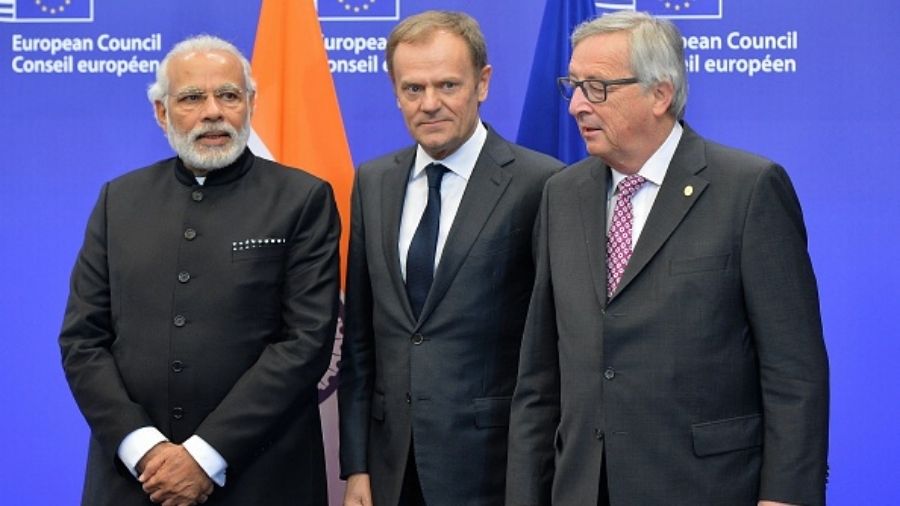 ---
---
India and the European Union (EU) are looking to team up and build infrastructure projects globally that would counter China's Belt and Road Initiative (BRI).
The key focus for what has been described as a "connectivity" partnership would be on energy, digital and transportation projects in Europe, Asia and also Africa, the Financial Times reported on Thursday.
Both sides were at pains to emphasise that the new partnership won't attempt to "compete" with the BRI but the effort clearly is to block China from stitching together an "all roads lead to Beijing" zone in the three continents.
The FT reported that both sides are looking to unveil this new infrastructure-building partnership at a virtual summit that's taking place on May 8.
Prime Minister Narendra Modi had been scheduled to travel to Portugal for the summit but the visit has been cancelled because of the Covid-19 pandemic. "In view of the Covid-19 situation, it has been decided, in consultation with the EU and Portuguese leadership, to hold the summit in a virtual format on May 8," the Ministry of External Affairs announced Tuesday.
India and Japan have already teamed up to develop infrastructure projects in Sri Lanka, Myanmar and Bangladesh. The partners had been scheduled to build Colombo's East Container Terminal but the Sri Lankans suddenly pulled permission when it was about to be signed.
Sri Lanka has offered an alternative port project instead. But India has indicated that it is lukewarm to this proposal.
The US and EU have accused China of putting up expensive projects that the host country ends up not being able to pay for. One example is Sri Lanka's Hambantota Port which added to the country's debt-servicing problems. The Chinese have taken parts of the port on a 99-year lease.
Similarly, tiny Montenegro in Central Europe took a huge loan from China to build a highway and it's now trying to obtain a loan from the EU to repay it.
Diplomats say the new India-EU partners would ensure that their projects do not impose a heavy debt burden, like the Chinese ones.
In Pakistan, for instance, China-backed power projects have received financial backing from Chinese banks at onerous interest rates. Several highways and industrial parks are also being built under the China-Pakistan Economic Corridor (CPEC)agreements. The CPEC projects were estimated to be worth $60 billion but they have slowed since Prime Minister Imran Khan has come to power.
In 2018, Malaysian Prime Minister Mahathir Mohammad cancelled the huge $20-billion East Coast Rail project linking but negotiations have continued to do the project at a lower price.
Also, India and the EU will look at backing R&D projects in countries across the three continents.
However, it's not clear where the funds would come from for these projects, though the EU says both the public and the private sectors will be involved.
The EU is simultaneously looking to build up economic ties with China. It had signed the EU-China Comprehensive Agreement on Investments (CAI) in December but that has now run into headwinds due to European sanctions imposed in response to the Uighurs, human rights and forced labour issues.
US President Joe Biden is also thought to be pushing the EU to take a tougher stand against China.
The Financial Times quoted an EU diplomat saying: "The EU and its allies have a common interest here, in presenting an alternative to the Belt and Road Initiative, rather than allowing Chinese investments to dominate."