ICICI Bank reports 36% rise in net profit
Boosted by a stake sale in two of its group firms, the lender posts a gain of Rs 2,599.15 crore compared with Rs 1,908.03 crore a year ago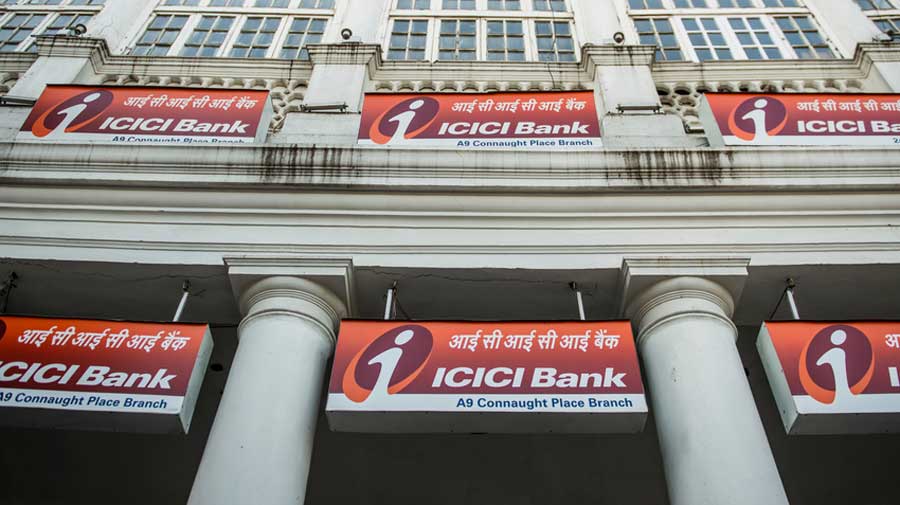 ---
|
Mumbai
|
Published 25.07.20, 11:56 PM
---
ICICI Bank on Saturday reported a 36 per cent rise in net profits for the June quarter of 2020 even as the private sector lender set aside more funds to account for any possible impact of Covid-19.
Boosted by a stake sale in two of its group firms, ICICI Bank posted a net profit of Rs 2,599.15 crore compared with Rs 1,908.03 crore a year ago even as it missed analysts estimates as its provisions for bad loans rose sharply.
The bank made a net gain of Rs 3,036.29 crore after it sold 3.96 per cent in ICICI Lombard General Insurance Company and 1.50 per cent in ICICI Prudential Life Insurance.
Higher provisions
The period saw the bank making an additional Covid-19 related provision of Rs 5,550 crore. As on June 30, 2020, ICICI Bank held Covid-19 related provisions of Rs 8,275 crore. This additional provision is more than the requirement under RBI guidelines but the bank is setting aside the sum in apprehension of higher NPAs once the loan holiday period ends in September.
As a result, the quarter saw its provisions rising to Rs 7,593.95 crore from Rs 3,495.73 crore in the year ago period.
There was an improvement in its asset quality as absolute gross non performing assets (NPAs) fell to Rs 40,386.24 crore from Rs 41,409.16 crore on a sequential basis. Similarly, the percentage of gross NPAs to gross customer assets declined to 5.46 per cent from 5.53 per cent during the same period.
Loan moratorium
At a conference call after the results, Sandeep Batra, president of ICICI Bank, said the proportion of loans under moratorium fell to 17.5 per cent in the June quarter from 30 per cent in the March quarter.
During the quarter, loan growth was impacted by lower demand even as fee income declined. The year-on-year growth in domestic advances was 10 per cent. Here, the growth in the retail loan portfolio was 11 per cent. However, there was a much stronger growth in its total deposits, which increased 21 per cent to Rs 801,622 crore.
Average current account deposits increased 20 per cent, while growth in saving deposits stood at 14 per cent.
The bank's fee income declined to Rs 2,104 crore from Rs 3,039 crore a year ago, reflecting lower business volumes and customer activity during the lockdown. Core net interest income increased by 20 per cent to Rs 9,280 crore.
The bank said the slowdown in the economy is expected to result in higher additions to NPAs, an increase in provisions, lower loan growth and fee income.