Hybrid work model here to stay
Speaking at the inaugural session of Infocom 2021, Bhaskar Ghosh, chief strategy officer, Accenture said the pandemic has led to the creation of a location independent job model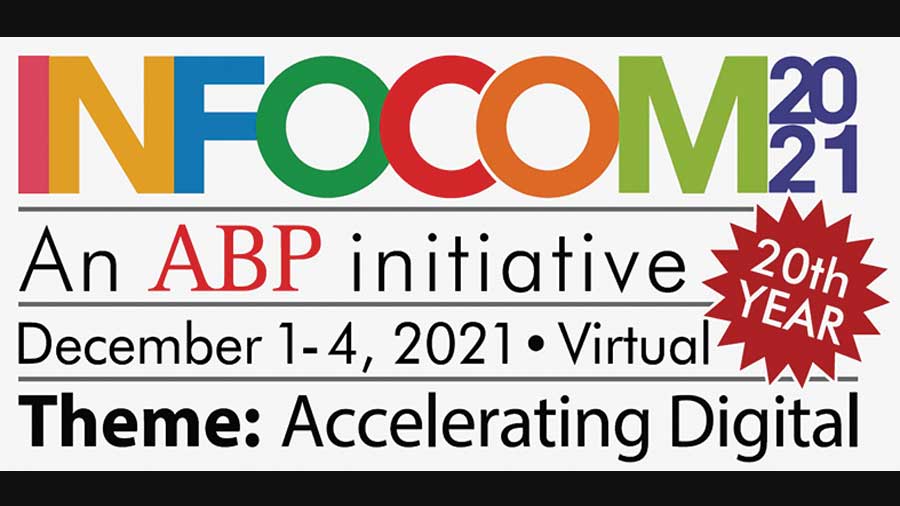 ---
Calcutta
|
Published 02.12.21, 03:10 AM
|
---
The Covid pandemic induced hybrid work model is likely to persist even as employees are keen to return to office. Speaking at the inaugural session of Infocom 2021, the flagship B2B event of ABP Group, Bhaskar Ghosh, chief strategy officer, Accenture said the pandemic has led to the creation of a location independent job model which is set to expand across businesses.
"Whether it is a start-up or an established company, digital services are at the forefront. Remote services and hybrid work model is here to stay," Ghosh said.
A joint study of Nasscom and Indeed has revealed that around 72 per cent of the organisations are looking at 50 per cent of their workforce returning to office by January. Organisations with a workforce of 1,000 or more are likely to adopt a hybrid model .
Ghosh said the hybrid model will find its place among different businesses and professions. "It is not only for the IT services. I feel it will expand to various different professional services. This will create a new paradigm of opportunities." He said industry and government has to accept the  hybrid model.
"Covid has democratised the job opportunities across all states in India. I live in Bangalore. Just two weeks back I learnt that my bank relationship manager lives in Calcutta. She has been supporting me for two years and I have never realised that earlier. So that is the new normal. Industry and government needs to embrace this location independent pan India job model," he said.
"Currently workforce engagement is one of the hot topics, especially while dealing with both remote and in-office work. Employers are looking into new ways of creating a productive environment and this is where digital technology can play an important role. Businesses need to invest in the right technologies and solutions to enable the workforce to connect and collaborate from anywhere and ensure business connectivity in this hybrid age," said Kamal Arora, senior director, sales-government, Dell Tech.
Omkar Rai, director-general of STPI, said the pandemic has led to an unprecedented growth of technology start-ups in India with 26 joining the unicorn list in 2021.
"Because of Covid-19 and lockdown and the kind of circumstances that were created, it led to accelerated digitisation of processes, not only in government but also in private," he said.
Siddharth Sharma, CEO - Bengal and Odisha, Bharti Airtel Limited, said the telecom major was supporting the digital acceleration having just concluded 5G pilots in parts of Calcutta .
"Bengal has always been a priority state for us and we have been aggressively investing not only in expanding the network but also creating infrastructure for enterprise services," said Sharma.
Dhruba Mukherjee, CEO, ABP Pvt Ltd said that this year's Infocom theme of ''Accelerating Digital'' is relevant and meaningful because it is being experienced by everyone in transition from a pre-Covid to a post-Covid world.