Hindenburg Research: Attack on India, claim Adanis
We are shocked and deeply disturbed to read the report published by the 'Madoffs of Manhattan' on 24 January 2023 which is nothing but a lie, says report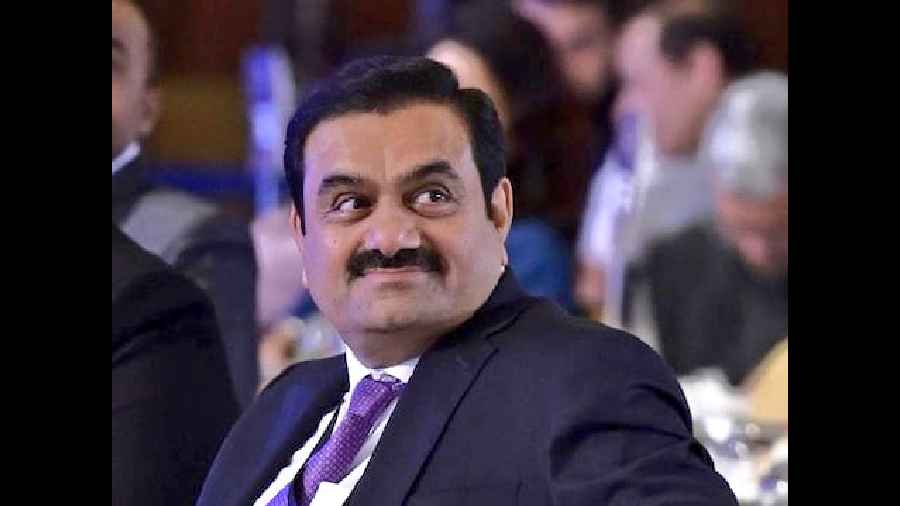 ---
Mumbai
|
Published 30.01.23, 04:33 AM
|
---
The Adanis have come out swinging in an effort to swat away accusations in a report put out last week by US short-seller Hindenburg Research.
The Hindenburg report has threatened to scupper group flagship Adani Enterprises' Rs 20,000-crore follow-on public offer (FPO) of shares that closes on Tuesday, especially after the stock sank over 18 per cent on the BSE on Friday closing at Rs 2762.15, a little over 11 per cent below the FPO's floor price of Rs 3112.
If the stock fails to rally on Monday, many market experts believe the Adani Enterprises issue will flounder unless the Adanis rework the price band and terms of the share flotation, which they already have refused to do.
The 413-page report that the Adanis scrambled to put together over the weekend pours scorn on the New York-based firm's two-year investigation which it said was riddled by "multiple false narratives", "misleading claims", "rhetorical innuendos" and poor understanding of Indian regulations and market practices.
"This is not merely an unwarranted attack on any specific company but a calculated attack on India, the independence, integrity and quality of Indian institutions, and the growth story and ambition of India," the Adanis said.
"We are shocked and deeply disturbed to read the report published by the 'Madoffs of Manhattan' — Hindenburg Research — on 24 January 2023 which is nothing but a lie," the report said in what seemed an attempt to tar the US firm by seeking to link it in some way to Bernie Madoff, the American fraudster who created the world's biggest Ponzi scheme worth over $64 billion that blew up in late 2008.
Hindenburg's disclosure that it had built up a short-selling position in the Adani group companies through US-based bonds and non-Indian traded derivative instruments provided the grist to the Adanis to launch their counter-offensive.
The Adanis claimed that the Hindenburg report was "intended only to create a false market in securities to enable… an admitted short seller, to book massive financial gain through wrongful means at the cost of countless investors."
"Hindenburg is an unethical short seller. A short seller in the securities market books gains from the subsequent reduction in share prices…. The net result is that public investors lose and Hindenburg makes a windfall gain," the Adanis said in their report.
Response to charges
The Adanis said there were three key themes in the Hindenburg report:
Selective and manipulative presentation of matters already in the public domain to create a false narrative.
Complete ignorance or deliberate disregard of the applicable legal and accounting standards as well as industry practice
Contempt for Indian institutions, including the regulators and the judiciary.
The Hindenburg report had lobbed 88 questions at the end of its report last week. In their response, the Adanis divvied up the questions into several buckets.
The US firm had alluded to past cases involving Gautam Adani's brothers — Vinod and Rajesh — and brother-in-law Samir Vora relating to a diamond export scandal in 2004, a $12-billion illegal iron ore import scam in 2011, and over-invoicing of power equipment imports through the UAE.
The Adanis said these allegations "present no new findings and only dredge up allegations (in some cases from a decade ago) which have been judicially determined in our favour and have also been disclosed by us to our investors and the regulators".
The group dubbed several accusations as baseless, including Vinod Adani's dealings with fugitive Indian businessman Jatin Mehta, and his links with Amicorp which was closely involved in the 1MDB international fraud scandal that rocked Malaysia in 2016 and has been described by the US department of justice as the world's largest kleptocracy case.
The accusations that Vinod Adani had spawned 38 Mauritius-based entities through which it carried out transactions with Adani group entities in India and the fact that Gautam Adani's "shadowy" elder brother had established a firm in Cyprus called Vakoder Investments which had "no clear operations" were also brushed aside as "a selective regurgitation of disclosures from the financial statements of Adani entities to paint a biased picture".
"These disclosures have already been approved by third parties who are qualified and competent to review these (rather than an unknown overseas short seller) and are in line with applicable accounting standards and applicable law," the Adani report added.
Vinod Adani's links and dealings with Chinese businessman Chang Chung-Ling were also dismissed in a similar fashion.
One of the serious accusations against the Adani group was that flagship company Adani Enterprises had paid $100 million to a company held by a private trust of the Adani family on the British Virgin Islands, a Caribbean tax haven. The payment was ostensibly for a security deposit to use an Australian coal terminal. Hinderburg had wanted to know why a listed Indian company needed to pay such lucrative fees to Adani's private interests.
This was also dismissed along with other accusations under a general response that described them "baseless allegations around transactions which are in fact, compliant with law, fully disclosed and on proper commercial terms".
Specific questions in the Hindenburg report relating to Vinod Adani's association and transactions with the Adani group entities and the nature of his exact role within the group were dubbed as "reckless statements without any evidence whatsoever and purely on unsubstantiated speculations without any understanding of the Indian laws around related parties and related party transactions".
Pointed questions raised by Hindenburg on corporate governance practices at the Ahmedabad-based group -- especially those related to "convoluted structures" and multiplicity of subsidiaries -– were attributed to Hindenburg's poor understanding of Indian rules and regulations, and the way things worked in India.
The Adani report said: "In the infrastructure business, especially in a sprawling geography like India, most large corporates operate in a similar fashion because projects are housed in separate SPVs (special purpose vehicles) and these need to be ring-fenced from a lender perspective for limited recourse project finance and in many cases on account of specific regulatory requirements.
"As an example, transmission projects in India are awarded under tariff-based competitive bidding, in such bidding the successful bidder has to acquire the SPV which is undertaking the project. Hence, it is a regulatory requirement as part of the Electricity Act, 2003 and the regulations of the Central Electricity Regulatory Commission to execute projects in different SPVs."
In response to Hindenburg's probing questions relating to foreign stock ownership of the listed Adani group companies, the report said: "Shares of listed companies on Indian stock exchanges are traded on a regular basis. The listed entity does not have control over who buys/ sells/ owns the publicly traded shares in the company. A listed company does not have nor is it required to have information on its public shareholders and investors.
"They (Hindenburg) have raised several questions around the offer for sale (OFS) undertaken by Adani Green Energy Limited in 2019 while maliciously ignoring the fact that in India, the process for OFS is a regulated process implemented through an automated order book matching process on the platform of the stock exchange. This is not a process which is controlled by any entity and the purchasers are not visible to anyone on the platform," the report added.