HDFC Life to raise Rs 350 crore through non-convertible debentures
The life insurer has posted a standalone net profit of  Rs 1,208 crore in 2021-22, down 11 per cent compared with Rs 1,360 crore in 2020-21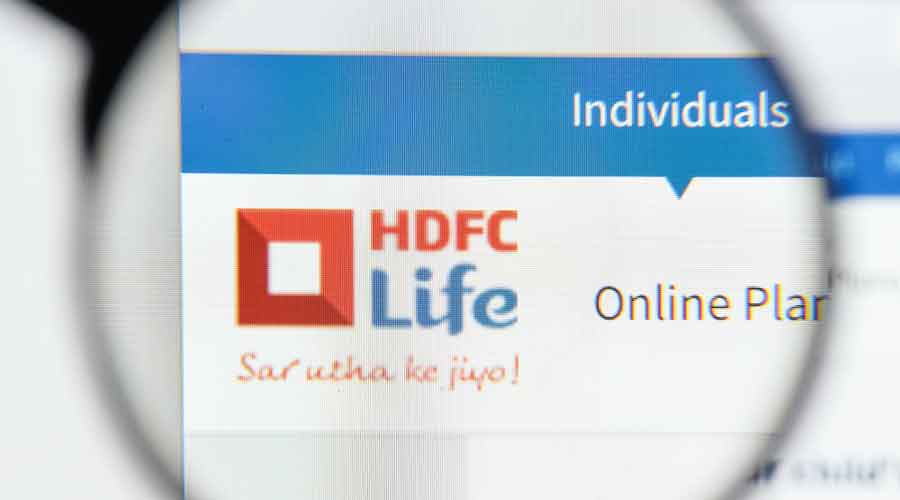 The life insurer has settled close to 3.9 lakh claims during 2021-22.
Shutterstock
---
Calcutta
|
Published 27.04.22, 04:19 AM
|
---
The board of directors of HDFC Life Insurance on Tuesday approved a plan to raise Rs 350 crore through non-convertible debentures in the nature of subordinated debt instruments in one or more tranches on a private placement basis. This will help to boost solvency after a cash payout for the acquisition of Exide Life Insurance. 
"Solvency as of March 31, 2022, stood at 176 per cent after the cash payout of Rs 726 crore to Exide Industries as part consideration for the acquisition of Exide Life. Excluding the impact of this cash payout, the solvency ratio would have been 189 per cent," said Vibha Padalkar, MD and CEO, HDFC Life Insurance, at the quarterly earnings call.
"Our board has approved a sub-debt raise of Rs 350 crore which should increase solvency by around 600 basis points. In order to further strengthen solvency to fuel growth, we would continue evaluating raising capital through a mix of equity and debt," she added.
The life insurer has posted a standalone net profit of  Rs 1,208 crore in 2021-22, down 11 per cent compared with Rs 1,360 crore in 2020-21. Padalkar said the decline in profit was on account of a higher mortality reserve during the year.
"Post Covid wave 2, the profit after tax has improved steadily, with profit after tax for the fourth quarter registering a year on year growth of 12 per cent," she said. 
In absolute numbers, net profit during the fourth quarter of 2021-22 was at Rs 357.52 crore compared with Rs 317.94 crore in the corresponding quarter previous year. The life insurer's total premium during 2021-22 grew 19 per cent to Rs 45,963 crore compared with Rs 38,583 crore in 2020-21.
"We clocked a growth of 16 per cent in individual weighted received premium in FY2022 with a market share of 14.8 per cent and 9.3 per cent in private and overall sector respectively," said Padalkar.
Weighted received premium is the sum of first-year premium received during the year and 10 percent of single premium including top-up premium.
The life insurer has settled close to 3.9 lakh claims during 2021-22. Gross and net claims were at Rs 5804 crore and Rs 4328 crore respectively for the year. As of March 31, 2022, HDFC Life Insurance carried reserves of Rs 55 crore into 2022-23 as a prudent measure towards Covid.
Padalkar said that the merger process of Exide Life with HDFC Life has been initiated with NCLT and is expected to be completed in the second half of the ongoing financial year. "Our endeavour is to remain margin neutral at the merged company level by the end of FY23 and resume margin expansion thereafter," said Padalkar.
The board of HDFC Life has recommended a dividend of Rs 1.70 per share translating to a payout of 30 percent of the profit after tax, in line with the dividend payout ratio of 2020-21 and earlier. The scrips of the life insurer at Rs 549.50 were up 1.71 percent at the Bombay Stock Exchange.