HDFC Bank beats estimates with a growth of 18% in net profits
The country's largest private sector bank posted a net profit of Rs 8,758.29 crore compared with Rs 7,416.48 crore in the corresponding period of the previous year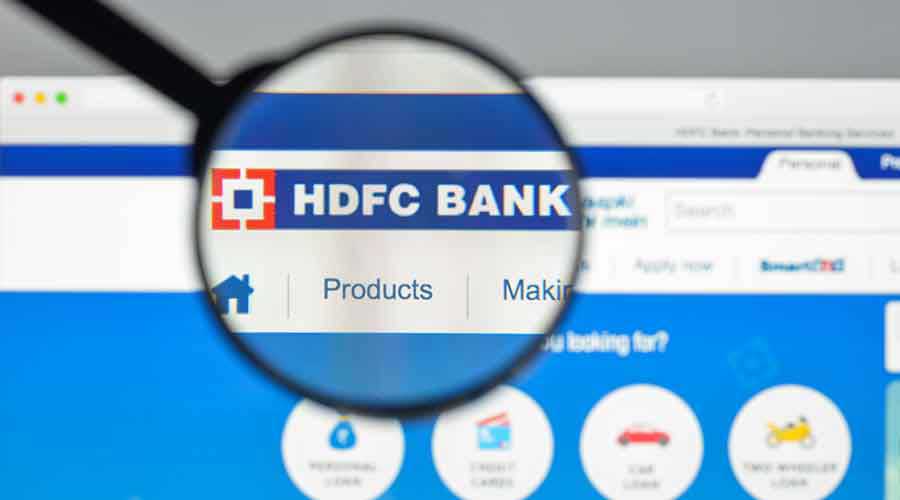 ---
|
Mumbai
|
Published 17.01.21, 12:11 AM
---
HDFC Bank on Saturday beat Street estimates when it reported an 18 per cent growth in standalone net profits for the December quarter of 2020. The country's largest private sector bank posted a net profit of Rs 8,758.29 crore compared with Rs 7,416.48 crore in the corresponding period of the previous year.
Analysts were expecting the lender to report net profits in the range of Rs 7,700-8,500 crore. The better-than-expected performance on the bottomline front came as the bank saw only a marginal rise in provisions even as the core net interest income witnessed good growth.
It was the first quarterly results for the lender under CEO Sashidhar Jagdishan and the first among major banks to declare numbers this earnings season.
During the quarter, provisions inched up to Rs 3,414.13 crore from Rs 3,043.56 crore a year ago. It included specific loan loss provisions of Rs 691.2 crore (Rs 2,883.6 crore) and general and other provisions of Rs 2,722.9 crore (Rs 159.9 crore).
HDFC Bank disclosed that total provisions for the quarter included contingent provisions of Rs 2,400 crore for ''proforma'' non-performing assets (NPA).
During the period, the asset quality improved with gross NPAs in absolute terms declining to Rs 8,825.56 crore from Rs 11,304.60 crore in the preceding three months. The gross NPAs were 0.81 per cent of the gross advances compared with 1.08 per cent in April-September 2020.
Through an interim order on September 3, 2020, the Supreme Court had directed that accounts which were not declared NPAs till August 31, 2020, shall not be declared as such until further orders.
HDFC Bank said that if it had classified borrower accounts as NPA after August 31, 2020, using its analytical models (proforma approach), the proforma gross NPA ratio would have been 1.38 per cent as on December 31, 2020, against 1.37 per cent as on September 30, 2020 and 1.42 per cent as on December 31, 2019.
During the quarter, its core net interest income (interest earned minus interest paid) rose 15.1 per cent to Rs 16,317.6 crore from Rs 14,172.9 crore in the same period of the previous year, driven by a 15.6 per cent growth in advances.
HDFC Bank disclosed that one-time restructuring under RBI's resolution framework for Covid-19 was close to 0.5 per cent of the advances.
Other income (non-interest revenue) also rose to Rs 7,443.2 crore from Rs 6,669.3 crore in the corresponding quarter ended December 31, 2019.
The bank said that total advances as on December 31, 2020, were Rs 1,082,324 crore, an increase of 15.6 per cent over December 31, 2019, while the mix between retail and wholesale stood at 48:52.