HCL tech bet with $1.8bn IBM deal
The all-cash transaction will be funded largely through internal accruals with $300 million coming from debt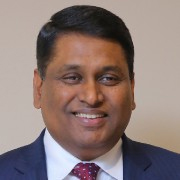 ---
|
Mumbai
|
Published 07.12.18, 10:06 PM
---
HCL Technologies is acquiring select products from IBM for $1.8 billion, or Rs 12,700 crore, in one of the largest deals struck by a domestic technology company.
The all-cash transaction will be funded largely through internal accruals with $300 million coming from debt. It is expected to close by the middle of the next calendar year, subject to the completion of applicable regulatory reviews.
The deal outlines HCL Tech's bold bet in the software products business — considered a holy grail for IT companies.
HCL Tech said in a statement that the software products being acquired represent a total addressable market of more than $50 billion. They include Appscan for secure application development, BigFix for secure device management, Unica for marketing automation, Commerce for omni-channel e-commerce, Portal for digital experience, Notes & Domino (enterprise e-mail and low code application development), and Connections for workstream collaboration.
Interestingly, HCL and IBM have an ongoing partnership for five of these products.
Despite the optimism exuded by HCL Technologies, stock markets gave a thumbs-down to the transaction with the shares of HCL Technologies cracking almost 5 per cent, or Rs 50.40, to settle at Rs 961.55 on the BSE on Friday.
During intra-day trades, the scrip hit a low of Rs 935, which marked a fall of 7.60 per cent over its last close.
"We continue to see great opportunities in the market to enhance our Mode-3 (products and platforms) offerings. The products that we are acquiring are in large growing market areas such as security, marketing and commerce, which are strategic segments for HCL. Many of these products are well regarded by clients and positioned in the top quadrant by industry analysts,'' said C. Vijayakumar, president & CEO of HCL Technologies.
He added that the deployments of these products will provide the company with a great opportunity to reach several global enterprises across a wide range of industries and markets.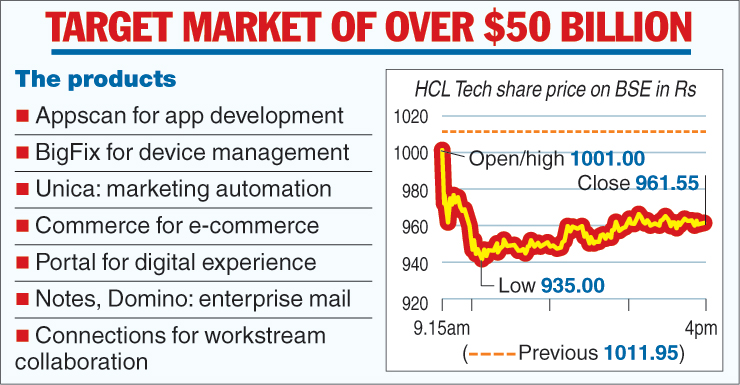 In a filing to the bourses, HCL Technologies said the acquisition will yield software products that are well recognised by clients and industry analysts with a large addressable market in various areas.
Further, it will also generate a profitable revenue stream even as the company will gain access to 5,000 plus large clients across a wide range of industries and geographies to whom it could cross-sell its existing services. The company added that the successful track record with these products gave it confidence that these could be developed at a better rate.
Out of the total consideration of $1.8 billion (including earn-out), around 48 per cent will be paid at close.
HCL Technologies expects an incremental revenue of $650 million annually from the second year and generate over 50 per cent margins.
Most of the products that are being acquired figure among the
top three in their respective categories.
HCL Technologies posted consolidated revenues of $8.2 billion for the 12 months ended September 30.
It provides various services underlined by its mode 1, 2 and 3 growth strategy. While mode 1 includes core services in the areas of applications, BPO and other services, mode 2 focuses on integrated offerings of digital and analytics, internet of things, cloud and cyber security services.
On the other hand, the mode 3 strategy is to create partnerships to build the products and platforms business.