Govt to auction 2,251.25 megahertz of spectrum across seven frequency bands
The telecom ministry plans to issue a notice to invite bids in December and hold the sales by March, telecom minister Ravi Shankar Prasad told reporters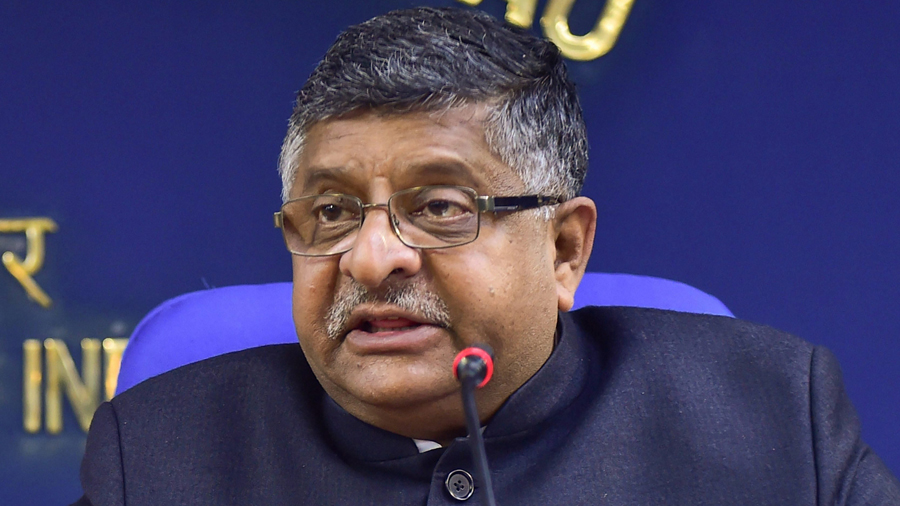 ---
New Delhi
|
Published 17.12.20, 04:23 AM
|
---
The government will auction 2,251.25 megahertz of spectrum by March across seven frequency bands but not the much coveted 5G spectrum — at an aggregate base price of Rs 3.92 lakh crore as the Narendra Modi-government looks to boost its revenues left dry by the pandemic.
The Union cabinet on Wednesday approved the sale, the first in four years. The telecom ministry plans to issue a notice to invite bids in December and hold the sales by March, telecom minister Ravi Shankar Prasad told reporters after the meeting.
In Union Budget 2020-21, the government had targeted revenues of Rs 1.33 lakh crore from telecommunication services, which include spectrum auction proceeds, licensing fees and other receipts.
Successful bidders might have to pay the entire amount in one go or pay 25 percent to 50 percent upfront and the remaining amount in 16 equated annual instalments, after a moratorium of two years. They will have to pay 3 per cent of the adjusted gross revenue (AGR) excluding wireline services as spectrum usage charges.
"While the government has addressed the requirement for more spectrum, lower reserve prices would have provided additional resources for network expansion to the operators.
High reserve prices in past auctions have resulted in large amounts of spectrum remaining unsold,"  S.P. Kochhar, director-general, Cellular Operators Association of India,  said.
The cabinet also gave its approval to  set up a national security committee to list "trusted and not trusted sources" of telecom vendors and devices. The committee will be headed by deputy national security adviser and will comprise all stakeholders.
Analysts said the bidding would be muted in most of the bands as the  operators would mainly be renewing their existing spectrum.
In Reliance Jio, spectrum across 12 to 14 circles in the 800Mhz band will expire from July. Jio shares some the spectrum of Anil Ambani's Reliance Communications.
Bharti Airtel with 29 crore subscribers and Vodafone Idea with around 28 crore subscribers will see less expensive airwaves, mostly in the 1,800 MHz band, expire across eight circles each from July 2021 onwards. Both the operators have backup airwaves in most of these service areas.
Telecom analyst Mahesh Uppal said "I believe the lower reserve price is still high. However, companies need the spectrum and so will bid to a limited extent to replenish the part of the spectrum that will run out in the coming months."
"Expect much of the bidding in the 800 Mhz and 1800 Mhz… in other bands there would be muted bidding depending on the operators needs," Ankit Jain, telecom analyst with Icra, said.
The auction will be for spectrum in 700MHz, 800MHz, 900MHz, 1800MHz, 2100MHz, 2300MHz and 2500MHz frequency bands.