Govt says effective corpus built to pay out GST dues this year
The Rs 2.59-lakh-crore corpus will comprise borrowing by the Centre of Rs 1.59 lakh crore with another Rs 1 lakh crore expected to come from GST compensation cess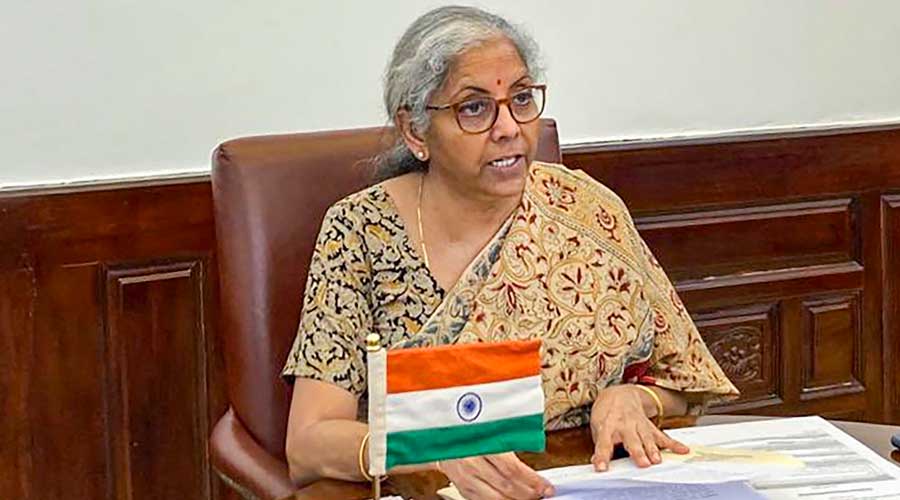 Nirmala Sitharaman.
File picture
---
New Delhi
|
Published 16.07.21, 01:31 AM
|
---
The Narendra Modi-government appears to have hollowed out the demand for a special meeting of the GST Council to discuss the shortfall in compensation cess payable to states after asserting on Thursday that it has built an effective corpus of Rs 2.59 lakh crore to pay out the dues this year.
"The sum of Rs 2.59 lakh crore is expected to exceed the amount of GST compensation accruing in FY 2021-22," the government said in a press statement on Thursday after releasing a sum of Rs 75,000 crore to the states and Union territories under a back-to-back loan facility that has been created in lieu of GST compensation.
The Rs 2.59-lakh-crore corpus will comprise borrowing by the Centre of Rs 1.59 lakh crore with another Rs 1 lakh crore expected to come out of the GST compensation cess that is levied on cars, tobacco and cigarettes, pan masalas, colas and certain grades of coal.
Finance minister Nirmala Sitharaman had promised to convene a special meeting of the GST Council to discuss the contentious issue of GST 
compensation with states like Bengal claiming that they were not receiving their 
promised dues.
The Centre has not explicitly said that the meeting will no longer be held. But even if it were held, it will try to cut the ground from the Opposition states' argument that they are being short paid.
The GST (Compensation to States) Act guarantees all states an annual growth rate of 14 per cent in their GST revenue in the first five years of implementation of GST beginning July 2017. 
It was introduced as a relief for states for the loss of revenues arising from the implementation of GST. 
The compensation cess is supposed to end in 2022 but states have been demanding an extension with no clearly spelt out sunset date for the levy.
The quibble over the compensation shortfall is now likely to exacerbate with states scrambling to make their own calculations. 
Bengal finance Amit Mitra on June 5  in a letter to Union finance minister Nirmala Sitharaman had said the Centre need to borrow Rs 2.13 lakh crore to make good the dues to the states.
The top three recipients of Thursday's payout are: Karnataka, Rs 8,542.17 crore; Maharashtra, Rs 6,501.11 crore; and Gujarat, Rs 6,151.10 crore. Bengal was granted Rs 3,030.73 crore.
GST is a destination tax which means it has it highest incidence at the end points of consumption in the retail chain.