Govt extends emergency credit line guarantee scheme
Finance minister Nirmala Sitharaman said ECLGS 1.0 has covered Rs 2-lakh-crore loans sanctioned so far by the banks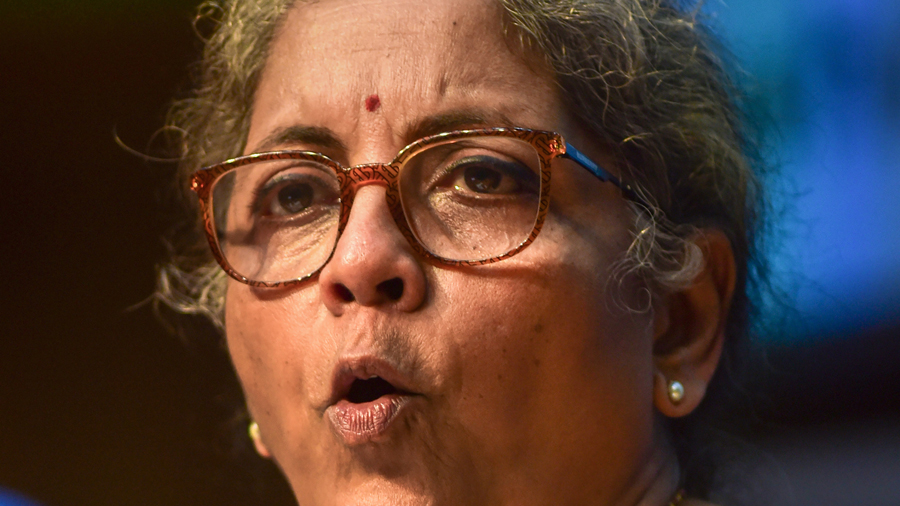 Union Finance Minister Nirmala Sitharaman speaks during a news conference in New Delhi, Thursday, Nov 12, 2020.
PTI
---
New Delhi
|
Published 13.11.20, 04:30 AM
|
---
The government has extended the Rs 3-lakh-crore emergency credit line guarantee scheme (ECLGS) till March 31, 2021 and has also widended the scope of the scheme to include mid-sized companies in the 26 stressed sectors identified by the RBI-constituted K.V. Kamath committee.
Finance minister Nirmala Sitharaman said ECLGS 1.0 has covered Rs 2-lakh-crore loans sanctioned so far by the banks. There is still a headroom of Rs 1 lakh under the first scheme. The government said that it would assess the situation and decide on the additional guarantee cover for the 26 stressed sectors later.
Through this scheme, firms having outstanding credit of Rs 50 crore to Rs 500 crore can get access to guaranteed collateral-free credit. The loans will have a one-year moratorium on principal repayment and another year for repayment.
Most of these units with loan outstanding between Rs 50 crore and Rs 500 crore are promoter driven with not much assets to offer as collateral. 
Under ECLGS 2.0 , the mid-sized companies in 26 sectors with loan outstanding of Rs 50-500 crore will get 100 per cent collateral free additional loan up to 20 per cent of the loan outstanding as on February 29, 2020. There is no upper limit on the annual turnover of these companies. This translates into funds of Rs 10-100 crore to such units.
The tenure of the additional credit under ECLGS 2.0 will be five years, including one-year moratorium on principal repayment. The stressed sectors identified by the KV Kamath committee were power, construction, iron and steel, roads, real estate, trading, textiles, chemicals and consumer durables.
"We believe potentially around 40,000 entities can benefit from the scheme.  However, if the overall amount stays at Rs 3 lakh crore, the overall corpus of ECLGS 2.0 could be a constraining factor," Soumya Kanti Ghosh, group chief economic adviser, State Bank of India, said in a research report.
"Enhancement of the outstanding credit criteria to Rs 500 crore and no upper ceiling on the eligible company's annual turnover will help a wider set of business enterprises, including MSMEs," said Siddhartha Sanyal, chief economist and head of research, Bandhan Bank.