Gautam Adani back to No. 2 on global wealth charts in rich list see-saw
Only Adani seems able to defy laws of stock market gravity in volatile trading week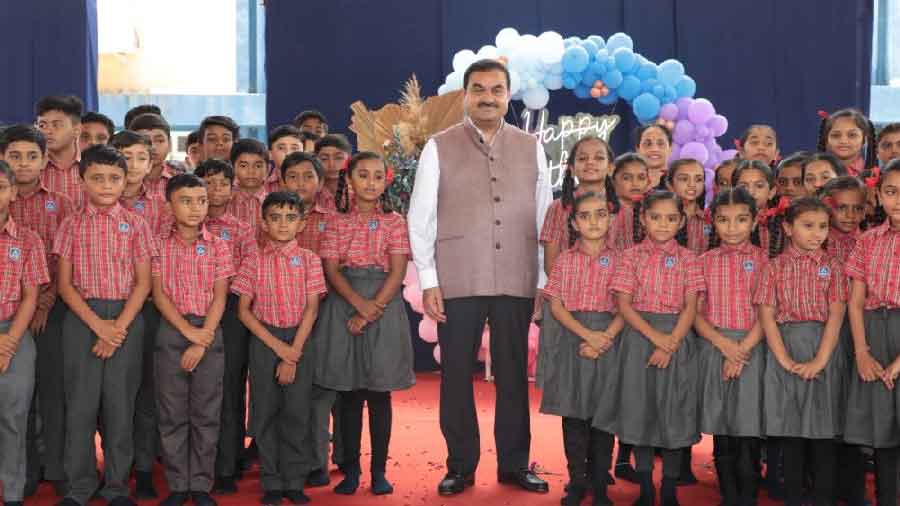 Gautam Adani
Twitter/@gautam_adani
---
Published 23.09.22, 03:25 PM
|
---
A game of snakes and ladders is taking place on the global wealth charts. India's own mega-tycoon, Gautam Adani, has moved back into second place on the Forbes Real-Time Billionaires list which reckons he's worth $154.7 billion. Pushed down into third place is France's luxury retailer Bernard Arnault whose fortune has suddenly tumbled to $149.5.
Adani was briefly in second place last week but slipped back to third place behind Arnault within a day.
The Ahmedabad-based tycoon is also ensconced in second place on the Bloomberg Billionaires Index which reckons he's worth $144 billion compared to Amazon's Jeff Bezos who, it says, is worth $142 billion.
For weeks now Adani, Arnault and Bezos have been swapping places on the wealth charts, sliding up and down as markets in New York, Paris and Mumbai rose and fell. 
But only Adani has seemed unaffected by the laws of stock market gravity. Even Thursday, as Mumbai's BSE Exchange fell 337 points after the US Federal Reserve rate jump, Adani Group companies climbed. The group's flagship Adani Enterprises rose Rs 84.90 or 2.33 per cent to Rs 3,725.00. Another company Adani Transmission, which as its name suggests, is in the power business shot up even more sharply by Rs 142 or 3.68 per cent to Rs 4,008.
Adani Total Gas, which has ambitious plans to supply gas across several Indian cities, also climbed by Rs 59 or 1.67 per cent to Rs 3,625. And Adani Wilmar, which is a giant in a variety of edible oils, went up as well, rising by nearly five per cent or Rs 39.05 to Rs 820.
Impressively, on a bad market day, the share prices of six out of seven Adani companies firmed, some very steeply. Indian markets sank overall Thursday after the US Federal Reserve sent financial chills around the world when it hiked interest rates by an unexpectedly large three-quarters of a percentage point and signalled more rate hikes ahead.
By contrast, Arnault's wealth fell by a huge $4.5 billion on Thursday. Adani's wealth, meanwhile, climbed by $2.7 billion, according to Forbes.
Meanwhile, the Hurun Rich List, a newer player in the wealth tracker game, has declared Gautam Adani's elder brother Vinod Shantilal Adani to be the richest non-resident Indian (NRI) in the world. Dubai-based Vinod Adani is also in the energy and infrastructure business. He came in ahead of other well-known business groups like the London-based Hinduja brothers, steel king Lakshmi Mittal, Vedanta's Anil Agarwal and Rakesh Gangwal, the co-founder of India's largest airline IndiGo.