Gautam Adani announces Rs 65,000-crore investment in Rajasthan
Investments will be made towards setting up 10,000MW solar power capacity, expanding cement facilities and upgrading the Jaipur airport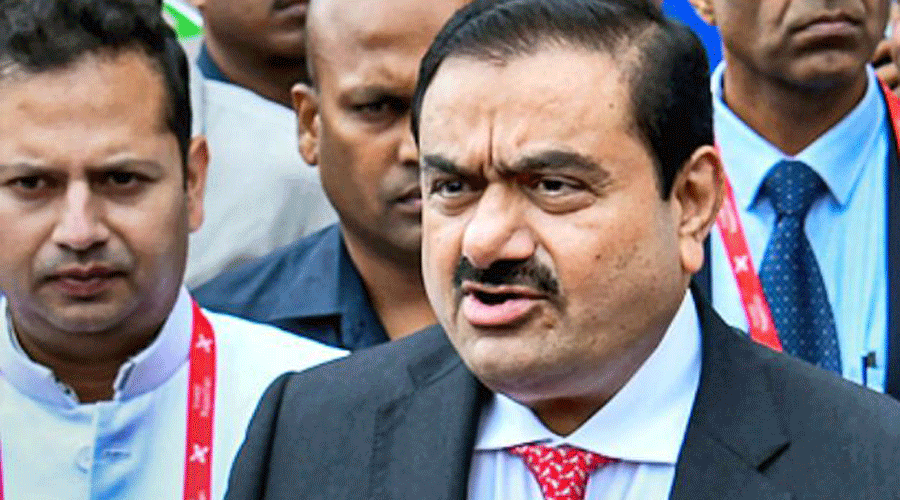 Gautam Adani in Jaipur on Friday
PTI picture
---
Mumbai
|
Published 08.10.22, 01:12 AM
|
---
Billionaire industrialist Gautam Adani on Friday announced Rs 65,000-crore investment in Rajasthan over the next five to seven years, including present projects.
The investments will be made towards setting up 10,000MW solar power capacity, expanding cement facilities and upgrading the Jaipur airport.
It also comprises investment in gas infrastructure to retail CNG apart from piped gas to households and industries and laying transmission lines to carry renewable power.
Adani made these announcements while speaking at the Invest Rajasthan 2022 Summit.
He said the conglomerate has a strong presence in the state as it operates a thermal power plant and a solar park. It also supplies coal to the state's power-generating units.
The group's joint venture with the Rajasthan government in a 10000mw solar park is producing over 1,500mw of green power.
Its direct investment into renewables in Rajasthan continues to accelerate and the group has already commissioned projects of over 4,000mw at an investment of Rs 20,000 crore.
"In addition, over the past decade, we have been supplying fuel to help Rajasthan generate over 4,300mw of thermal power. We have been operating 19 grid sub-stations and associated high-voltage transmission lines."
Adani said the group is operating the dry port container terminal at Kishangarh, managing and expanding the Jaipur airport as well as operating two edible oil refineries at Alwar and Bundi.
In cement, a significant part of capacity expansion will be made in Rajasthan. "We anticipate investing another Rs 7,000 crore to double our cement manufacturing capacity in the state." The group has recently acquired the stakes of Holcim in ACC and Gujarat Ambuja that makes it the second largest operator after AV Birla group.
The other projects in various stages of execution and expansion include expanding the Jaipur airport into a world class facility, developing networks to supply PNG and CNG and accelerate cleaner fuel availability to industrial, commercial, transport and domestic consumers.
Speaking to reporters after the inaugural ceremony of Invest Rajasthan summit, Adani said, "Along with this, while speaking to CM Gehlot, two more proposals were approved. One for contributing for two medical colleges and the other for cricket stadium in Udaipur."