Formal announcement on sale of Air India expected this week
The ministerial panel is likely to clear the bid placed by Tata Sons, who have reportedly outbid SpiceJet promoter Ajay Singh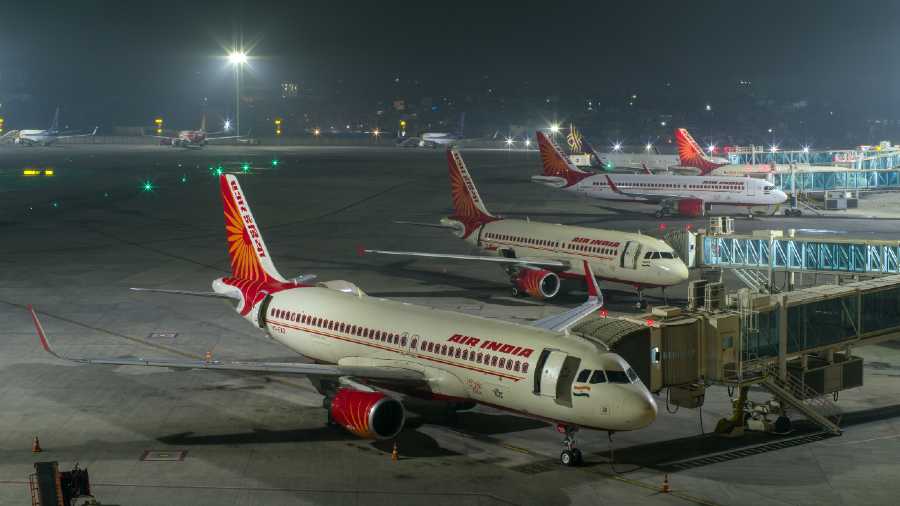 ---
New Delhi
|
Published 05.10.21, 01:44 AM
|
---
A formal announcement on the strategic sale of Air India is expected this week.
The ministerial panel on Air India is likely to clear the bid placed by Tata Sons, who have reportedly outbid SpiceJet promoter Ajay Singh.
The Union cabinet will give the final seal of approval to the winning bid.
The Air India Specific Alternative Mechanism headed by home minister Amit Shah is likely to meet this week and their decision would be placed before the cabinet, officials said.
They said there would be little gap between the ministerial panel meeting and the cabinet meeting.
The ministerial panel members include finance minister Nirmala Sitharaman, commerce minister Piyush Goyal and aviation minister Jyotiraditya Scindia.
The panel would vet the recommendation of the core group of secretaries headed by the cabinet secretary who has held several rounds of consultations and is learnt to have suggested Tata Sons as the suitable candidate to take over the national carrier. However, Ajay Singh had placed a "competitive bid" for the airline, sources said.
Valuation firms RBSA Advisors and EY — the consultant for the disinvestment — had given a presentation to the committee of secretaries. They had reportedly set the reserve price in the range of Rs 15,000-20,000 crore.
Tata Sons has put in its financial bids through its subsidiary Talace Pvt Ltd, while Ajay Singh is heading a group of investors and is involved in his personal capacity as a businessman.
Officials said the Tatas were said to have outbid the SpiceJet chairman and the ministerial panel approval  seemed like a formality.
The government plans to hand over the Maharajah before the end of the calendar year.  If successful, this will mark the return of Air India to the Tata fold after 67 years. The Tata Group founded Air India as Tata Airlines in October 1932. The government nationalised the airline in 1953.
The Centre is offering to sell 100 per cent in Air India and low cost-carrier Air India Express and its 50 per cent stake Air India SATS Airport Services Limited.
Winning bidders will be decided on the basis of who quotes the highest EV value. At least 15 per cent of this value will need to be paid in cash while the rest can be taken on as debt.
The bids will be made on the basis of enterprise values. At least 15 per cent of the enterprise value needs to be paid in cash and the rest taken on as debt. Enterprise value of an entity is the equity and debt combined.