Farm pledge triggers deficit fear
Centre plans Rs 25 lakh crore outlay in agriculture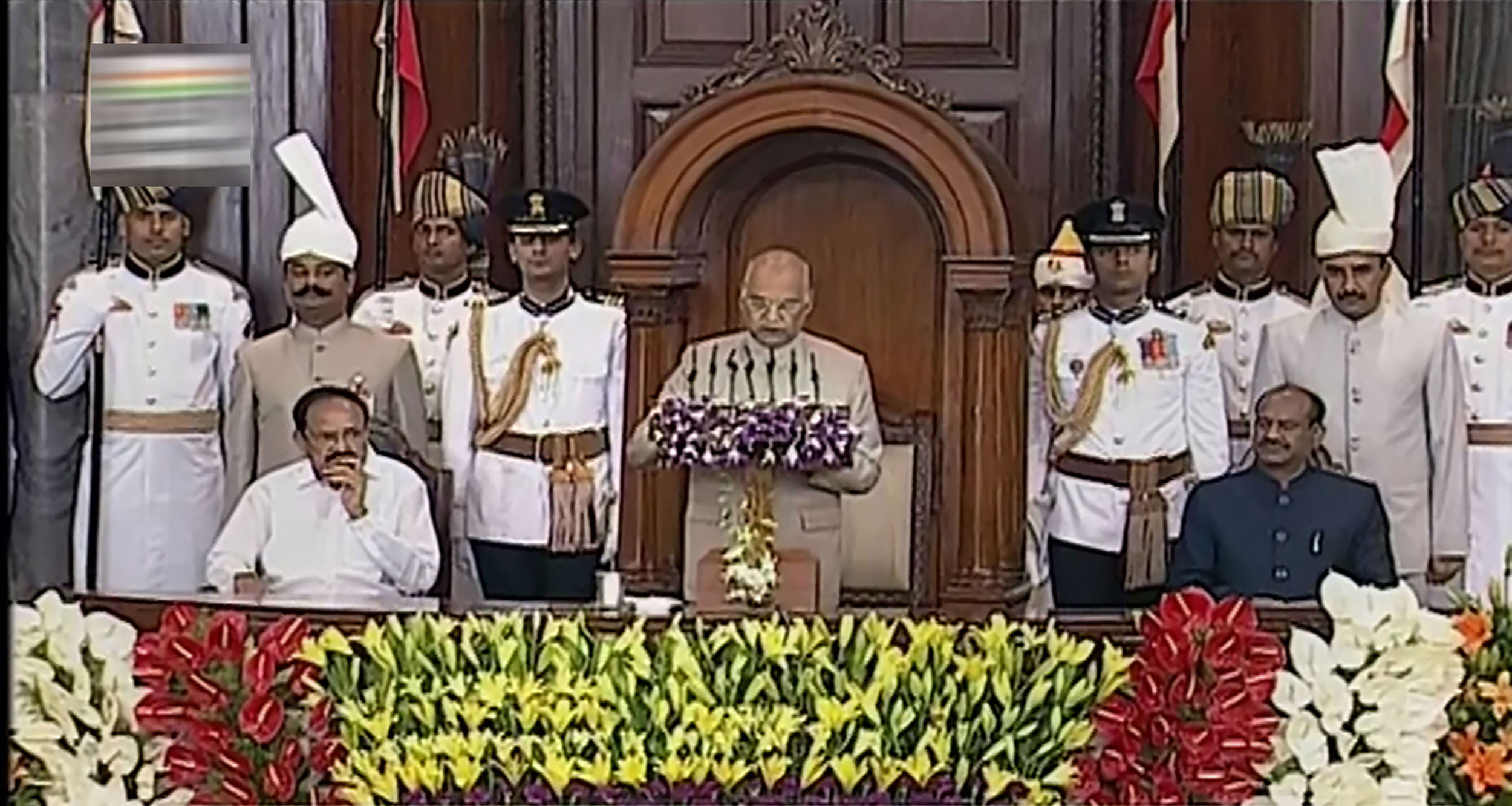 President Ram Nath Kovind addresses a joint session of Parliament in the presence of Vice President Venkaiah Naidu and Lok Sabha Speaker Om Birla, in New Delhi, on June 20, 2019.
(LSTV Grab/PTI Photo)
---
New Delhi
|
Published 20.06.19, 07:25 PM
|
---
President Ram Nath Kovind's speech to the joint session of the two houses of Parliament on Thursday has provided some pointers to the budget that will be unveiled on July 5.
The President spoke of a investment of Rs 25 lakh crore over the next few years in agriculture and a huge outlay of Rs 90,000 crore on the rural dole scheme, raising questions on how the government will finance such huge sums at a time growth is faltering, with adverse consequences on revenues and fiscal deficit.
"Only on the foundation of a strong rural economy is it possible to build a strong national economy. Our farmers are the pillars of the rural economy," President Kovind said in his speech.
"All possible efforts are being made by the Centre to provide adequate assistance to the states for agricultural development. In order to enhance agriculture productivity, an investment of Rs 25 lakh crore will be made in the coming years," the President added. The speech did not specify over how many years the government intended to spread the investment.
However, the government has a limited fiscal space to accommodate such huge outlays. In the interim budget, the government has estimated an 18 per cent increase in the GST, 32 per cent in personal income tax and 15 percent in corporate tax. The economic slowdown will make these targets even more challenging..
Fitch on Monday lowered its growth forecast for India to 6.6 per cent from 6.8 per cent earlier. Earlier this month, the RBI lowered its forecast to 7 per cent for the fiscal against 7.2 per cent made in April.
Higher expenditure to push growth given the revenue headwinds is likely to raise the fiscal deficit further. The interim budget had revised upwards the fiscal deficit for 2019-20 to 3.4 per cent of GDP from 3.1 per cent earlier.
Piyush Goyal, who had presented the interim budget in the absence of the then finance minister Arun Jaitley, had said the deficit had to be raised because of the support scheme to the farmers.
In his speech, the President said the allocation under the rural cash support scheme would be raised to Rs 90,000 crore, annually, from Rs 75,000 crore as it would be extended to all farmers — which is expected to dent the deficit .
Economists are in favour of an expansionary fiscal policy. N R. Bhanumurthy of the National Institute of Public Finance and Policy said, "The government should not think about fiscal tightening at this moment when economy is not in its prime. We are talking about easing monetary policy. The fiscal policy must work in tandem with that idea. There is a need to relax the fiscal deficit target."