External yardstick for rates deferred
SBI has announced it would link savings depoits of over Rs 1 lakh and some categories of short-term loans to the repo rate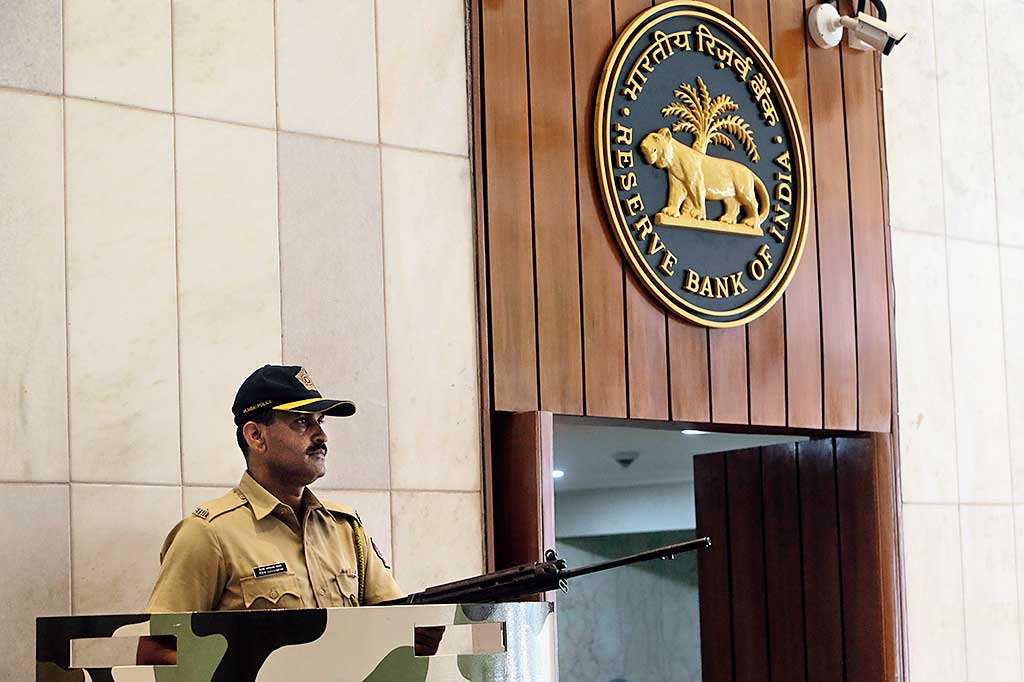 A security guard outside the RBI headquarters in Mumbai on Thursday.
AP
---
Mumbai
|
Published 04.04.19, 07:22 PM
|
---
The RBI has deferred a move to introduce an external benchmark to fix floating rate loans till further consultations with various stakeholders.
The SBI, however, has already announced it would link savings deposits of over Rs 1 lakh and some categories of short-term loans to the repo rate, an external benchmark.
The RBI's decision to postpone such a benchmark, which could replace the current marginal cost of funds-based lending rate (MCLR), comes amid concerns over banks not fully passing on the policy rate cuts to consumers.
The RBI, under previous governor Urjit Patel, had in December proposed that all new floating rates for personal or retail loans and advances to micro and small enterprises given by banks from April 1, 2019, will be linked to the external benchmark — the repo rate or any other benchmark market interest rate published by the Financial Benchmark India Private Ltd. The objective was to bring about a swifter monetary policy transmission.
"Taking into account the feedback received during discussions with stakeholders on issues such as management of interest rate risk by banks from fixed interest rate-linked liabilities against floating interest rate linked assets and the related difficulties, and the lead time required for IT system upgradation, it has been decided to hold further consultations with stakeholders and work out an effective mechanism for the transmission of rates," the RBI said in a statement on Thursday.
Timeline question
In his interaction with reporters, RBI governor Shaktikanta Das did not give a timeline to come out with the external benchmark.
He, however, reiterated the apex bank was committed towards better transmission of policy rates and this had been communicated to both the public and private sector banks.