Elon Musk walks out of $44 billion Twitter deal
Tesla CEO says he was terminating the deal because of a continuing disagreement over number of spam accounts on platform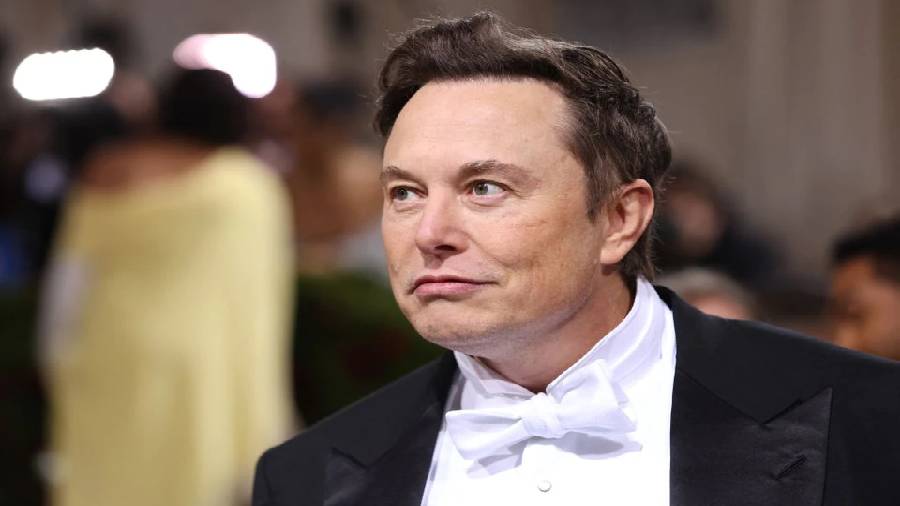 ---
San Francisco
|
Published 10.07.22, 01:54 AM
|
---
Less than three months ago, Elon Musk, the world's richest man, struck a blockbuster $44 billion deal to buy Twitter. He proclaimed that the company had "tremendous potential".
Since then, Musk has changed his tune. He sniped at Twitter's top executives. He unleashed tweets taunting the company's board. He complained that the social media service had too many spam accounts and that he could not get insight into the issue. He tweeted a poop emoji to express his displeasure.
And on Friday, Musk tried to back out of the acquisition altogether.
In a regulatory filing prepared by his lawyers, Musk said he was terminating the Twitter deal because of a continuing disagreement over the number of spam accounts on the platform. He claimed that Twitter had not provided the information necessary to calculate the number of those accounts — which the company has said is lower than 5 per cent — and that it had appeared to make inaccurate statements.
"Twitter is in material breach of multiple provisions" of the deal agreement, Musk's lawyers said in the filing, and the company "appears to have made false and misleading representations".
Musk's move sets up what is likely to be an ugly and protracted legal battle with Twitter. The billionaire signed a legally binding agreement in April to buy the company for $54.20 a share, waiving due diligence to get the deal done quickly. The terms included a $1 billion breakup fee if the agreement fell apart and a clause that gives Twitter the right to sue Musk and force him to complete or pay for the deal, so long as the debt financing he has corralled remains intact.
For Twitter, completing a sale to Musk is paramount. The company has struggled for years to grow, and its financial performance has been inconsistent. No other potential buyer has emerged as a white knight, its advertising business is under pressure, and it recently slowed hiring and laid off some employees.
Since April, Twitter's shares have plummeted more than 20 per cent, far below what Musk offered to buy it. To accept less than the originally negotiated price could expose Twitter to shareholder lawsuits. And in a sign of how the company's investors were banking on the deal, its shares fell 5 per cent in after-hours trading on Friday after Musk revealed his desire to end the deal.
Ann Lipton, a professor of corporate governance at Tulane Law School, said Musk's disagreement with Twitter over spam accounts might not constitute a material breach of the deal, meaning it is a legally tenuous argument.
False representations about such accounts are in and of themselves "not grounds to walk away," she said. "They're only grounds to walk away if they are so overwhelmingly bad that it really just fundamentally jeopardises the economics of the deal. That's a company material adverse effect."
Yet even if Musk is forced to go ahead with the deal, sending such a letter may give him a foothold for cutting the price. His action coincides with a widespread slide in the value of tech stocks, including Tesla, the electric car maker he runs and the main source of his wealth.
Buyers have frequently used the threat of walking away to renegotiate a deal. At the height of the pandemic, LVMH Moët Hennessy Louis Vuitton sued to back out of its acquisition of Tiffany & Company. The two parties later shaved about $420 million off the price. Musk, 51, didn't immediately return requests for comment.
In a tweet, Bret Taylor, Twitter's chairman, said the company was intent on seeing the deal through. He alluded to how the matter would end up in court, saying he was "confident we will prevail in the Delaware Court of Chancery." Many corporate cases are heard in Delaware, where Twitter is registered. The company would almost certainly seek an expedited case, given the size of the deal.
The Twitter Board is committed to closing the transaction on the price and terms agreed upon with Mr. Musk and plans to pursue legal action to enforce the merger agreement. We are confident we will prevail in the Delaware Court of Chancery.

— Bret Taylor (@btaylor) July 8, 2022
Citing a material adverse effect to end an acquisition has succeeded only once in Delaware court, Lipton said. That deal was a $3.7 billion acquisition of Akorn, a pharmaceutical company, by the health care company Fresenius Kabi in 2017, she said.
New York Times News Service