Shaktikanta Das asks private sector banks to implement RBI measures
The Reserve Bank governor held a meeting with select chiefs of private sector banks and asked them to further strengthen their balance sheets proactively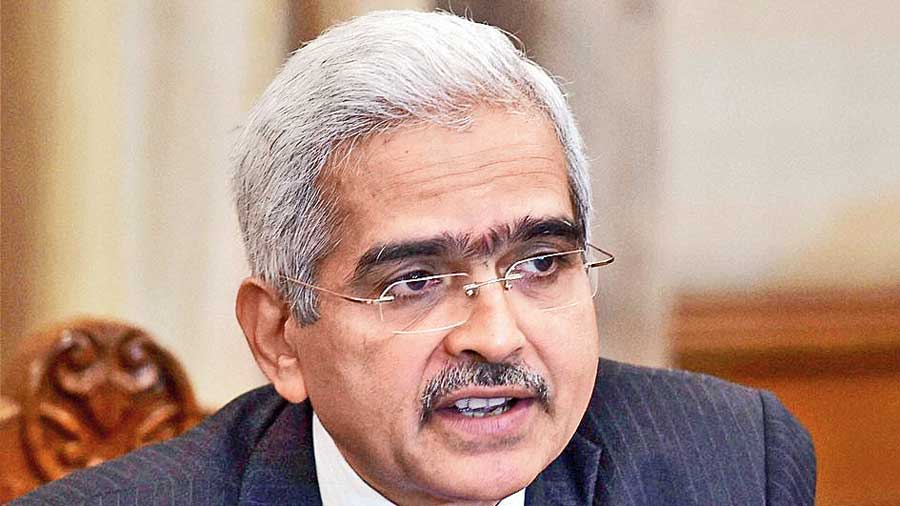 ---
Mumbai
|
Published 27.05.21, 12:46 AM
|
---
Reserve Bank of India (RBI) governor Shaktikanta Das has asked private sector banks to implement the various measures announced by the central bank on May 5 as it looks to push credit growth to the needy sectors amid a cut in growth forecasts for the domestic economy.
On Tuesday, Das held a meeting with select chiefs of private sector banks where he also asked them to continue focusing on efforts to further strengthen their balance sheets proactively.
Some of the other issues that were discussed included the current economic situation, credit flows to MSMEs, the liquidity scenario and monetary policy transmission.
However, a key highlight of the meeting was to "quickly and swiftly implement" the measures which it had announced more than a fortnight ago to shield the domestic economy from the adverse effects of the second wave of Covid-19.
Among them is the creation of a 'Covid loan book' where it has opened an on-tap liquidity window of Rs 50,000 crore with tenors of up to three years at the repo rate till March 31, 2022.
Under the scheme, banks can provide fresh lending support to various entities, including vaccine manufacturers, importers/suppliers of vaccines and priority medical devices,
hospitals or dispensaries, pathology labs, manufacturers and suppliers of oxygen and ventilators, importers of vaccines and Covid-related drugs apart from logistics firms and even patients for treatment.
While the SBI has already announced plans to create a Rs 10,000-crore book in this regard, the RBI is keen that private sector banks must also use the opportunity.
This comes particularly after its efforts to push lending by small finance banks (SFBs) through an special long term repo operations (SLTRO) got a very poor reaction from these niche lenders on May 17.
The SLTRO was also announced on May 5 as part of a step to provide further support to small business units, micro and small industries, and other unorganised sector entities hit by the pandemic.
The RBI had said that it will conduct special three-year SLTRO of Rs 10,000 crore at repo rate for SFBs, to be deployed for fresh lending of up to Rs 10 lakh per borrower.
While this facility will be available till October 31, 2021 (with one auction being held each month), the first auction on May 17 saw these banks borrowing only Rs 400 crore against Rs 10,000 crore allocated. The unutilised portion will now be carried forward to a subsequent auction.
Meanwhile, a report in BloombergQuint said that during the meeting, the chiefs of private sector banks, pitched for a limited moratorium of payments and a wider window to restructure dues. They also requested that the RBI allow banks to offer a moratorium on payments between April and June. According to the bankers, this will ensure that the borrowers who were unable to pay their dues since April, because of the second wave, are not classified as non-performing assets by June 30. They also wanted the two-year moratorium granted under the one-time restructuring scheme be extended to three years.