Covid: RBI measures to soothe anxiety over credit repayments, liquidity, and bad loan recognition norms
Reserve Bank governor announces a Rs 50,000-crore term liquidity facility to prop up emergency health services in the country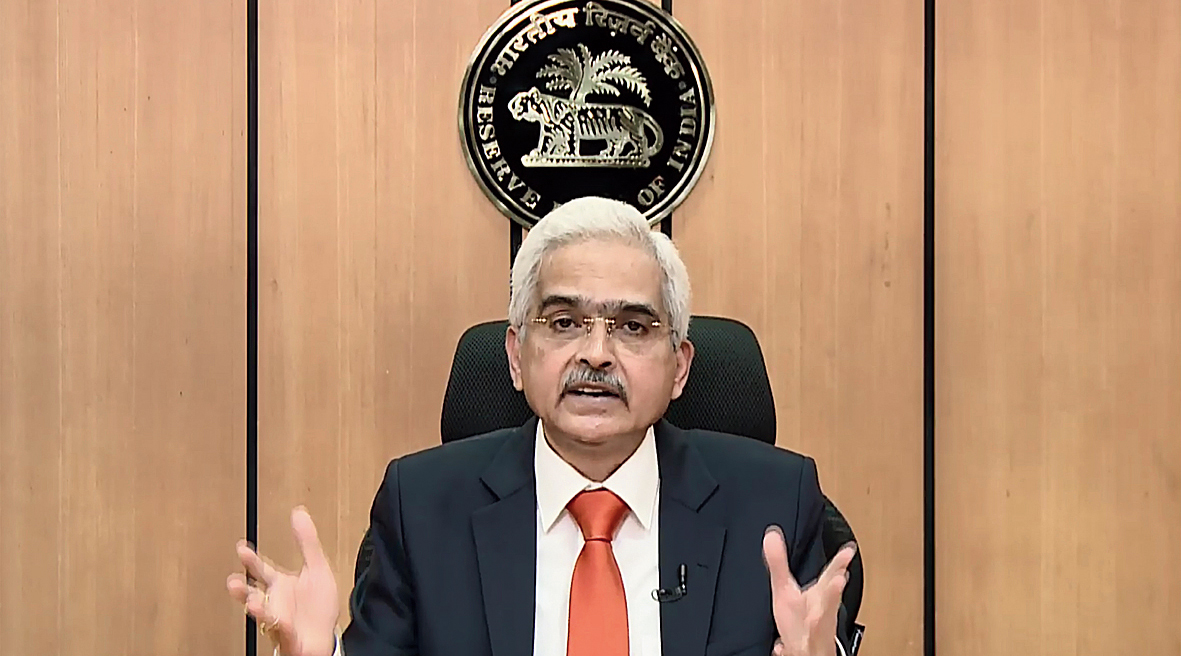 ---
Mumbai
|
Published 06.05.21, 01:20 AM
|
---
The Reserve Bank of India on Wednesday responded to a rising clamour from banks and borrowers for relief against the second pandemic wave with a sweeping set of measures designed to soothe anxiety over credit repayments, liquidity in the financial system, and rigorous bad loan recognition norms that threaten to leave red splotches on bank balance sheets.
In an unscheduled announcement, Reserve Bank of India governor Shaktikanta Das announced a Rs 50,000-crore term liquidity facility to prop up emergency health services in the country, opened new credit pipelines for small and medium businesses, and laid out a fresh template for loan restructuring for all borrowers with credit exposures below Rs 25 crore. However, it stopped short of granting a blanket moratorium on repayments as the central bank had done last year.
Banks have been allowed to create a so-called Covid loan book to provide fresh lending support to vaccine manufactures, hospitals, medical device makers, pathology labs as well as patients in need of treatment.
The lenders will be able to tap into the Rs 50,000-crore liquidity facility at the repo rate of 4 per cent. As an incentive, banks have been permitted these credit facilities as priority sector loans. They will be able to park surplus liquidity existing under the Covid loan book with the RBI through the reverse repo window at 40 basis points higher than the reverse repo rate of 3.35 per cent.
Das also provided relief to individuals, small business and MSMEs facing financial stress from the second wave of the pandemic by announcing another loan restructuring scheme. This will apply to borrowers who have an aggregate exposure of up to Rs 25 crore.
The central bank announced a special three-year long-term repo operations (SLTRO) of Rs 10,000 crore to small finance banks (SFBs) in order to support small businesses rocked by the second Covid wave. These lenders can raise funds at the repo rate from the RBI and on-lend to various borrowers up to a limit of Rs 10 lakh per borrower. The SFBs have been permitted to treat fresh lending to smaller micro finance institutions or MFIs as priority sector lending.
While the pandemic has resulted in several bank customers being unable to visit branches to do the know your customer (KYC) requirements, the central bank said that regulated financial entities should not impose any punitive restriction against customers for failure to update KYC till December end.
However, some observers were not impressed by the scale of the RBI's response to the Covid crisis.
"A Rs 50,000 crore term liquidity for healthcare sector is welcome but it is unlikely to benefit many listed players. Overall the Street may be disappointed with the financial impact of the announcement. ...Overall a welcome pro-active move by the RBI, though yeh dil mange more," said Dhiraj Relli, MD & CEO at HDFC Securities.