Covid: Bombay Chamber of Commerce asks for IPR waiver on Covaxin
Control measures suggested by the chamber also include a special emphasis on how to immunise large parts of population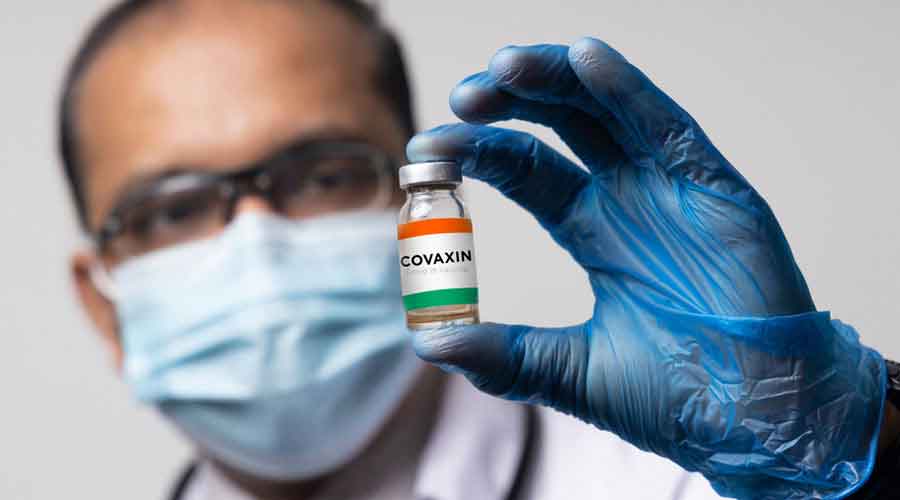 ---
Mumbai
|
Published 08.05.21, 01:18 AM
|
---
At a time the World Trade Organisation (WTO) is preparing to hunker down to debate a contentious proposal to grant a waiver on intellectual property rights (IPR) on Covid-19 vaccines, the Bombay Chamber of Commerce & Industry (BCCI) has injected an element of controversy at home by suggesting that the Modi government ought to explore the possibility of permitting the issue of compulsory licences so that other vaccine providers can produce Covaxin under the Indian Patent Act in order to boost its production.
There have been reports of a severe shortage of Covaxin and the chamber's proposal — which mirrors the position that India is going to adopt before the WTO — could open up a heated debate here as well.
The chamber made the proposal in a presentation to finance minister Nirmala Sitharaman who had sought the industry's suggestions to deal with a mounting Covid crisis. The Covid control measures suggested  by the chamber also include a special emphasis on how to immunise large parts of population.
Section 92 of the Patents Act empowers the central government to grant compulsory licences "in respect of any patent in force in circumstances of national emergency or in circumstances of extreme urgency or in case of publicised non-commercial use".
Covaxin's IP rights are shared between Bharat Biotech and the Indian Council of Medical Research (ICMR). The ICMR is funded by the government of India through the ministry of health and family welfare.
BCCI has also said that the Centre should purchase vaccines on behalf of states also at a uniform price and that private players could buy it at a negotiated price.
The industry body has also suggested that the government should develop and publish a state-wise distribution plan and ensure maximal number of places where vaccination can be provided to minimise queues, including large corporate blocks.
However, some experts feel that a CL for Covaxin will not make much of a difference — at least in the short term. Some reports have suggested that the ICMR is willing to offer the technology to other firms to produce the drug.
Last month, the Centre had also announced that three state-run firms were being supported to increase the capacity of vaccine production which include Haffkine Biopharmaceutical, Indian Immunologicals in Hyderabad, and Bharat Immunologicals and Biologicals at Bulandshahr.
The government had said that they be supported to prepare their facility to provide 10-15 million doses per month by August - September 2021.
"Essentially, India is left with the option of compulsory licensing of Covaxin, but this might not be the panacea to scale up the manufacture of the vaccine. The barrier is really the facilities required to manufacture Covaxin, which is a Biosafety level-3 production facility. Only Bharat Biotech and Panacea Biotech have that in India. This means it will take almost a year for the vaccine to roll out from there," Ananth Krishna, a lawyer, said in his blog post.
Leena Menghaney, global IP adviser to MSF Access Campaign, feels the waiver should extend to not only the Covid vaccine but various other medical products.
"The waiver should also cover other medical products for Covid-19, as originally proposed by India and South Africa seven months ago."
India has shifted from the stand it took last October and now is ready to back the US plan to seek an IP waiver only for vaccines.
There has been considerable opposition to the patent waiver proposal from the European nations, including Germany. European Commission president Ursula von der Leyen said she was willing to discuss US President Biden's plans.
Talks on the IP waiver are unlikely to start for another two months. Some suggest that an agreement is unlikely to be reached before the WTO ministerial meeting scheduled between November 30 and December 3. All 164 WTO member countries must reach consent on such decisions, with any one member able to block them, a Reuters report said.