India Inc races to ramp up oxygen supplies
Conglomerates such as Reliance Industries Ltd, ITC and Adani Group are chipping in to increase production and facilitate transportation of LMO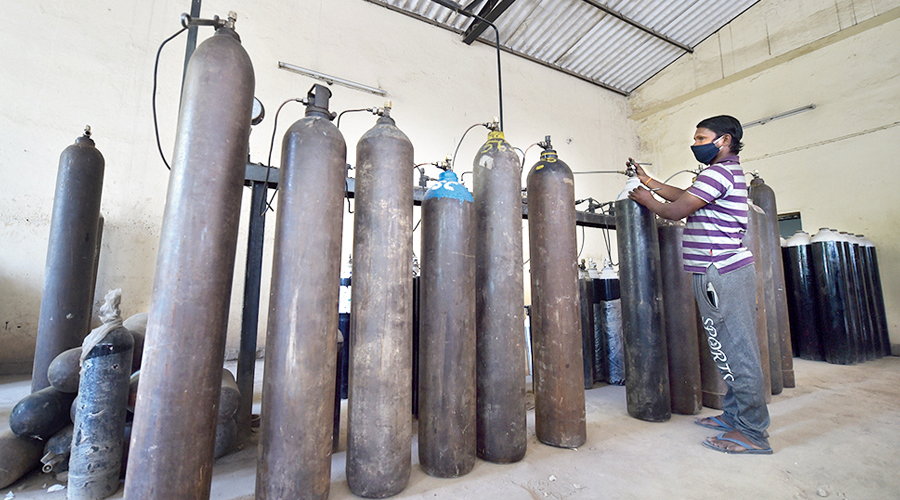 A worker sorts cylinders with medical oxygen in New Delhi on Sunday.
PTI Photo
---
Calcutta
|
Published 26.04.21, 01:10 AM
|
---
India Inc is stepping up supply of liquid medical oxygen (LMO) to support the embattled hospitals across the country that are unable to provide round the clock oxygen support to Covid-19 patients.
Steel majors such as JSW Steel, Tata Steel and SAIL which have large industrial grade oxygen capacities have repurposed output in order to increase medical grade supplies to states ravaged by the second wave of the pandemic.
Moreover, conglomerates such as Reliance Industries Ltd, ITC and Adani Group are also chipping in to increase production and facilitate transportation of LMO.
Production
The ministry of steel stated that Indian plants, both in the public and private sectors, produced 3,474 tonnes of LMO on Saturday, twice what they were producing a week earlier. They managed to dispatch 2,894 tonnes of LMO on the same day.
There are 33 oxygen plants in the private and public sectors in India and 29 of these are being tapped regularly. Steel plants require gaseous oxygen, primarily for steel making and for oxygen enrichment in blast furnaces, apart from some general purposes like lancing and gas cutting.
The captive oxygen plants of the integrated steel producers are designed to produce primarily gaseous products of oxygen, nitrogen and argon which are used to meet the process needs at desired pressure. Such plants can produce a maximum of 56 per cent liquid oxygen at peak capacity.
Medical grade oxygen has a higher concentration compared with industrial oxygen. Plants can only optimise liquid oxygen production by sacrificing some gaseous oxygen and optimising process parameters.
However, steel majors suggested that ramping up production would not hurt their steelmaking capacity in any manner. JSW Steel, which is producing 898 tonnes of LMO on an average over the last three days — the highest by any steel company in India — says there will be a 'zero impact' on steel production. The company said it plans to increase production of LMO to over 900 tonnes from May onwards and supply to states such as Maharashtra, Karnataka and Tamil Nadu.
SAIL, which has five plants in four states, is also supplying 800 tonnes per day (TPD) of oxygen while Tata Steel and AM/NS, are contributing 500 TPD and 210 TPD respectively. RIL is the other big supplier outside the steel sector, providing over 700 TPD of oxygen primarily to the state of Gujarat.
Logistics
The transportation of LMO from the production sites to the consumption centres is proving to be a bigger challenge as this requires cryogenic containers to carry liquid gas at a subzero temperature. The Tata Group, ITC and Adani have stepped in to source such containers from southeast Asian countries and the Middle East. The Tatas and ITC have said they will procure 24 such containers each and airlift them to India. A part of the consignment — each container with a 20tonne capacity — has already reached India.
These containers will be mounted on trucks or railway rakes to reach supplies to the consumption sites. Eastern states such as Bengal and Odisha, which have many steel plants, are currently reporting a surplus in oxygen while states like Delhi and Uttar Pradesh are in deficit.  
However, the northern states have an acute shortage of oxygen supplies and the producers are struggling to surmount a mammoth challenge even after increasing the number of containers. The process of filling a tanker and emptying at the hospital takes about six hours in itself which is in addition to the time taken to transport the containers over long distances. As a result, states like Delhi continue to gasp for oxygen even though countrywide production of oxygen outstrips cumulative demand.
More support
The Central Board of Indirect Taxes and Customs has asked importers of oxygen and coronavirus related medicines to fill up a single page online form giving description of the goods and its end use in case they face any difficulty in getting prompt customs clearance.
All major ports have been urged to waive all charges for ships carrying oxygen and related equipment.