IMD predicts normal rainfall for India in 2021
Forecast stirs optimism among crop researchers and economists amid lingering uncertainty posed by the Covid-19 pandemic and its fallout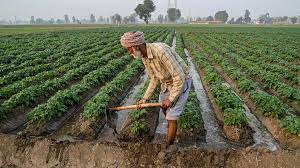 ---
---
India's 2021 monsoon rainfall will be normal, the India Meteorological Department predicted on Friday, stirring optimism among crop researchers and economists amid lingering uncertainty posed by the Covid-19 pandemic and its fallout.
The quantum of monsoon rainfall during the June-September season is likely to be 98 per cent of the long-period average, the IMD said, forecasting a 40 per cent probability and a third straight year of normal rainfall. Meteorologists label rainfall in the range of 96 to 104 per cent as normal.
Economists said good rainfall would help curb food inflation, boost rural income, and push overall demand for agricultural products and consumer durables. But both crop meteorologists and economists cautioned that the geographic spread of the rainfall will determine its impact.
"Our analysis shows the maximum probability of 40 per cent for a normal monsoon," said Madhavan Rajeevan, a senior meteorologist and earth sciences secretary. "This will be good for the country, this will help agricultural output."
The monsoon is crucial for the country as around 60 per cent of about 1.3 billion people depend directly or indirectly on agriculture, which accounts for about 18 per cent of the national economy.
A good monsoon would bolster rural gross domestic product, but appropriate spread, especially in the rain-fed regions that rely significantly on the seasonal rainfall, would be critical for crop output.
"How the monsoon behaves in Maharashtra, Rajasthan, Chhattisgarh and Jharkhand which have relatively lower irrigation cover will determine how much the monsoon would help the country's agricultural growth," said D.K. Joshi, chief economist at Crisil, a rating agency.
"A normal pattern of rainfall would help rein in food inflation, although the global trends in prices of edible oil and domestic demand-supply disruptions for perishable items such as vegetables, will play a critical role," said Aditi Nayar, chief economist with ICRA, another rating agency.
The IMD, introducing the spatial distribution of rainfall as an added feature in its 2021 long-range forecast, has predicted that parts of Bengal, Haryana, eastern Uttar Pradesh, Bihar, Jharkhand, Chhattisgarh and Odisha are likely to receive below normal rainfall.
"These states would need to prepare a contingency plan to take care of less than normal rainfall," said Devendra Kumar Pant, chief economist at the India Ratings & Research.
"But good rainfall will help stable rural demand which is struggling under the shadow of Covid-19," Pant said.