IndiGo to lay off 10% of its workforce
As on March 31, 2019, the airline had 23,531 employees on its payroll and its employee cost in 2019-20 was Rs 4,395.4 crore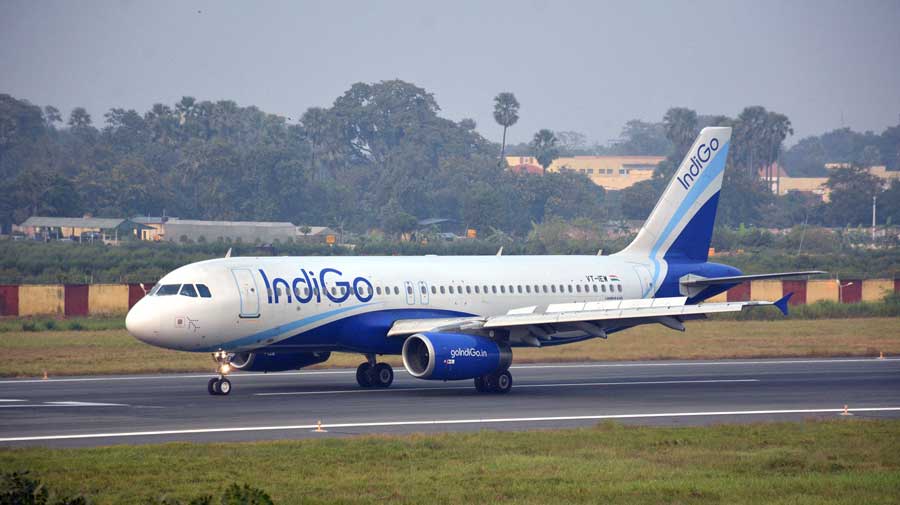 "It is for the first time in the history of IndiGo that we have undertaken such a painful measure," CEO Ronojoy Dutta said on Monday.
File picture
---
New Delhi
|
Published 21.07.20, 01:22 AM
|
---
IndiGo has decided to lay off 10 per cent of its workforce as it grapples with declining revenues as a fallout of the Covid-19 pandemic.
"From where things stand currently, it is impossible for our company to fly through this economic storm without making some sacrifices, in order to sustain our business operations … Therefore, after carefully assessing and reviewing all possible scenarios, it is clear that we will need to bid a painful adieu to 10 per cent of our workforce. It is for the first time in the history of IndiGo that we have undertaken such a painful measure," CEO Ronojoy Dutta said on Monday.
As on March 31, 2019, the airline had 23,531 employees on its payroll and its employee cost in 2019-20 was Rs 4,395.4 crore.
IndiGo in June said it would cut up to Rs 4,000 crore in costs and speed up the return of older planes to leasing companies. Parent Interglobe Aviation had reported a net loss of Rs 873 crore for the quarter ended March 31.
Severance package
IndiGo has created a "6E care package" for the impacted employees. Under the package, the employees will be given notice pay in lieu of serving notice applicable to them and severance pay which will be calculated as one month of CTC for every completed year of service, subject to a maximum of 12 months.
"At a minimum, an impacted employee will receive at least three months' gross salary, including both the above payments," the statement read.
Airlines have been facing a severe cash crunch because of the disruption caused by Covid-19 outbreak. The domestic and international flight operations were shut in the last week of March to prevent virus spread and the operations are yet to get back to normalcy.
Most other airlines such as SpiceJet, GoAir and Air India have either cut salaries or have sent a major part of their staff on leave without pay.
COVID-19 pandemic has severely affected all the Indian carriers.
"This has been one of the toughest decisions that we have had to take and we are ensuring that the transition process for the impacted employees is carried out seamlessly, professionally; and with the utmost respect and compassion. We would like to express our heartfelt gratitude and sincere thanks to all our people who have stood by us through thick and thin; and we are confident that both individually as well as collectively, we will emerge stronger out of this crisis," the note added.
The company earlier announced pay cuts for its employees under a 'limited, graded leave without pay program for the months of May, June and July. Indigo CEO Rononjoy Dutta in a mail to employees, said, "No option but to implement pay-cuts from the month of May. Have to implement limited, graded leave without pay program for May, June & July."
Impacted employees will get a severance pay and will be paid for the notice period as well.
Air India
Meanwhile, Indian Commercial Pilots Association have written to the Air India head that any unilateral change in the salaries of pilots would be illegal and has the potential to flare up to a situation of "unprecedented magnitude.
"Any unilateral change by Air India from agreed upon wage settlement would be illegal and will not be in the interest of our national carrier at this crucial juncture. Such a situation has the potential to flare-up to an unprecedented magnitude," the ICPA stated in its letter to Air India Chairman and Managing Director Rajiv Bansal.
Air India has proposed a 60 percent salary cut for pilots amid the coronavirus pandemic, which has infected 55 of its cockpit crew members, the ICPA and the Indian Pilots' Guild (IPG) had said in their joint letter to Bansal last week.
"The proposed cut for pilots is almost 60 percent of gross emoluments. It is hilarious to note that the top management has proposed a meagre 3.5 per cent cut on its own gross salary," the joint letter had said.