Coal India told to bridge import gap
Industry sources skeptical to how the organisation will successfully source coal from overseas market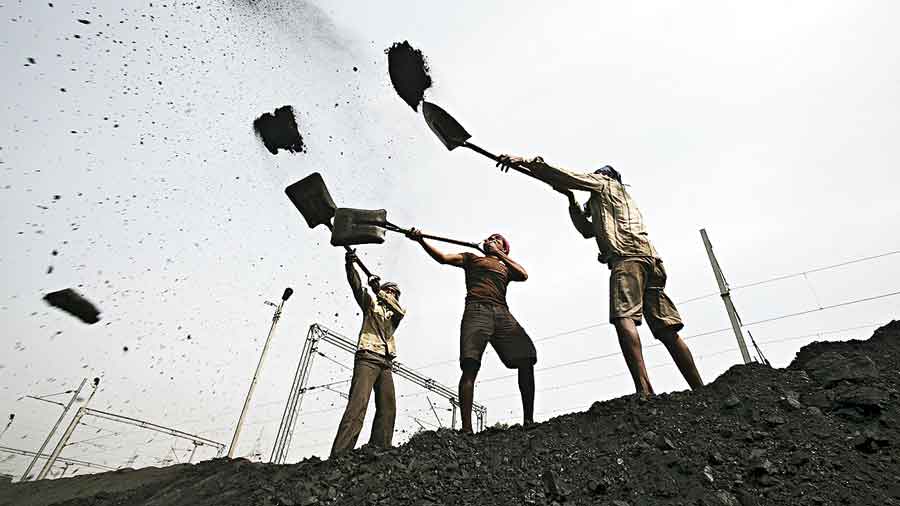 Representational Image
File Photo
---
Calcutta
|
Published 30.05.22, 03:11 AM
|
---
The Union power ministry has urged Coal India to import coal amid the unwillingness of power generating companies to source coal at high prices from the overseas markets.
A Reuters report quoted a power ministry letter dated May 28 — which stated Coal India would import coal for blending on a government-to-government (G2G) basis and supply to the thermal power plants of state generators and independent power producers.
For Coal India, which has been stepping up its own production, there could be a possibility that the government as an exigency measure issue a presidential order on import.
It would be the first time since 2015 that Coal India has imported the fuel, highlighting efforts by state and federal officials to stock up to avoid a repeat of April, when India faced its worst power cuts in more than six years.
The power ministry earlier this month had observed that blending of imported coal to the extent of 10 per cent is not happening as was directed in April and stocks at power plants were continuing to dip.
As per data from the Central Electricity Authority, a total of 92 coal based power plants including plants based on domestic coal and imported coal, were having a critical fuel stock as of May 26, 2022.
If the imported coal for blending does not arrive before June 15, generating companies will have to step up their import to the extent of 15 per cent blending in the remaining period up to October 2022.
The power ministry in a statement on Sunday said that a 10 per cent blending with imported coal was mandatory for private generators who bid for coal and sell power in the exchange.
The ministry has asked the Central Electricity Authority to compute the quantity of coal consumed on the basis of mandatory blending of 10 per cent by weight for generation during the period June 15 to March 31, 2023.
Industry sources however remained skeptical to how Coal India — which does not have any core competence to handle the logistics of import —  will successfully source coal from overseas market and at what prices that imported coal will be offered to the power generating companies.
The power ministry said in the letter the decision was taken after nearly all states suggested that multiple coal import tenders by states would lead to a confusion and sought centralised procurement through Coal India.
The power ministry has also asked states to suspend tenders that are "under process".
"It seems that the gencos do not want to take the hassle of importing coal and there are concerns over the pass through of the increased cost in power tariff," a source told The Telegraph.
The power ministry had earlier said that the mechanism for billing and payment for these plants shall be as per power purchase agreement. However, to enable gencos importing coal with adequate cash flow, provisional billing shall be done on a weekly basis.
Payment of at least 15 per cent of the provisional bill shall be made by the procurers within a week from the date of receipt of bill and in case of default, the generating company shall be free to sell 15  per cent power in the power exchange.
India is expected to face a wider coal shortage during the third quarter of 2022 due to expectations of higher electricity demand, stoking fears of widespread power outages.
Coal inventories at power plants have declined by about 13 per cent since April to the lowest pre-summer levels in years.