China denounces India's security risk ruse to ban apps
Home ministry inputs said the apps were 'engaging in activities which are prejudicial to sovereignty of India'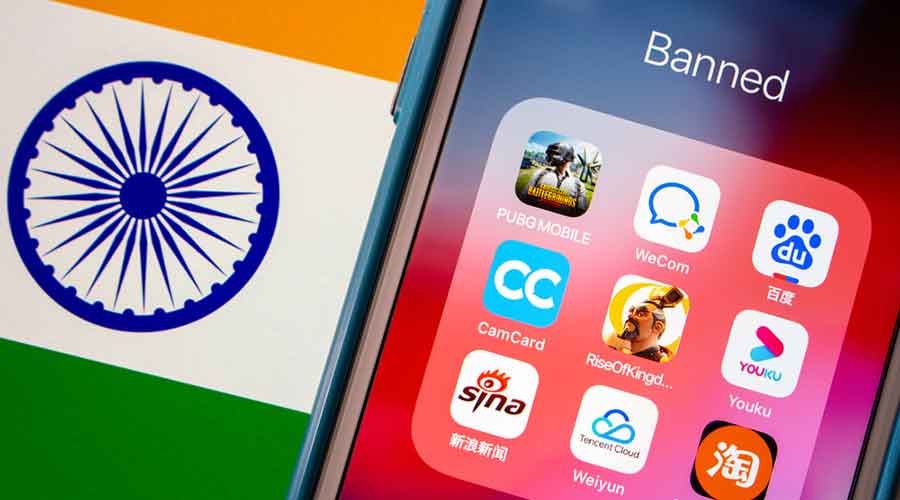 ---
---
China on Wednesday frowned upon India's repeated use of "national security" to ban Chinese apps and called for rectification of "discriminatory practices violating WTO rules''.
Responding to media queries for a Chinese reaction to India's decision on Tuesday to ban another set of apps with links to China, the spokesperson at the Chinese Embassy here, Ji Rong, said: "We firmly oppose the Indian side's repeated use of 'national security' as an excuse to prohibit some mobile applications with Chinese background.''
The ministry of electronics & information technology (MEITY) had banned 43 mobile apps on Tuesday, taking the list of such apps banned since June to 220 as part of a series of measures New Delhi is taking as retaliation to China violating India's territorial sovereignty. 
New Delhi's contention is that it cannot be business as usual given the prevailing situation along the line of actual control in eastern Ladakh where the face-off is into its seventh month.
The first set of apps were banned on June 20 when the government blocked access to 59 mobile apps, including the hugely popular TikTok – and followed it up on September 2 by banning another 118 apps. 
According to MEITY, the 43 apps were blocked on Tuesday on the basis of inputs received from the home ministry that they were "engaging in activities which are prejudicial to sovereignty and integrity of India, defence of India, security of state and public order''. 
These inputs were provided by the Indian Cyber Crime Coordination Centre of the home ministry, MEITY said.
Reacting to the specific charges made against these companies, Ji asserted that the Chinese government has always required its overseas companies to abide by international rules, operate in compliance with laws and regulations, and conform to public order and "good morals''.
Reiterating China's stated position that the two countries should view each other as "opportunities of development rather than threats'', the spokesperson added: "We hope the Indian side provides a fair, impartial and non-discriminatory business environment for all market players from various countries, including China, and rectify the discriminatory practices violating WTO rules''.
Stating that the ban on the apps was not a violation of the WTO rules, officials said India has not made any separate commitment on digital services at the WTO and China may find it difficult to establish a case.
Also, the country could use its right to invoke security exceptions under the General Agreement on Trade in Services (GATS) at the World Trade Organisation (WTO) to justify the application ban, they said.
Trade analysts said the national security concerns put India's case on a strong wicket. However, it is debatable whether the app ban is the best way to counter China.
Other apps banned in June were Shein, Clash of Kings and Shareit. 
In July it banned 47 other apps and in September it added another 118 mobile apps to its list of banned apps.