Auto sales fell across all categories in March, but dealers are hopeful their huge stacks of inventory will diminish in the second-half.
Passenger vehicle sales declined 10 per cent in March, while the sales of two-wheelers dipped 7 per cent, according to data released by the Federation of Automobile Dealers Association (Fada).
Commercial vehicle sales were down 12 per cent for the month; three-wheelers reported a fall of 6 per cent in their sales. Sales had also fallen across all categories in February as well.
Dealers holding 40-50 days of inventory for passenger vehicles and two-wheelers are hopeful of a spurt in demand in the second half of the calendar year on the back of good monsoon and the further easing of interest rates.
Fada said dealers were holding 40-45 days of inventory for passenger vehicles and 45-50 days of inventory for two-wheelers.
"A stable government at the Centre, an above average or average monsoon and most importantly a continued easing of monetary policy by the RBI, which has been initiated by the new RBI governor, resulting in liquidity availability, are factors which will once again begin the positive run of Indian auto retail and we expect that to continue into the festive season," Fada president Ashish Harsharaj Kale said.
"The worst for the auto industry is now behind us and expect plateauing of the declining demand and expect sales to stabilise in their current normal range for the next 4-6 weeks till elections conclude and we head towards the onset of the monsoon."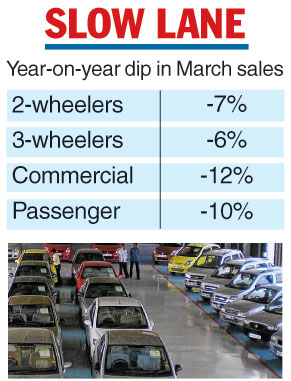 The Telegraph
Sales of passenger vehicles in March fell 10 per cent to 2,42,708 units compared with the same period last year. Sales stood at 2,69,176 units in March 2018.
Two-wheeler sales declined 7 per cent to 13,24,823 units last month compared with 14,25,356 units in the year-ago period.
Commercial vehicle sales declined 12 per cent to 61,896 units compared with 70,203 units in March last year. Three-wheeler sales saw a dip of 6 per cent to 53,229 units last month. Total sales across categories declined 8 per cent to 16,82,656 units in March, against 18,21,538 units in the same month last year.
"There was de-growth (March 2019) in all the categories as March 2018 was one of the biggest months for retail last fiscal," Kale said.
The industry, however, showed positive signs on a monthly basis compared with February, he added.
Production cut
He said car makers had reduced their production to bring down inventory at the level of the dealers. With the production cuts, inventory should reach the normal level of 30 days.