Can the Adani weather the Hindenburg storm?
The Rs 17.8-trillion-ports-to-energy group calls US financial research firm's fraud accusations 'baseless' and 'malicious'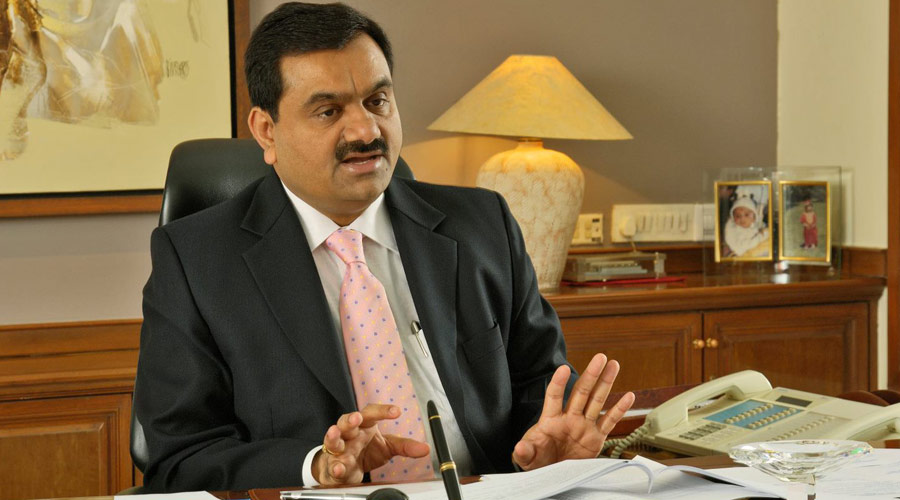 Gautam Adani
File picture
---
Published 26.01.23, 05:13 PM
|
---
So will Gautam Adani, Asia's richest person, be able to weather the storm engulfing his corporate empire from a stinging attack by a famed US financial research firm alleging corporate malpractice?
On Wednesday, a report by Hindenburg Research LLC accusing the Adani Group of "pulling the largest con in corporate history," wiped some $12 billion dollars off the value of the conglomerate's shares, according to Bloomberg data. 
The Adani Group has slammed Hindenburg's report that alleges "brazen stock manipulation and accounting fraud" stretching over decades. Adani Group's Chief Financial Officer Jugeshinder Singh called the report a "malicious combination of selective misinformation and stale, baseless and discredited allegations." 
Singh said in a statement that the Adani group was shocked that Hindenburg had issued its report "without making any attempt to contact us or verify the factual matrix".
Some financial analysts in the past have expressed concern over how the share prices of Adani Group companies have continued to soar given their high debt and sky-high valuations. But Hindenburg, which describes itself as "popping bubbles as we see them," has gone way farther in its offensive than any previous critics of the conglomerate.
The big question is whether the Rs 17.8-trillion-ports-to-energy group will manage to dispel investor worries during the coming days or if the report will have any sticking power. The Adani Group companies, led by 60-year-old Gautam Adani who is the conglomerate's chairman, have been the stars of the Indian stock market.
Hindenburg is described by Fortune as "one of Wall Street's most feared short-selling research firms". Short sellers seek to profit by betting that the stock price of the companies they target will fall. The research firm said it had taken short positions in Adani companies through bonds and derivative instruments. 
The research firm, set up in 2017, which says it looks for "man-made disasters" involving accounting irregularities, mismanagement and undisclosed transactions, was named after the hydrogen-filled Hindenburg airship that exploded into flames in 1937. During its short history, the company has made a name for itself for highlighting corporate wrongdoing or shortcomings. Bloomberg quoted a Singapore analyst as saying Hindenburg "are renowned short sellers. Their track record has been strong…"
The release of the report comes at a tricky time for the group's flagship firm Adani Enterprises, whose share value has rocketed by nearly 2,500 per cent over the past five years. Adani Enterprises is due to launch on Friday a $2.5-billion share sale aimed at funding capital spending and reducing debt. The issue will be India's biggest public secondary share offering.
Singh said that the timing of the Hindenburg report "clearly betrays a brazen, mala fide intention to undermine the Adani Group's reputation with the principal objective of damaging the upcoming follow-on Public Offering from Adani Enterprises."
Reuters, quoting an unnamed source, reported late Wednesday that the share issue was already subscribed 1.5 times with bids from big names such as the Abu Dhabi Investment Authority.
The Hindenburg report sent the market value of 10 Adani-owned stocks, including cement makers and media firm New Delhi Television Ltd., down by some $12 billion on Wednesday, Bloomberg said. The share market is closed Thursday for Republic Day.
"Compared to industry peers, we see 85%+ downside purely on fundamentals owing to sky-high valuations," the research firm said in its report that it tweeted before the Indian stock market began trading oin Wednesday.
"Infrastructure firms are generally relatively sleepy, low growth, low multiple enterprises, yet valuation metrics of the Adani listed companies are comparable to the frothiest of high-growth tech companies," Hindenburg said 
The report questioned the use by the Adani Group of offshore entities in offshore tax havens and alleged that some offshore funds and shell companies linked to the Adani Group "surreptitiously" own stock in Adani listed firms.
"The shells seem to serve several functions, including stock parking/stock manipulation and laundering money through Adani's private companies onto the listed companies' balance sheets in order to maintain the appearance of financial health and solvency," Hindenburg's nearly 100-page report said.
Hindenburg has made successful bets against various companies including electric vehicle-maker Nikola Corp. Nikola had a $34-billion stock market value but now is worth $1.3 billion and a US jury last year convicted founder Trevor Milton of fraud. But the Adani Group is Hindenburg's largest target to date.
In total, Hindenburg has targeted some 30 companies since 2020 and their stocks on average lost about 15 per cent the next day, Bloomberg reported. The shares on average were down 26 per cent six months later. 
The Adani Group has been under scrutiny before over its lofty stock market valuations and high debt but managed to reassure investors and its shares continued their meteoric rise. Credit Sights, a Fitch Group unit, expressed concern in a report last August about the group's debt, saying the conglomerate was "deeply overleveraged". The group's total gross debt in the financial year ended March 31, 2022, rose 40 per cent to Rs 2.2 trillion. 
"Key listed Adani companies have also taken on substantial debt, including pledging shares of their inflated stock for loans, putting the entire group on precarious financial footing," Hindenburg warned in the report.
 The Adani Group has reiterated repeatedly that investors have no reason to be concerned about the company's debt.
Hindenburg said its report was compiled over two years and involved speaking with "dozens of individuals," including ex-Adani executives; "reviewing thousands of documents and conducting diligence site visits in almost half a dozen countries."
Adani's wealth has skyrocketed in recent years, whisking him well past globally famous billionaires like Microsoft founder Bill Gates and Berkshire Hathaway's nonagenarian stock market wizard Warren Buffett. 
Wednesday's stock market rout sent his net worth down by $6.5 billion, Forbes said. But with $119.1 billion, he's still the world's fourth-richest person, according to Forbes
Gautam Adani's also way higher in the wealth charts than India's richest men of earlier years like Mukesh Ambani who's currently worth $85 billion and in ninth position on the Forbes' real-time billionaire index.
Adani's had a more dramatic life than most businessmen having survived a 1998 kidnap ransom attempt and the 2008 Pakistani terrorist attack on Mumbai's Taj Mahal Palace hotel that left over 160 people dead. Adani escaped the bloodshed by hiding in the hotel basement. Those experiences, friends say, have given him a "survivor's instinct" which may stand him in good stead.